Issue 047.
Get E&O weekly. | Subscribe
Digital health research from Brian Dolan.
Welcome to E&O.
Last week's newsletter had a 53 percent open rate. Here's what's happening this week:
Lots of great conversations about MSK — thanks to all the readers who sent comments and suggestions for interviews. Hoping to have that report out next Friday.
Following a request, I added a new feature for Enterprise and Business subscribers: Instead of emailing me directly, you can now edit and add to your list of E&O members directly via Memberful. Worth noting here that Enterprise and Business subscribers now include big name tech firms, global biopharma and medtech companies, as well as a few digital therapeutics companies. I'm still happy to help add and swap members, so feel free to email me, too.
The American Medical Association published a 128-page Telehealth Implementation Playbook, a follow-up to their digital health playbook.
The FDA has continued to roll back regulations: This week the agency expanded "the capability of remote ophthalmic assessment and monitoring devices to facilitate patient care while reducing patient and healthcare provider contact and exposure to COVID-19 during this pandemic."
More on the FDA: This column by Bradley Merrill Thompson focused on the FDA's guidance (or lack of guidance) on AI is well worth a read over MDDI.
The quarterly funding reports are out this week. Rock Health tracked more than $3 billion in digital health funding, which is a new record for Q1 dollars raised. But: "Eight of the twelve investors [Rock] surveyed felt that digital health startups will have a 'much harder time' raising capital in 2020 than they did in 2019."
The Digital Therapeutics Alliance is working to convince HHS/CMS to provide "urgent access" reimbursement for digital therapeutics offerings during the COVID–19 pandemic.
One Drop has rebranded and built out its diabetes management and coaching services with the launch of SugarRx.
Headspace has hired longtime Intuit executive CeCe Morken as its President and COO, a newly created role. Among other things, Morken will head up Headspace's strategy. I'm curious if this new blood might shake Headspace's (once wobbly) commitment to digital therapeutics.
SilverCloud Health announced its $16 million Series B round, which was led by MemorialCare Innovation Fund, and included LRVHealth, OSF Ventures, as well as UnityPoint Health Ventures.
BioBeats published the results from an RCT that studied its digital therapeutic for anxiety.
Finally, Omada Health is making its mental health offerings available "at no cost for the next six months to all U.S.-based employers and commercial health plans." This is, obviously, a wonderful move by Omada, but it also has to dampen some of the up-and-coming startups who saw this crisis as their breakout moment… hard to compete with free!
Did this get forwarded to you? You can sign up as a paying subscriber and get full access to E&O by clicking here.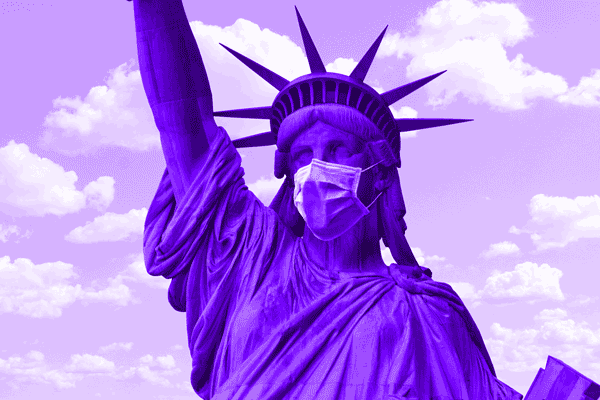 PRA, a CRO, quietly acquired remote patient monitoring co Care Innovations for $215M
This is likely another sign that investments in real-world evidence are ramping up: In January, PRA Health Sciences, a CRO, quietly acquired remote patient monitoring company, Care Innovations for $165 million in cash plus $50 million in potential earnouts. The deal got a brief mention in PRA's 10-K filing earlier this year.
PRA had been a customer of Care Innovations for the past few years, so it knew the company and its capabilities well.
While Care Innovations started out as an Intel-GE joint venture back in 2011 that was focused on aging in place technologies for most of its run, in recent years its book of business included more pharmaceutical companies and CROs, like PRA. GE sold its 50 percent stake to Intel at the beginning of 2016, and in 2017 venture capital firm iSeed acquired a majority stake from Intel in an auction. Roche Ventures invested in Care Innovations the following year as it eyed expansion opportunities for its digital diabetes management offering, MySugr.
In its prime and back when both Intel and GE still owned half the company, Care Innovations carried a valuation north of $300 million, based on Intel's SEC filings.
The $215 million exit was a good one for iSeed and Roche. The acquisition followed a strong 2019, which led to interest from a handful of potential buyers. The addition of Care Innovations will bolster PRA's RWE ambitions. Look for PRA to position itself against companies like Evidation Health in the coming year.
Livongo ups revenue guidance for Q1 and says it had a 10 percent utilization "pop" because of COVID–19
Livongo's next investor call isn't until early May, but the company announced this week that it has revised its Q1 revenue guidance to be a little higher — "in the range of $65.5 million to $66.5 million, versus prior guidance of $60.0 million to $62.0 million." Livongo said it launched a record number of clients during the quarter — 620 — up from about 230 clients launched in Q1 2019.
During a Zoom call this week with WTF Health, Livongo Chairman Glen Tullman also revealed that Livongo has experienced a 10 percent "pop" in utilization since the coronavirus pandemic hit the country. Here's what Tullman said:
"Yes, we did announce an increase in our guidance for the first quarter revenues for the company. What we have seen at Livongo is a significant increase in demand — about a 10 percent pop in utilization of our services. If you think about what we do, what we do is great preparation for something like this — a health crisis — because we are empowering people to stay healthy, stay at-home, and stay out of harm's way. If you think about the populations that we work with, people with diabetes, people with hypertension, people with weight management issues or behavioral health issues, those populations are the most vulnerable. While they are not more likely to get coronavirus, if they do get it, it is much more serious. If you look at the data, the Centers for Disease Control recently said that 78 percent of the ICU admissions were people with a preexisting or chronic condition. Unfortunately, 90 percent of all the deaths in New York were people with chronic conditions… What do we want to
do? We want to keep those people at-home and away from the risks, away from doctors' offices, clinics, ERs, and hospitals. And that's what we do at Livongo."
(Livongo isn't the only digital health company that has noticed an uptick in utilization: Propeller Health announced earlier in the week: "Data from 7,578 Propeller users shows that patients are taking their preventative health more seriously than ever with the help of our digital health tool. Since the COVID-19 outbreak began to ramp up in January, patients have become 14.5 percent more adherent to their controller medication regimen, with most of that improvement noted in the last 4 weeks.")
A few other highlights from Tullman's WTF conversation:
Custom Kaiser deal: Tullman shared that its recent deal with Kaiser Permanente for Livongo's myStrength behavioral health offering will not include support from Livongo's coaches, because KP already has its own coaches on staff.
Deal with VA in the works? Tullman reminded listeners that Livongo's CEO Zane Burke has a history with the VA. While Burke was CEO of Cerner, the EHR company inked a big deal with the VA. The implication: Livongo may be close to a deal with the VA? (As of today, there is no contract listed between any government agency and Livongo in the federal contract databases.)
Medicare RPM: Finally, Tullman said that Livongo was taking advantage of the federal government's move to make it easier to use RPM codes to bill for providing remote telehealth services to Medicare patients. He also said he thinks a lot of the loosened regulations and new payment mechanisms will stick around once the pandemic passes.
UCSF conducted more than 25,000 video visits with patients in March, more than half its all-time total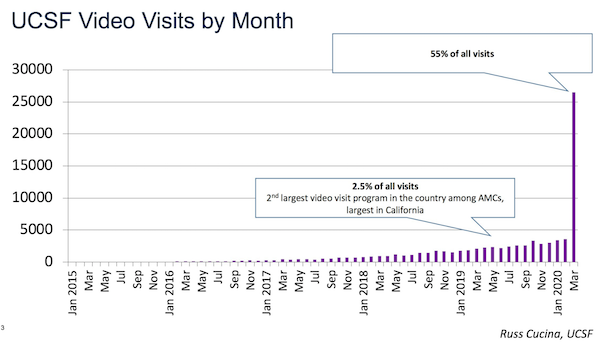 Quick links to E&O research reports
The links below aim to make it easier for paying subscribers to find the long-form research reports on the E&O site:
The Digital Health Enrollment Report (Subscribers-only Link)
The Omada Health Report (Subscribers-only Link)
The Google Health Report (Subscribers-only Link)
The Pear Therapeutics Report (Subscribers-only Link)
The AliveCor Report (Subscribers-only Link)
Apple's Healthcare Work Experience (Subscribers-only Link)
Approximating Livongo's S-1 (Subscribers-only Link)
And so ends Issue 047. Let's do this again next week.