Less than five years ago, longtime healthcare IT executive Glen Tullman took the stage at TechCrunch Disrupt 2014 and announced the launch of his new startup, a diabetes-focused company called Livongo Health. Incredibly, Livongo launched with an FDA-cleared, cellular-enabled glucose meter, a clinical validation study already underway at the University of Massachusetts, and a handful of paying customers that included Office Depot. On the day it officially launched the company had already achieved milestones that prove elusive to many health startups.
During its first full calendar year of operation, the company booked more than $2 million in revenue. By 2018 Livongo ramped up to $70 million in revenues and over 600 customers. According to the Wall Street Journal, Livongo plans to top $100 million in revenue in 2019 and more than double that by 2020.
Livongo's headcount has also risen dramatically in the past two years. In April 2016 Livongo employees still numbered fewer than 100, by March 2018 they had cleared 200, and by the end of 2018 they approached 500. The company's recruiting materials note that Livongo hopes to top 1,000 employees before the end of 2019. Numbers like these make it one of the fastest growing digital health companies ever and position it for, what some are calling, the first true digital health IPO.
An overview of Livongo.
Livongo sells remote chronic condition management programs to self-insured employers and directly contracts with health plans. The company operates on a PPPM (per participant per month) business model,An Accenture report noted that Livongo also has some risk-based contracts with customers, but the vast majority are PPPM. which means fees are only billed against employees or members who enroll in the program. Livongo's flagship offering is focused on managing diabetes, and it includes a two-way, cellular-enabled glucose meter along with access to a certified diabetes educator coach. Since the device has 24/7/365 always-on, cellular connectivity, it uploads blood sugar and physical activity data to Livongo's cloud, which triggers a call from real, live human coaches when a reading is too high or too low. Livongo's program is powered by a machine learning backend that gets to know each member from this constant stream of data. The rules engine automatically sends personalized suggestions to help nudge the member to make healthy choices.
Livongo's marketing materials claim the diabetes program reduces HbA1c by .08 on average and that the program saves about $83 per member per month. The medical literature includes three published studies focused on Livongo's diabetes program. A recent peer-reviewed study published in the Journal of Medical Economics associated Livongo's diabetes program with a 21.9 percent decrease in medical spending, or about $88 per participant per month. A randomized control study of 330 participants that was published in the Journal of Diabetes Research in 2018 found that participating in the Livongo diabetes program resulted in average HbA1c declines of between 8.5 percent and 7.5 percent. Finally, a larger study of 4,544 Livongo members published in the Journal of Medical Internet Research in 2017 found that participants had an 18.4 percent decrease in the likelihood of a day with hypoglycemia and a 16.4 percent decrease in the likelihood of hyperglycemia during months 2 through 12 of the Livongo program when compared to their first month.
Livongo announced a complementary program for managing hypertension in January 2018It is unclear if the hypertension program went live with paying customers before 2019.  that includes a connected blood pressure monitor and health coach. Livongo found that among its own population of members with diabetes, some 65 to 75 percent also have hypertension, so moving into hypertension as a secondary focus made strategic sense and would help its existing members. A few months later in April 2018, Livongo acquired Retrofit to move into pre-diabetes and weight management. Finally, at the beginning of this year, Livongo acquired myStrength to add behavioral health programs to its lineup. The company is likely to add at least one more focus area to its growing portfolio of chronic condition management programs before it goes public later this year.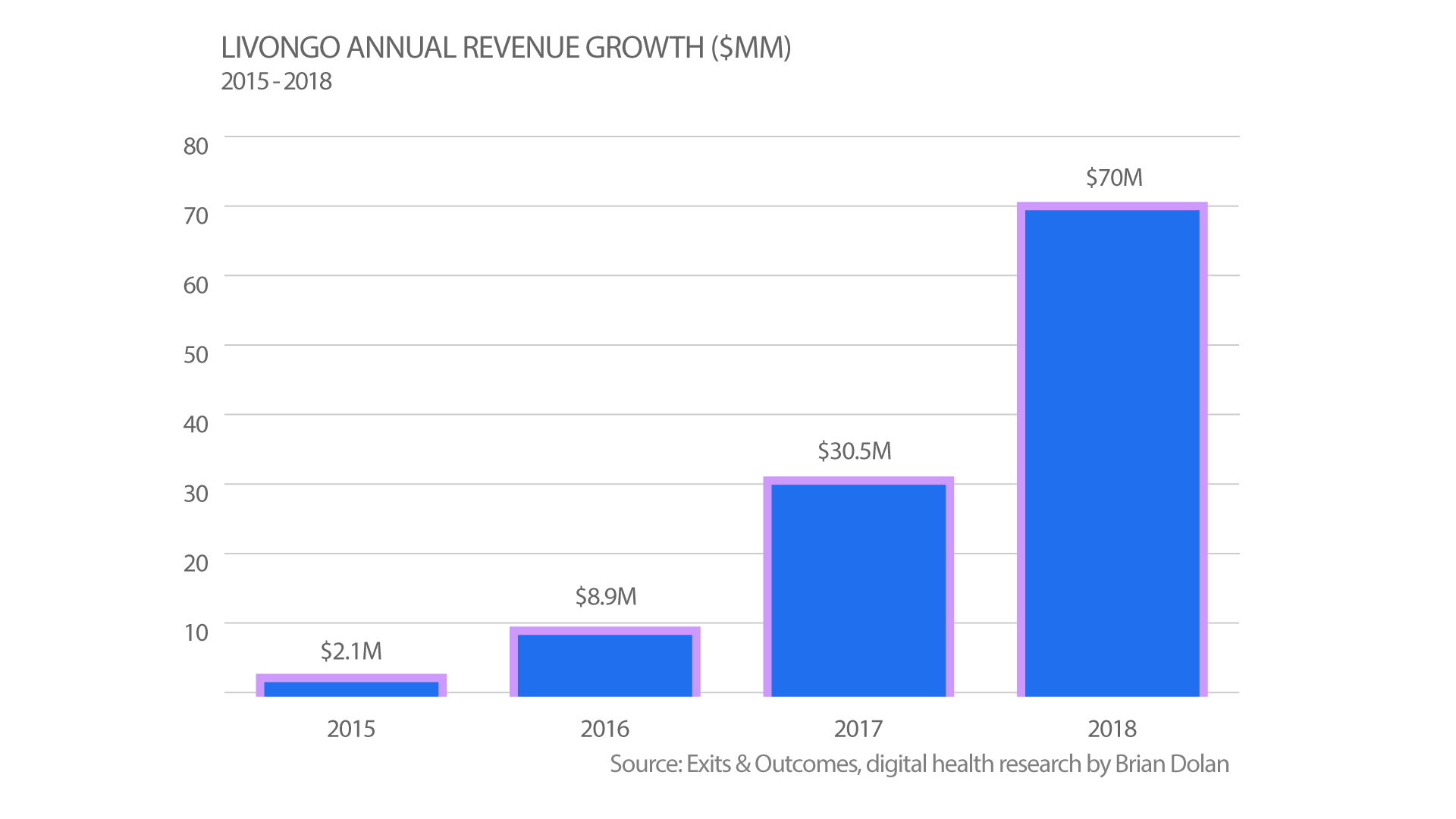 Livongo has grown its revenues substantially since it got a running start with more than $2 million booked in its first full year of operation back in 2015. According to a report from the Wall Street Journal last month, the company expects to book more than $100 million in revenues this year after pulling in $70 million for 2018.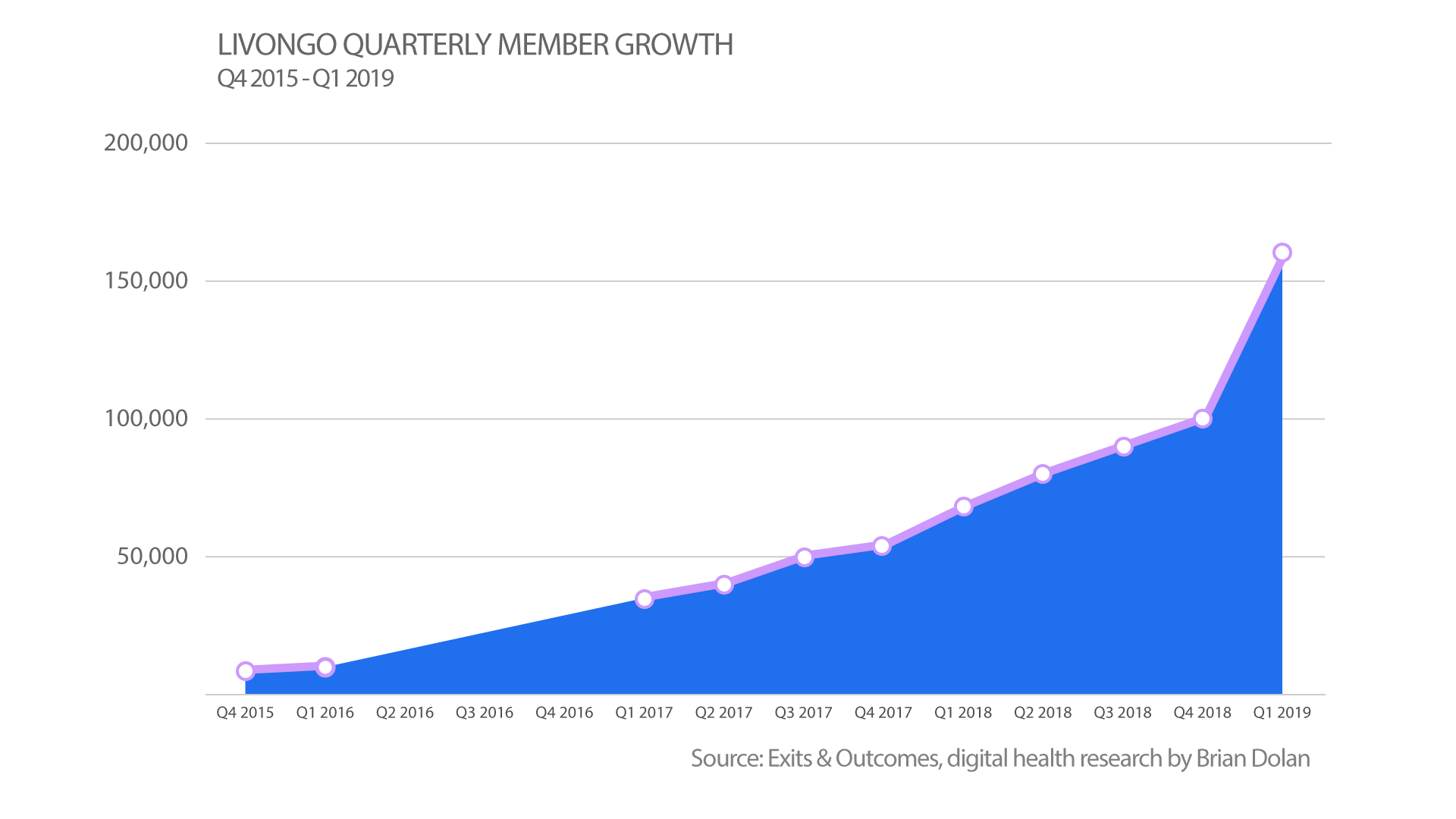 Livongo posted steady adoption growth among members, which is what it calls the enrollees in its programs, up until the first quarter of 2019 when its growth spiked dramatically from 100,000 members at the end of 2018 to some 160,000 by April. The company onboarded more than 200 new customers at the beginning of 2019 to achieve that slope.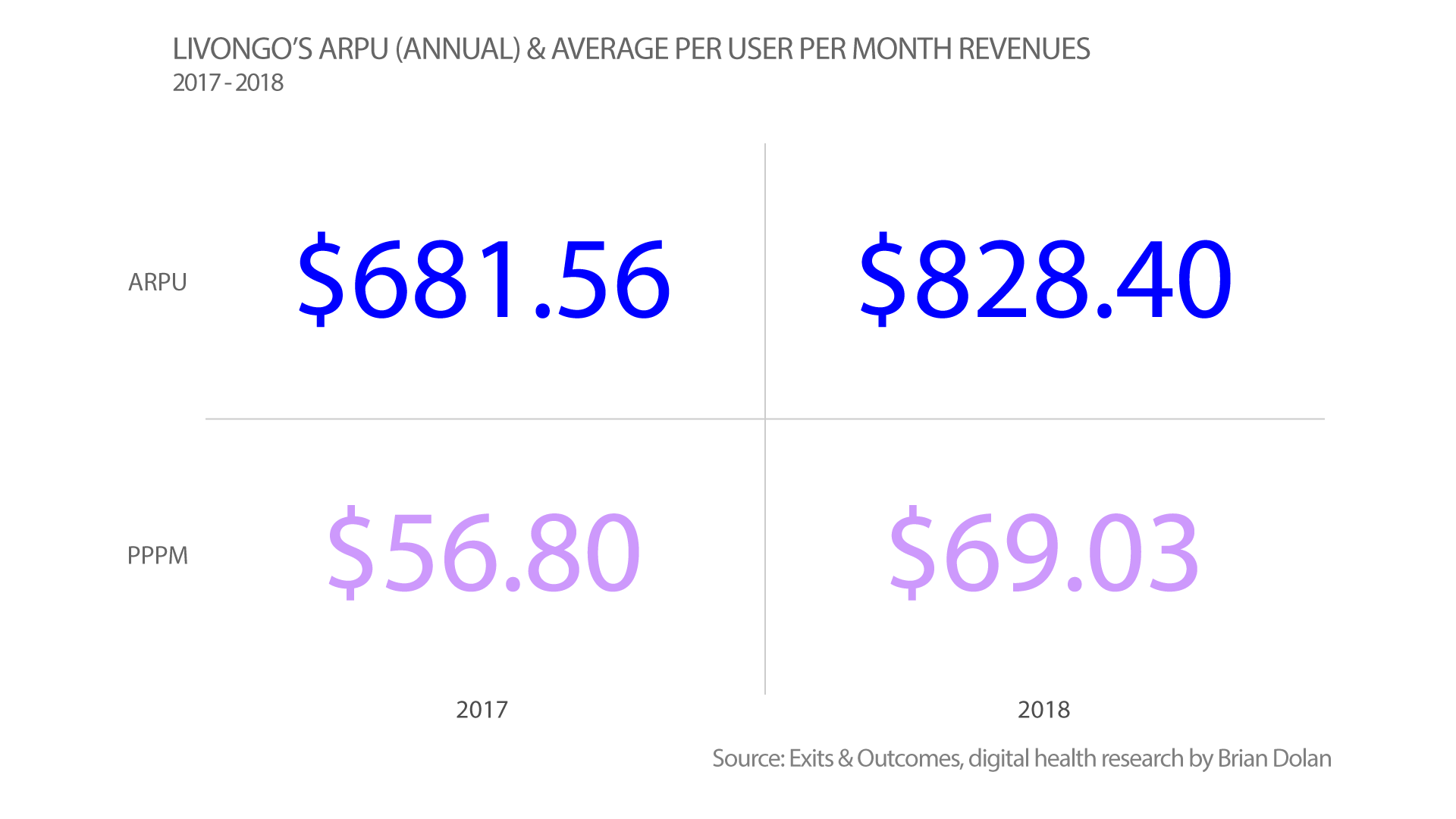 With both historical revenue numbers and quarterly adoption figures, we can approximate Livongo's annual average revenue per user as well as its average rate for PPPM fees. The numbers above are based on a few assumptions: First, that every member that enrolled during a given quarter paid to participate for the entire quarter not part of it. Second, that Livongo's revenue is entirely made up of PPPM subscription fees. It is likely that neither of these assumptions is true since we know Livongo has inked at least one deal with a pharmaceutical company to use its data for drug research (more on that below), and as noted above in the annotation, Accenture mentioned that Livongo has at least some risk-based contracts with customers. Each of these scenarios would lower the numbers above, so assume these are max ARPU and PPPM for 2017 and 2018.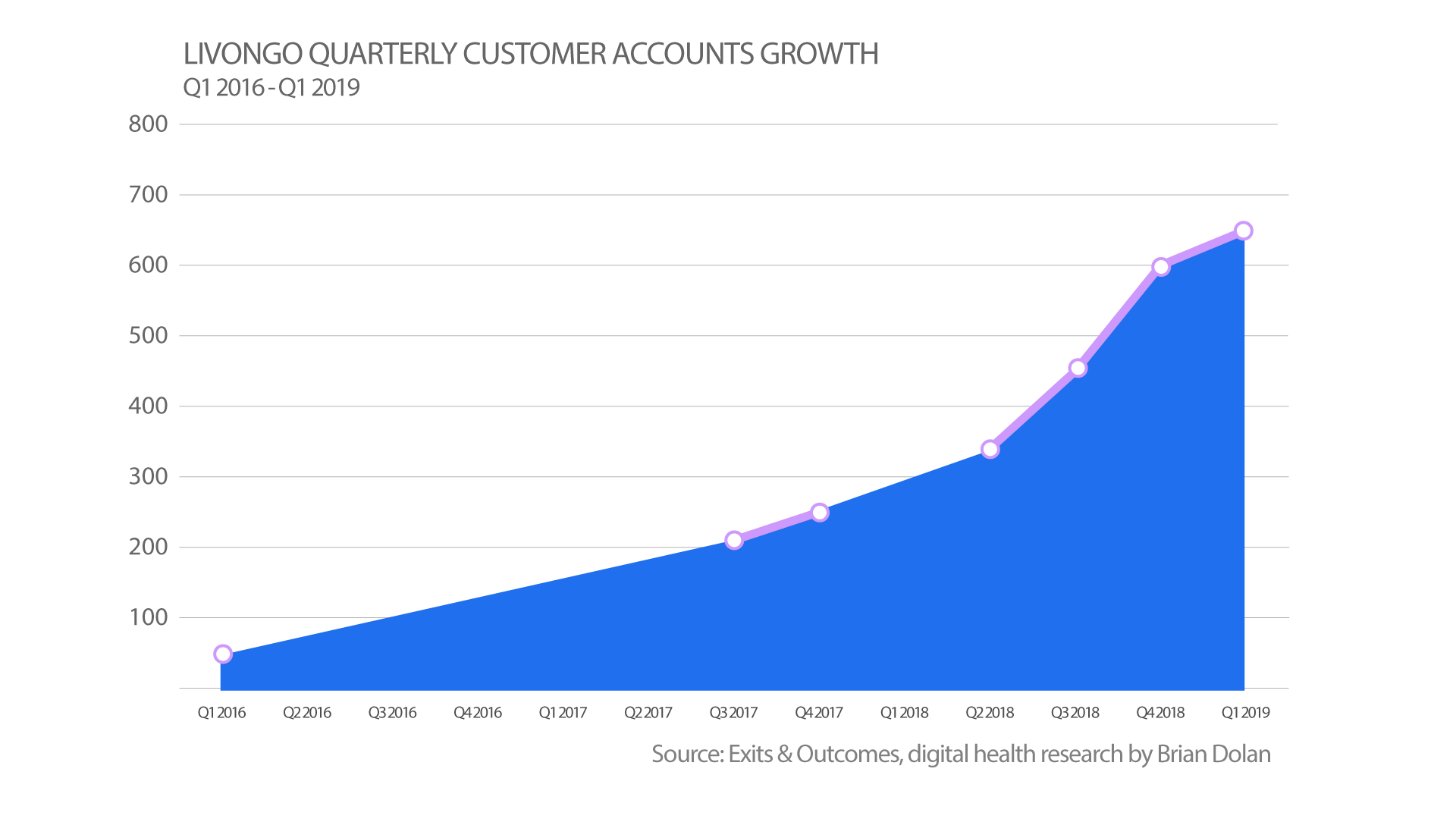 Here's a look at Livongo's customer growth since early 2016. Livongo's self-insured employer customers now top 650 and are likely just under 700.The company began stating it had more than 700 customers in press releases at the beginning of 2019 but have recently walked that number back to more than 650.
Competitors (and the one Livongo often mentions in sales calls).
Given Livongo's initial focus on diabetes management, the company has a number of competitors it could mention in its S-1, including other diabetes-focused digital health companies like Omada Health or Onduo. While the exact breakdown is not public information, I would assume Omada Health has more users in its diabetes prevention program than Livongo has in Retrofit. One strategy, however, is to name the competitors that elevate Livongo to a different league, so it's more likely Livongo focuses on traditional chronic disease management companies and big health insurance companies like UnitedHealth. Livongo is quickly becoming much more than a diabetes management program and will likely look even more evolved with new focus areas by the time its S-1 hits.
The S-1 filing aside, Livongo's marketing materials make a habit of referencing (indirectly) one competitor in particular: Virta Health. Some of Livongo's sales presentations even include a slide titled, "Debunking the Hype about 'Diabetes Reversal.'" It's not hard to imagine a self-insured employer wondering why they should buy a diabetes management program when there's a diabetes reversal program on the market. Livongo stresses the difficulty of a ketogenic diet and shows potential customers a comparison chart that keto diets are only adopted by 4.2 percent of potential members, while Livongo's average enrollment rate for its program is about 36 percent of people with diabetes at a given customer site. Livongo closes by arguing the keto diet program also costs employers more per member than it saves in its first year. Suffice to say, "diabetes reversal" comes up in Livongo's sales conversations and it's an objection the sales team has been trained to overcome.
Minor setbacks: HIPAA violation, FDA recall, and lawsuits.
When a company files to go public it has to detail any outstanding lawsuits as well as any risks to its business. These are typically far-fetched scenarios, but Livongo has lived through a few of these minor challenges.
2015 HIPAA violation. During its first full calendar year of business, Livongo exposed just under 2,000 members' name in a privacy breach. One of the company's business associates, which was handling its shipments at the time, sent lancing devices to the correct addresses but used the wrong member name on each of the packages sent at the end of November 2015. While the supplies arrived at the right houses, each member's name was exposed to one other member. Livongo promptly ceased working with the packaging partner and sent breach notification letters to all affected members. You can read the letter here.
2016 FDA recall. A few months later in February 2016, Livongo went through an FDA Class 2 recall of its cellular-enabled glucose meter because of an error in its labeling documentation. Livongo had failed to include that the device's sensor accuracy could be altered by the use of acetaminophen, Vitamin C supplements, or in the presence of uric acid. On the spectrum of recalls this was minor: Livongo simply had to email and snail mail the information to members. Interestingly, the FDA filing notes that Livongo had 63,000 blood glucose meters in commerce at the time of the recall, but we know now the company had less than 10,000 members enrolled back then.
Lawsuits. Livongo does not appear to have any serious lawsuits outstanding, but at least two have been filed against it in recent years. One claims Livongo's predecessor EosHealth owes taxes to its former headquarters' county in the Houston, Texas area. They have not settled that suit as of this writing. The only other lawsuit is Bareholdtech LLC's patent infringement claim. That company has sued a number of digital health companies for allegedly infringing on its medication adherence device IP. The parties appear to have dropped or settled this case recently, however.
Strategy: Treat members like consumers, not patients.
Livongo's overarching strategy is a simple one: Bring the customer experience of beloved tech companies like Netflix and AmazonThis customer experience focus is one slice of the controversial healthcare consumerization trend, but, in general, Livongo's management team seems to be in favor of the wider trend, too, HDHPs and all. to services that empower people to manage their own health conditions. Livongo's focus on customer experience is evident throughout its programs.
No charge for strips. One obvious example is the company's decision not to charge members in their diabetes program for glucose strips, but to give them an unlimited supply included as part of the Livongo monthly fee to their employers. Livongo has determined the upfront cost is worth preventing downstream health outcomes that arise because a member did not test their blood as frequently as they should have. Livongo solves this problem for members who possibly couldn't afford to buy strips often enough or simply didn't find it convenient to do so.
No random check-ins. Traditional chronic disease management programs check-in with patients randomly to ask how they are doing. Tullman often compares this to a car service company calling you randomly to ask if you need a flat tire changed. That's an annoying call to get — unless they just so happened to call right after you got a flat tire — then it's magical. Livongo only calls its members if their glucose meter readings indicate that something might be wrong. They get a call within a few minutes. Tullman also has made waves in the past for lambasting the healthcare industry's obsession with patient engagement, while calling for a focus on self-empowerment instead. Livongo's programs don't try to arbitrarily engage members at random times for the sake of increased engagement metrics.
Cellular connectivity makes technology fade away. Livongo started in 2014 with a cellular-enabled glucose meter at the foundation of its diabetes management program. This two-way, interactive medical device enabled a new kind of customer experience for Livongo members. The interactivity aside, this device worked right out of the box — no Bluetooth fumbling required. Livongo also shipped the devices charged up so members could begin using them as soon as they arrived on their doorstep. Digital health startups have long struggled with pairing medical devices with a home hub or a smartphone over Bluetooth or trying to get WiFi-enabled devices connected to the home network. These are common onboarding headaches. (Livongo solved some of these issues with its glucose meter but, despite the company's marketing, its other devices don't have embedded cellular connectivity. More on that in the next section.)
Applying a 'What Would Amazon Do?' framework to customer service in healthcare helps Livongo rethink small but important behaviors that have long persisted in chronic disease management. Worth noting—and this may be something of a validation of this strategy—Amazon is now one of Livongo's self-insured employer customers. Livongo also often points to its Net Promoter Score (64), which is close to Netflix's (68), and much higher than the average health insurance company's (12).
Strategy: Don't build medical devices.
Both of these are true: Livongo has never put a device through the FDA, and Livongo's FDA-cleared, cellular-enabled glucose meter was crucial to its competitive edge in its early years.
For the past decade, the FDA has struggled to provide regulatory clarity around connected medical devices and software as a medical device (SaMD). Frustration with the regulator has slowed down many health startups and likely scared off an even larger number from entering the market. Amidst this backdrop of regulatory uncertainty, Livongo has grown its business dramatically. Instead of developing its own medical devices and putting them through the FDA 510(k) process, Livongo has either acquired already FDA-cleared devices or simply stuck a Livongo logo on medical devices from a partner.
While Livongo launched in September 2014, the company was actually building on the work of a predecessor, a pioneering digital health company named EosHealth. Eos spent years developing a cellular-enabled, interactive glucose meter. Livongo founder Glen Tullman was an investor in EosHealth. Tullman and other investors ended up buying out EosHealth's founder and relaunching the company as Livongo Health. In some ways, then, the Livongo growth trajectory can be traced back to EosHealth's founding in 2009. On that timeline, Livongo's accomplishments appear to be less sensational, but still impressive. It was EosHealth that landed Office Depot as a customer, and that granted Livongo a recognizable, self-insured employer case study to leverage from Day One. Tullman described meeting Kimon Angelides, the founder of EosHealth, in his 2018 book, On Our Terms: Empowering the New Health Consumer:
"After looking at dozens of companies, we were introduced to a visionary mad scientist, inventor, and entrepreneur by some people who knew of my interest in diabetes. This entrepreneur had a working prototype of a cellular glucometer (the device used to check blood sugar by people with diabetes). While he knew and we knew he wasn't the right person to scale the company, we had a broader vision for a connected network that would begin with diabetes and would extend much further, eventually managing both health and health care."
Tullman never mentions Angelides or EosHealth by name in his book. Angelides, for his part, describes himself on LinkedIn as the founder of "Livongo Health, formerly known as EosHealth."
Back to Livongo's devices: So, its flagship cellular-enabled glucose meter was built by its predecessor, what about its "cellular-enabled blood pressure system"? It's a white-labeled device built by A&D Medical and it does not have embedded cellular-connectivity. A closer look shows the device is using Bluetooth LE to connect to the member's smartphone. Since a smartphone has cellular connectivity, Livongo refers to the "system" as cellular-enabled. Livongo's cellular-enabled glucose meter does not require another device to function, and that sets it apart in the market. Seamless, embedded cellular connectivity in a self-contained medical device is a more convenient and customer-centric technology strategy than Bluetooth-paired devices. Specifically, Livongo's blood pressure device looks to be a white-labeled version of A&D Medical's Deluxe Connected Blood Pressure Monitor UA-651BLE. Similarly, the WiFi-connected weight scale Livongo offers through its Retrofit program is from a partner — Fitbit.
Since Livongo acquired its FDA-cleared glucose meter, it needs to ensure marketing and manufacturing of the device conforms to the FDA's ongoing requirements for regulated devices (the FDA last inspected Livongo in November). Given its strategy to not develop medical devices from scratch, however, Livongo has largely outsourced the regulatory burden of medical devices to A&D and other partners. That strategy frees it up to invest in what differentiates its business — like its rules engine and coaching program.
Strategy: Sell, sell, sell.
Livongo's sales execution is what sets it apart from other digital health companies. After reading through dozens of interviews, listening to podcast episodes, and watching company presentations, it's clear that Livongo has remained consistently on-message since its founding in 2014. The original clarity of vision has persisted up until the present, which helped the company keep it simple and execute.
Livongo's sales success may be attributable to its executive team's Rolodex, which is evident in the company's ability to ink partnerships with big names like Cerner, Willis Towers Watson, and Mercer in its few short years of existence. No doubt these partners played an important role in helping Livongo quickly scale up to over 650 clients at the end of Q1 2019, not even five years into its operation.
Here's a recent example of its sales momentum: Livongo managed to onboard some 200 new clients at the beginning of the year, which has led to a considerable spike in new users during the company's first quarter — from 100,000 in December 2018 to 160,000 in April 2019, as noted above.
Short term and long term growth opportunities.
Current markets are far from saturated. With north of 160,000 people on its platform today, Livongo has a sizeable member base, but it is far from cornering the total addressable market of its current programs. There are more than 30 million people with diabetes in the United States, for example. That's just one of Livongo's focus areas. Its first and most obvious growth lever is to keep winning over self-insured employers. Second, it could land additional large health insurance companies if any of the holdouts decide to give up on their homegrown efforts. Finally, Livongo reports a 36 percent utilization rate on average, which suggests it could increase revenue by working with existing customers to encourage more employees to use it.
Moving beyond diabetes, hypertension, and behavioral health. Livongo started out with a focus on diabetes before adding a program for managing hypertension in 2018. When it acquired Retrofit the company moved into weight management and diabetes prevention, but it has made clear it will not get into fitness or general wellness. With its most recent acquisition, myStrength, Livongo added a number of behavioral health programs, but the company is sure to expand into additional conditions via both acquisition and homegrown efforts.
First, high cholesterol: Livongo has had a high cholesterol program in the works for a couple of years now, but has not yet formally launched it. In 2017 the company even discussed how its diabetes management program helped members better control their high cholesterol. Like hypertension, high cholesterol is a common comorbidity for people with diabetes and a natural next step for Livongo.
Asthma and COPD are next: Livongo's executives have expressed an interest in moving into respiratory conditions, in particular, COPD. Since Livongo has never developed a device and put it through the FDA, it is likely to acquire a respiratory-focused digital health company. I predict Livongo will acquire Cohero Health.
Then musculoskeletal: Livongo has said its customers want musculoskeletal health programs. One potential acquisition target there is Hinge Health.
Gastrointestinal might be on the docket, too: The other area Livongo has pointed to is gastrointestinal health, Crohn's specifically. While startups like Oshi Health and Nori Health are actively helping patients today, neither has a device or FDA clearance. Livongo may develop its own coaching plan in-house for this area since the regulatory barriers to entry are lower.
CHF still of interest? Livongo used to list congestive heart failure among its targets for future programs, but it's not one that executives mention in interviews anymore. Given Livongo's strategy to address the major chronic conditions it is likely still on the roadmap, but maybe not an immediate pursuit.
Medicare Advantage members. Since its founding, Livongo has primarily focused on self-insured employers as its target customer. In mid-2018 Livongo began hiring for a VP of Medicare Sales because, it noted, Medicare would be a "major growth focus" for the company over the next three years. "One of your primary objectives will be to position Livongo as an embedded benefit in the Medicare Advantage product by 2020," the job ad read at the time.
At the beginning of Q2 2019, CMS approved Livongo as an enrolled provider for Medicare Advantage members, which means Livongo's commercial health plan customers will now be able to offer Livongo to their Medicare Advantage plan members. Since older Americans are more likely to have chronic conditions, Medicare Advantage is a big opportunity for Livongo.
Going global. Since Livongo's first year of existence, Tullman has noted that there will soon be more people with diabetes in China and India than there are people — all people — in the United States. Clearly, going global is a massive opportunity for a company like Livongo and they are sure to dangle it in front of investors in their S-1. Regulatory regimes, especially privacy laws, become incredibly complicated for digital health companies looking to move into markets beyond the United States. Livongo would prove to be a trailblazer on this front if it manages to launch its programs in multiple international markets. If and when it does go global, Livongo will likely lean heavily on partners in-country to shield it from regulatory issues.
Selling data to researchers. Livongo's ever-growing data set enables it to continuously hone its algorithms to better personalize coaching for members. In the aggregate, however, these data points are also valuable to pharmaceutical companies and other medical researchers. Tullman is well-versed in the business of health data repositories given his tenure at Allscripts. Livongo already has a deal with Eli Lilly that led to the April 2019 peer-reviewed study discussed above. The companies never disclosed the details of the arrangement beyond that study or whether the pharma company is paying Livongo. Tullman has noted in interviews that this will be a key revenue stream.
Conclusion: What's missing.
When Livongo posts its S-1 to the SEC's website, we will have a better understanding of the company's profitability as well as specifics around the acquisitions it made in the past few years: Diabeto, Retrofit, and myStrength. Thanks to the Jobs Act, however, there is a good chance Livongo will only file two years worth of historical financials. That means the data above could prove to be more enlightening than the S-1 itself. Livongo's most recent capital raise valued the company at about $800 million, and I'll be curious to see how much it hopes to raise in its IPO.