Issue 001. Going Global. Khosla-AliveCor. Propeller Strategy.
Get E&O weekly. | Subscribe
Digital health research from Brian Dolan.
Welcome to E&O.
** Wow. What a week. Thanks for the support. And, hey, if you aren't already a paying subscriber and this was forwarded your way, sign up right over here.
This is Issue 001: Let's get to it already.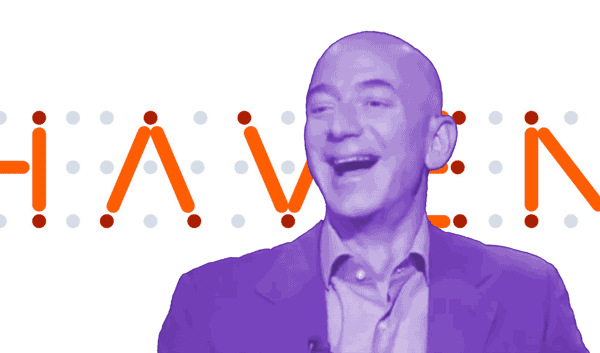 Khosla owned AliveCor: This week I learned Khosla Ventures held a majority stake in AliveCor a few years back, but is now just the largest shareholder. Was that an open secret? How many other digital health companies (were at one time or) are currently mostly owned by a single investor?
Livongo S-1 research follow-up: E&O's first report focused on Glen Tullman's soon-to-IPO-company, Livongo. Readers have pointed out a few things in reaction to it: 1). Livongo seems to have sat on its acquisition of Diabeto, which could have enabled Livongo to potentially integrate with some 40+ glucose meters, but hasn't. 2). The first peer-reviewed study I mentioned in the article last week is brand new. Livongo just announced it today. 3). Since Livongo does not put devices through the FDA, its diabetes management app — which the FDA has used enforcement discretion on — offers fewer capabilities than the competition.
All good comments, please keep them coming.
Introducing E&O DataSheets: In addition to weekly long-form articles and this here weekly newsletter, E&O is excited to add a new product as part of your subscription: DataSheets. Think of these as mini-databases or embedded spreadsheets (and like spreadsheets, they are fully searchable and sortable). The first one is focused on companies working on Digital Diabetes Prevention Programs. It's up now and paying subscribers can check it out right here. WellDoc, Vida Health, OneDrop, and others are moving into digital DPP in the coming months, and it was surprising to me how many digital DPPs are using Fitbit devices. Noom, which just announced a $58 million venture round, is among those digital DPP providers with full recognition from the CDC.
E&O will update this DataSheet every week to help you track DPP companies. A few more DataSheets are in-progress so expect those soon. Any requests?
ResMed says Propeller in "pilot stage"
On its quarterly call this week with analysts, ResMed revealed a few things about its recent $225 million acquisition, Propeller Health. Michael Farrell, CEO, ResMed characterized Propeller as at the end of its pilot stage: "Propeller Health is at the beginning of converting from pilot to scale and commercialization. We will empower the team to grow and to scale and bring all our skills to the table. The opportunities are vast. There are more than 60 million diagnosed COPD and apnea patients in the United States and major markets in Europe alone."
ResMed confirmed that Propeller currently costs it between $0.02 and $0.03 in diluted earnings per share (which works out to between $2.89M and $4.33M in earnings) each quarter, and ResMed said it expects that to continue for the next few quarters.
Farrell added that Propeller's profitability could flip quickly: "It is public [knowledge] that Propeller is working with some very large pharmaceutical companies, and some of them don't want us to talk about it. But if any one of these pilots starts to commercialize, and [our customer] is comfortable with us talking about it publicly, we will update you on that. And this would then move very quickly from dilutive to accretive in a heartbeat… It is a medium- to long-term play. We are not calling the date, the time or the hour or the quarter that, that happens, but that is what the investment is around."
Propeller Health CEO and Co-founder David Van Sickle also mentioned on an investor call in April that "nearly 100,000 patients" have participated in a Propeller program over the years.
Haven recruits East Coasters
The JP Morgan-Berkshire Hathaway-Amazon joint venture is now up over 40 total hires at its Boston and NYC offices. So far the team includes alums from ZocDoc, Verily, Ariadne Labs, and other healthcare companies based (or with big offices) on the East Coast. Surprisingly, no San Francisco transplants yet. Maybe it's just that the quick hires are the local ones, but geography seems to be playing a role in recruiting at Haven — despite its sky-high profile.
Related: Is Boston the center of the digital health world now? An old hand tried making the case to me earlier this week. San Diego gave up the title to Silicon Valley once VC interest ramped up in 2012-2013. Now Boston?
Details on Medtronic's CGM app malfunction and FDA recall
News broke in July 2018 that the FDA declared a recall for Medtronic's Guardian Connect App since the app could be shut down by the device's operating system "without alerting the user it was no longer running or communicating with the CGM transmitter, resulting in the user not receiving alerts that could be associated with hypoglycemic or hyperglycemic events."
What's new: This past week the FDA finally filed the recall documents and they reveal how many people are using Medtronic's app-enabled CGM around the world: 9,238 registered users. None of those users are in the US.
The list of countries where people were using the app as of July 2018 was long and as follows: Austria, United Arab Emirate, Australia, Belgium, Switzerland, Chile, Colombia, Czech Republic, Germany, Denmark, Spain, Finland, France, United Kingdom, Hungary, Ireland, Israel, Iceland, Italy, Republic of Korea, Luxembourg, Netherlands, Norway, Poland, Qatar, Romania, Russian Federation, Saudi Arabia, Sweden, Singapore, Slovenia, Slovakia, Turkey, and South Africa. Read the total recall filing here.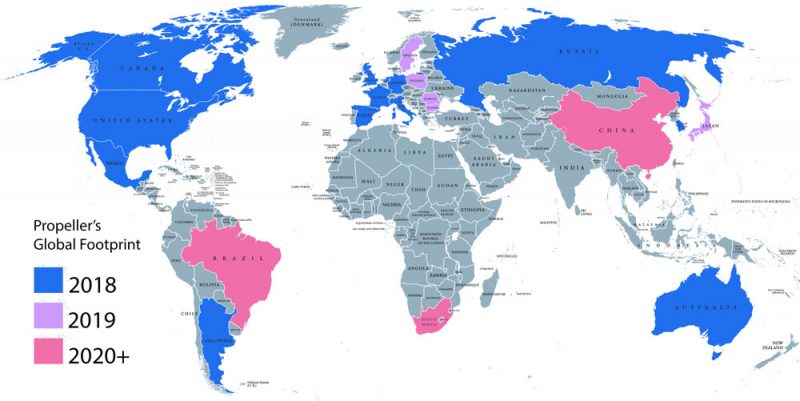 Trending up: Going global.
Medtronic's list of countries got me thinking about internationalization in digital health. Giants like Medtronic are everywhere but smaller digital therapeutics companies have made moves to go global. This gets tricky since every country has its own regulatory requirements for software as a medical device. Here are a few recent global maneuvers:
ADHD-focused Akili Interactive inked a big deal with Shionogi & Co. that brings it to Japan and Taiwan.
WellDoc continues to roll out its diabetes-focused digital therapeutic Bluestar in Canada with its partner LifeScan.
French digital therapeutic company Voluntis, which has initial focus areas in diabetes and oncology, aims to take its diabetes offering to Canada, Germany, and the UK this year.
Livongo continues to dangle international opportunities ahead of its IPO, especially in India and China. It hasn't made a move yet though.
As the image above shows, Propeller Health, however, might be the furthest along. The company has COPD and asthma-focused clinical trials and commercial pilots ongoing in more than 15 countries as of 2019. Its global footprint is attributable largely to its pharma partners. Propeller's new parent company ResMed is in more than 100 countries. The map above shows Propeller Health's global rollout strategy. Brazil, China, and South Africa are on the company's shortlist for rollouts in the next year or two.
That's a wrap on Issue 001: These are formative days for E&O and your feedback is most appreciated. Please hit reply to send anything my way. Next week will be better. Don't miss it!