Thirty-five years ago, US Surgeon General C. Everett Koop reportedly first uttered his most famous one-liner: "Drugs don't work in patients who don't take them."
In 2020, E&O would like to coin a new (and equally obvious) truism for the ages: Digital health programs don't work for people who don't enroll in them.
Little has been written about enrollment strategies for digital therapeutic programs that market to employee populations or health plan members. This article attempts to round-up the current practices around enrollment.
Enrollment can be a strategic differentiator and a selling point for digital health companies. It typically makes use of a variety of channels, but email marketing tends to be the most important. Read on for a better understanding of how Omada Health approaches enrollment along with additional metrics, details and case studies from Livongo Health plus quick mentions of Propeller Health, (pre-Welltok) Keas, and Virgin Pulse.
Omada calls enrollment marketing a "strategic differentiator"
In a recent job posting for a marketing operations associate, Omada Health explained that its marketing team is focused on a core part of Omada's mission: "to inspire people everywhere to take the first step toward lasting, healthy change." Omada entices would-be marketing associates by referring to enrollment as a "strategic differentiator" for the company that they are tasked with preserving. It's also clear from the ad and other statements Omada has made in the past, that email marketing is the most important channel for its enrollment efforts (emphasis is mine):
"Your impact: As a Marketing Operations Associate at Omada Health, you'll work with internal stakeholders to schedule, build, launch, and report on consumer-facing email campaigns in Marketo. Beyond your weekly campaign work, you'll own strategic initiatives to evolve our craft and scale our efforts. Working in tandem with the Senior Marketing Operations Manager, this role is extremely important to the Enrollment Marketing team and Omada Health as a whole. Successful campaigns are integral to reaching enrollment and revenue targets, preserving enrollment marketing as a strategic differentiator, and most importantly helping more people learn about and sign up for the Omada program."
Another job ad for a creative producer position at Omada refers to the creative campaigns that drive enrollment as a "crucial area" of Omada's business:
We pride ourselves on brand and marketing innovation to deeply connect with people and to empower meaningful, lasting behavior change. That means reaching the right people, at the right time, with resonant campaigns: and we can't achieve our mission without world-class creative, storytelling, and campaign work. As our offerings expand, so must our ongoing outreach to participants. And that's where you come in. As the Creative Producer for the Marketing Creative team, you will… Empower some of the most crucial areas of Omada's business: the creative campaigns we use to reach potential participants.
For Omada, email marketing is all-important, so they get creative to build lists
One of the case studies that Omada features on its site is focused on a safety net provider named Neighborhood Healthcare. The case study is particularly interesting when it comes to enrollment since this provider had not been able to use email as an enrollment marketing channel in the past because it didn't have email information for many of its patients. That said, a digital version of the Diabetes Prevention Program was particularly well-suited in this case because of the flexibility the digital delivery provided to a patient population that was "transient, geographically isolated, and/or juggling family obligations with multiple, part-time jobs."
Dr. Rakesh Patel, the medical director of operations at Neighborhood Healthcare explains:
"Historically, it's taken a lot of phone calls to get people enrolled in a given program. But with Omada, we were able to enroll a significant number of people in a shorter period of time over just email, which didn't require a lot of bandwidth from our staff."
The case study says that the provider encouraged patients to use their patient portal to get lab results and to communicate with their doctors. Signing up for access to the patient portal required an email address, which the provider then leveraged to drive awareness of Omada's program. Omada lists its demonstrated ability to drive enrollment as the number three reason that it won the contract with Neighborhood. Here's how enrollment went:
"The four-email enrollment campaign Omada created and implemented for Neighborhood Healthcare resulted in an enrollment rate six times higher than direct mail campaigns typically deliver for health plans."
Omada enrolled 6 percent of the at-risk population for this hard-to-reach group, which means, based on the claim in the quote above, the status quo at the time was just 1 percent. Omada has not officially posted its average enrollment rate across the at-risk populations it has marketed to over the life of the company, but it once noted it typically gets between 20 and 30 percent of an at-risk population to enroll. While Omada Health adapts the specifics of its approach to enrollment for each new customer, the four-email enrollment campaign that the Neighborhood case study referenced seems to be its typical plan.
Omada's marketing team wrote a lengthy piece about its enrollment tactics in February 2016. By that date, Omada had enrolled approximately 31,000 participants into its diabetes prevention program overall. The marketing team sets off by noting that after talking to hundreds of employers they've found the number one complaint to be that it's hard to get employees to sign up for health benefits programs.
As I noted in The Omada Health Report last month, Omada's business model is in part a reaction to legacy employee wellness companies charging on a per employee per month basis. Historically, those models would contract something like 30 cents per employee per month for an employee population of 1 million. That business model misaligns the service provider with the payer, however, as it misaligns the revenue model and the cost of goods. In other words, as more employees sign up, the service provider's margins are compressed. It sets up a perverse incentive to get just enough employees to sign up to make the numbers work and keep the payer relatively happy with the enrollment figure, but not so many it hurts the service provider's profits.
Given all that, it's no surprise there wasn't as much of an emphasis on driving enrollment in creative ways. Back to Omada's February 2016 blog post. It makes clear that Omada has a low opinion of legacy tactics for driving enrollment:
"Getting employees to engage in a new healthcare program or benefit is notoriously difficult. But that's no excuse to give up. What's our definition of giving up? Taping a black and white photocopy of a program one-pager to a wall in the employee break room. (We've seen that.) Sending out a single, text-heavy email. (Not going to work.) Leaving brochures on a table during Open Enrollment. (People barely notice those.)"
Omada's customer base includes a diverse range of companies, including retail companies, truck driver associations, and aeronautics companies. Few of those give every employee a corporate email address and so reaching at-risk employees via email is not as straightforward as it would be for reaching employees at a tech company, for example.
"During a recent deployment with an innovative aeronautics company, we brainstormed ways to connect with every employee. The challenge? Get a compelling message to a team without company email addresses. The solution? Identify the locations everyone visited each day. That left us two good options: the cafeteria and the bathroom. We chose the former. We co-opted the napkin dispensers for one week to share bold, inspiring messages about the new benefit, all in the voice of the company's leader."
Ultimately, the messages on the napkin holders encourage employees to text Omada, which grants the company the ability to market their program to them via an email campaign. The company has made clear that it prefers these "on-the-ground" marketing campaigns to direct snail mail.
"Most of Omada's retail industry customers don't provide their employees with email addresses. But we refuse to throw up our hands and just churn out direct mail pieces that will wind up in the recycle bin. Instead, we run ground campaigns, like the one in the lunchroom, to build awareness. Then we encourage employees to send us a SMS. From there, we invite them to submit their email addresses and we're good to go. The results have repeatedly exceeded our expectations. During a busy holiday season, we signed up 6x more participants than expected at a national retail chain."
Omada enrollment: How many emails and how often?
In addition to the February 2016 blog post mentioned above, a training guide that Omada created for clients in Louisiana who use Blue Cross Blue Shield spells out a number of details around its enrollment tactics. Omada began working with BCBS Louisiana in 2014, so it's possible the training guide is older than the 2016 blog post, but in any case, the details differ in each.
Here's how Omada explains its email marketing campaigns in 2016:
At Omada, when we advise our customers to communicate persistently about reducing risk of certain chronic diseases like type 2 diabetes and heart disease, we get one predictable response: "We don't want to over-communicate on this topic." … Producers of processed food aren't shy about telling the world to consume more of their unhealthy products… One of our best practices at Omada is to send a series of six beautiful email messages over the course of about four weeks. These emails describe elements of Omada's products, outcomes that one can expect, experiences of delighted participants, and even give recipients that chance to "try out" some interactive features of our program right then and there. The result? Our conversion rate is 3x industry average."
Omada's Louisiana training guide has the numbers reversed: a series of four emails sent out over the course of six weeks. The guide also includes images of the emails, so if one of the two is a typo, it's the six emails in four weeks — but I'd wager they evolved their tactics from four to six emails over that two-year period.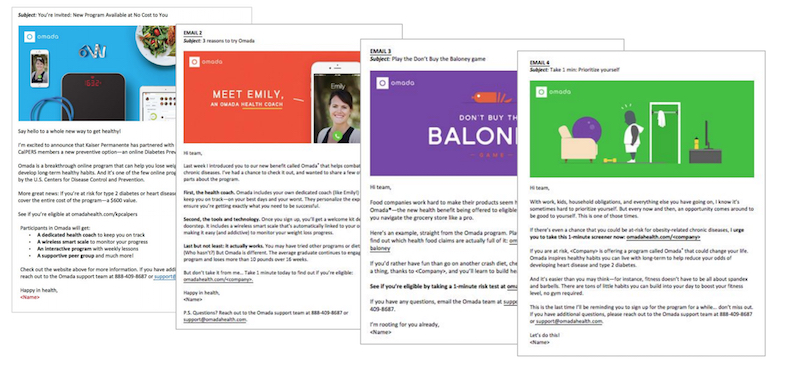 The subject lines of the four emails above are each very different from each other. They are as follows:
You're Invited: New Program Available at No Cost to You
3 reasons to try Omada
Play the Don't Buy the Baloney Game
Take 3 mins: Prioritize Yourself
Omada has said that the majority of its customers start out wanting to take the lead on enrollment. They prefer to create their own communication materials because they argue they have a better idea of how to communicate with their employees. Omada doesn't argue with that mindset, but the company has found that when it goes down that route with a customer it leads to a dead-end:
"But the practical reality is it's not that simple. One telling symptom of this: every time we begin work on a communication campaign, the words 'priority' and 'resources' take over the conversation. Who will design the campaign? Who will write the copy? Who's responsible for QA? How will the materials be tested? How much time will it take to produce the final materials? These questions invariably transform excitement about launching a terrific health benefit to gripes about how hard it is to get anything done."
Omada also has found that its own enrollment tactics have driven "three times the number of employees in half the time" vs. a customer who tried to do it on their own at first.
Interestingly, Omada notes that customers often suggest rolling out Omada during open enrollment for health insurance instead of right away. Omada pushes back on this: "That wouldn't be acceptable when the topic is a product launch, profits, or efficiency improvements. Why should we accept that when it comes to health?"
Livongo sees email marketing as key but encourages a combo that includes direct mail and an HR announcement: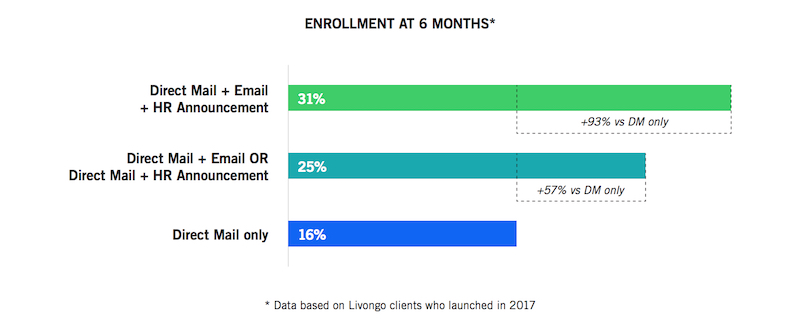 Livongo Health has not shared as many details about the email marketing piece of its enrollment strategy, but it has made a number of general statements about it. Livongo has also discussed the opportunity enrollment presents for driving additional revenue for the company within existing customers. Like Omada, Livongo has discussed case studies that demonstrate its creativity when it comes to enrollment, but in Livongo's case, it was a small innovation via direct mail. However, the most revealing insights Livongo has shared about its enrollment tactics are displayed in the chart above, which comes from a 2018 Livongo white paper.
As the chart shows, Livongo is not as flippant as Omada about the importance of direct mail. Livongo encourages its clients to help it market to potential participants via direct mailing, email marketing, and HR announcements. Enrollment rates are twice as high among customers who take advantage of all three channels, vs. those that rely solely on direct mailings, according to the company.
In a different case study, Livongo listed out the various marketing channels it uses: "marketing materials developed by Livongo, including emails, direct mailers, digital banners, posters, and table tents."
Propeller Health has a similar more-is-more approach to marketing channels. The asthma and COPD-focused company has mentioned direct marketing via mailers, banner ads, emails, lab/clinic displays, web pages, SMS text messages, presentations, handouts, and social media ads.
In the months before Livongo went public, it shared a few details about its enrollment strategy in its S-1:
"We then use a variety of personalized and targeted marketing vehicles to notify potential members of their eligibility to enroll in the solution and encourage them to sign up, typically through a tailored combination of enrollment methods, which include email, direct mail, and company communications. We have extensive experience targeting and onboarding members, and we leverage our AI+AI engine to test and iterate messaging and channels in order to drive increasing results.
For example, when we have supplemented our outreach efforts with email, we have experienced a year-over-year increase of 38% in average enrollment rates for Livongo for Diabetes from 2017 to 2018, and when using direct mail outreach, we have experienced a year-over-year increase of 13% in average enrollment rates for the same period. We have also seen a 39% year-over-year increase in average enrollment rates for Livongo for Diabetes when using workplace communication channels to distribute information about our solution for the same period. We continue to spend significant time and effort improving the technology infrastructure of our enrollment process with automated features including pre-populating member and payor eligibility information to ensure that the member enrollment experience is frictionless, quick, and simple."
The percent increases Livongo mentions above are a bit confusing, but they refer to the three different enrollment rates the company uses in its S-1. When Livongo has the optimal outreach situation, which I take it means it has email, direct mail, and an HR announcement, its enrollment rate for 2017 was 34 percent vs 47 percent in 2018. That's a 39 percent improvement for the optimal outreach group of customers.
Among customers who only let Livongo use a limited mix of the three channels, the company had a 31 percent enrollment rate in 2017 vs 35 percent in 2018.
Finally, for the limited outreach group of customers, enrollment rates were 23 percent in 2017 vs 32 percent in 2018. Improvements across the board, but this is really just a cute way to show how effective Livongo's enrollment practice is under the right circumstances.
Here's how they summed up their average enrollment rate for 2018:
"At the end of twelve months, our average enrollment rate for Livongo for Diabetes clients who launched enrollment in 2018 is 34% of the total recruitable individuals at a client."
While I don't have any examples of Livongo's email outreach that I can share, I have read a few sent from Livongo to an Express Scripts member. Livongo markets its diabetes prevention product to Express Scripts members using the PBM's StepIn brand. Subject lines for these campaigns have included:
[Name], you need to see this transformation…
You don't have to do it alone!
The email with the "transformation" subject line features the tried-and-true "before" and "after" set-up of a man who had reportedly lost a lot of weight thanks to the program, complete with the requisite photos side-by-side. The "don't have to do it alone" email was from a registered dietician health coach who made clear the program wouldn't cost the participant anything and it included one-on-one sessions with her.
One final detail about email marketing from Livongo: In its S-1, the company disclosed one reason its channel partnering prowess is such an advantage:
"We recently entered into an agreement with one of our channel partners that allows us to access all available emails from our joint clients, which provides us another pathway for member outreach and increased enrollment."
For Livongo, enrollment rate accrues over a long time period
When comparing enrollment rates it would only be fair to ensure that the numbers are based on enrollment during the same set periods of time, but among the companies I researched, only Livongo gets into how long it can take to enroll. Its metrics are based on a 12-month period, but some of its case studies show a much longer timeline. This case study on Jefferson Health detailed the cumulative enrollment in Livongo's program over a (longer than) two-year period. It took that long to enroll just over 150 people: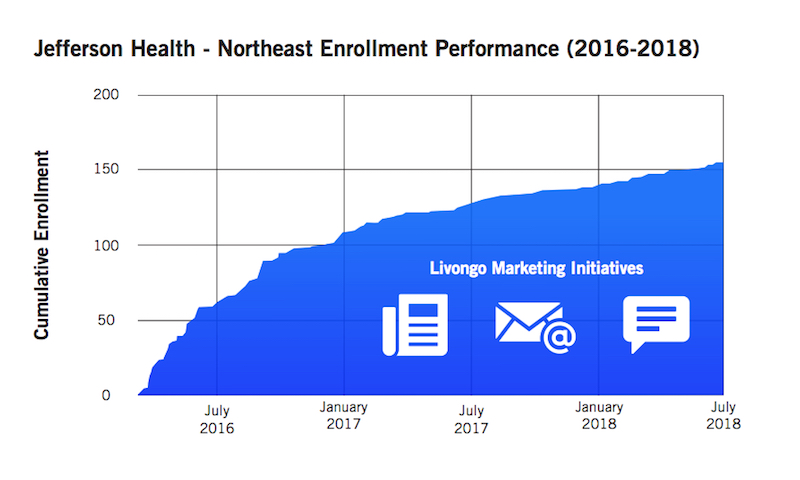 Livongo has explained that it can take 11 weeks from signing to launch a program with a customer. The length of an enrollment period varies by customer:
"For commercial clients, it's typically two to three months after signing or in January of the following year if the contract is signed in the latter half of a given year. For health plans, the time to enrollment could begin six to nine months after signing, with a majority of them starting in either January or July. The final phase is the enrollment ramp. This is the 9-month period after launch when we see new members ramp on our platform. During this period, we have seen commercial clients of Livongo for Diabetes at 34% enrollment and some gradually increasing thereafter. For health plan and government clients, the enrollment percentages could be lower."
Livongo's innovative direct mail campaign: A cardboard cutout of its meter?
In November, Livongo shared details on an innovative enrollment project that focused on direct mailings to potential participants. Livongo's marketing team used a behavioral economics tactic called the endowment effect, which describes how an individual who already owns something ascribes more value to it than someone who doesn't own it. Livongo wondered if they could get a potential participant to experience the value of being in their program before enrolling in an effort to get them to enroll:
"The team set up an A/B experiment to test two different kinds of direct mail assets. Prospective members would receive one of these two marketing flyers in the mail, and our team would measure the response rate to see which piece performed better. As you can see here, the first mailer was a traditional tri-fold brochure that contained information about Livongo and our smart meter.
The second mailer contained a cardboard cutout rendition of our Livongo blood glucose monitor. On the back side was a sample Health Nudge that an actual member might receive on their Livongo meter. The idea here was to invoke the endowment effect by simulating what it would feel like for a person to own and use an actual Livongo smart meter. By helping them experience the value of the meter and the Livongo program, the individual would be prompted to enroll."
Livongo said the cardboard cutout drove 35 percent higher enrollment than the regular brochure. Livongo now uses the cutout in all of its standard enrollment campaigns.
Enrollment rates: Omada, Livongo, Keas, Virgin Pulse
There aren't any enrollment rate figures floating around, but here are a few touchpoints, including two already mentioned above:
Omada has said its enrollment rate is typically between 20 and 30 percent of an at-risk population (over no specific time period)
Livongo has reported a 2018 average enrollment rate of 34 percent for its diabetes customers
Keas, an employee wellness offering now owned by Welltok, typically enrolled about half of an eligible population (pre-Welltok), according to a former executive
Virgin Pulse has not shared an average enrollment rate, but one client, Timberland, said they had enrolled 67 percent of their employees in the program (Virgin hosts its enrollment materials and templates online here.)
×