Fresh from vacation, ex-McKinsey analyst and then-venture capitalist Corey McCann M.D. Ph.D. stepped up to the mic at the first-ever NeuroGaming conference in 2013 and asked a question. Well, three actually: "Who's going to pay for this? How much? And why?"
In his retelling of the episode, the room fell silent. The panelists, who were all dabbling in healthcare applications for neurogames, had no good answers.
A year later, while still working as a principal at MPM Capital, McCann returned to the conference, sat on a similar panel, and introduced himself as the CEO of a new startup named Pear Therapeutics. Software plus drugs were better than either alone, he argued. Pear Therapeutics was bornStephen Kennedy Smith, a scion of the Kennedy family, also helped incubate Pear via his holding company New Frontier Bio. .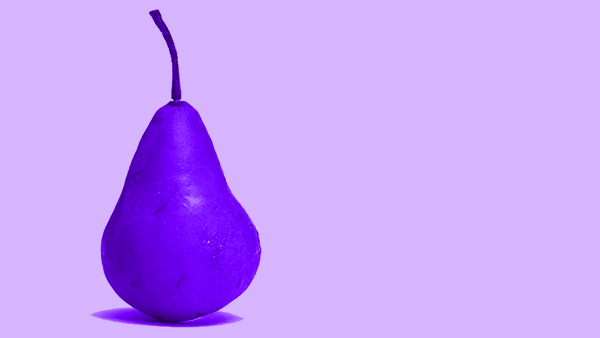 Pear Therapeutics has come a long way in the past five years. Pear might be the first digital health company to operate as if it were a biotech company. McCann has referred to his company as the Genentech of digital therapeutics. It is, in fact, the first digital health company to secure FDA approval for software that claims therapeutic benefit in the label just like a pharmaceutical.
It has licensed an unknown but likely sizeable number of digital interventions from academics to populate its pipeline prescription digital therapeutics (PDTs). Pear has also raised $134 million and boasts a valuation close to half a billion dollars. The company has managed to secure a de novo clearance from the FDA, 510(k) clearances, and entry into the agency's exclusive, Pre-Certification pilot program.
Most impressively, Pear has landed paying customers. Both Novartis and its generics division, Sandoz, have signed on to develop and launch digital therapeutics with the company. And two have already launched commercially.
This report will cover Pear's progress to date along with lesser-known product failures and challenges. Here's a table of contents for the sections that follow:
Pear's therapeutic modalities and therapeutic areas
Current product pipeline
Pear's 2016 direct-to-consumer debacle
Key struggle: Hiring tech talent to build digital therapeutics
Pivot to prescription-only
Pear's asset licensing strategy: "Not in the content business"
Two examples (with financial details) of Pear's licensing agreements
How and when Novartis pays Pear
Regulatory strategy, accomplishments to date
Pear's funding and investor strategy
What's next for Pear Therapeutics
Pear's therapeutic modalities and therapeutic areas
At first blush, Pear appears to be a digital therapeutics company focused on central nervous system (CNS) disorders, but its longterm ambitions are wider in scope. Pear believes that any medical issue or condition that could be improved via behavior modification is a potential target for a prescription digital therapeutic. Here's how Pear sees its market opportunity.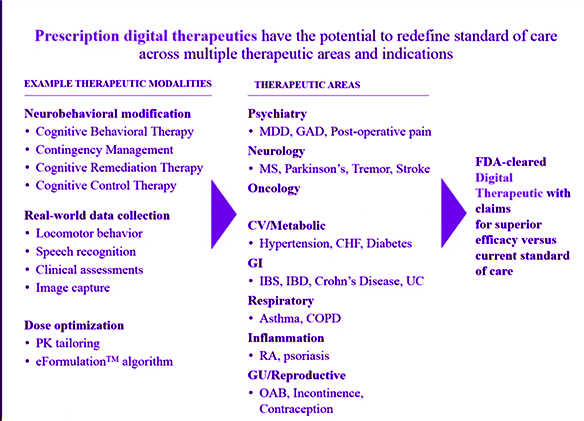 Over the years, Pear has pointed to more than 20 therapeutic areas that it believes could benefit from a prescription digital therapeutic.
As the list above shows, the areas of interest include: major depressive disorder, general anxiety disorder, post-operative pain, MS, Parkinson's, tremor, stroke, hypertension, chronic heart failure, diabetes, irritable bowel syndrome, Crohn's, ulcerative colitis, asthma, COPD, rheumatoid arthritis, psoriasis, overactive bladder, incontinence, and contraception. There are behavioral components to each of these conditions that are currently not addressed by pharmaceuticals today.The original slide had a copy-paste error in the oncology section so the specifics there remain undisclosed.
Pear's therapeutic modalities include ones beyond cognitive behavioral therapy. Contingency management, cognitive remediation therapy, and cognitive control therapy are other neurobehavioral modifications the company is exploring along with various real-world data collection modalities and dose optimization.
Pear's product pipeline
Pear Therapeutics' current product lineup has been well-covered elsewhere, so here's a brief overview of its current digital therapeutics: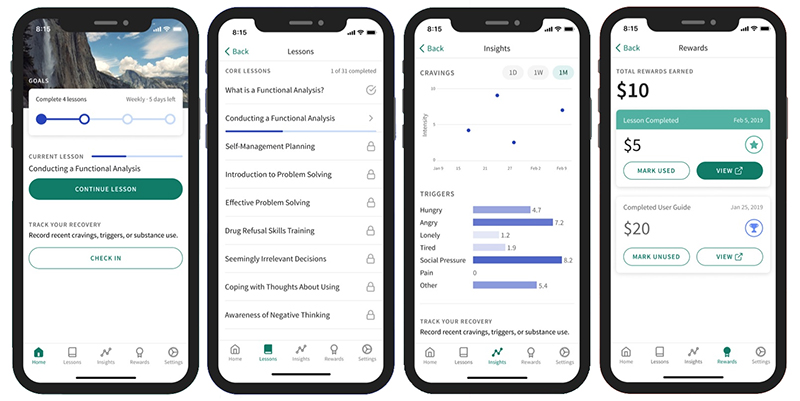 reSET: A 90-day prescribable digital therapeutic program for adults already enrolled in outpatient treatment under the supervision of a clinician. This version of the program is approved for substance abuse disorders but excludes opioid use disorder. The clinician dashboard includes: "patients' use of reSET, including lessons completed, patient-reported substance use, patient-reported cravings and triggers, compliance rewards, and in-clinic data inputs such as urine drug screen results." The program is based on the work of Dartmouth's Lisa A Marsch Ph.D. The product has made it through the FDA and Sandoz's sales team is currently selling it to clinicians around the country.
reSET-O: An 84-day prescribable digital therapeutic program for adults that aims to increase the retention of patients in outpatient programs for opioid use disorder that include transmucosal buprenorphine and contingency management. It's also based on Marsch's work at Dartmouth. Like reSET, this product has already made it through the FDA and Sandoz's sales team is selling it to clinicians right now.
Somryst: A prescribable digital therapeutic program for people with insomnia and depression. Pear has submitted Somryst to the FDA and it may end up being the first medical device to make it through the agency under its Pre-Cert program. Somryst offers "tailored neurobehavioral interventions… and sleep restriction driven by learning algorithms to reduce the severity of insomnia and symptoms of depression." Somryst could also be the first product Pear uses its own sales force to bring to market without a pharma partner.
Thrive or Pear-004: Thrive, which the company also calls Pear-004, is a prescribable digital therapeutic for people with schizophrenia. Novartis has signed on to help Pear commercialize Thrive, which not yet through the FDA. Thrive is based on the work of University of Washington's Dror Ben-Seev Ph.D.
Pear-oo6: Novartis has also partnered with Pear on a prescribable digital therapeutic for people with multiple sclerosis. This deal is markedly different from the Thrive deal since Pear-006 is still in the development stage. Pear is tapping Novartis' in-depth understanding of multiple sclerosis to create the digital therapeutic.
Pear Therapeutics keeps an updated chart of its pipeline on its website here. This is what the status of its pipeline looks like today: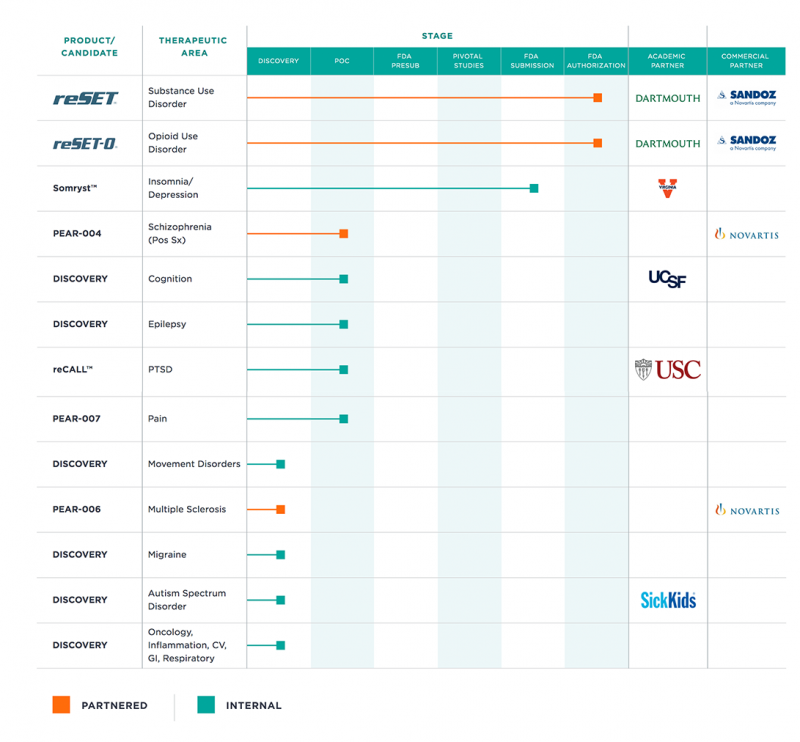 Pear's internal timeline for launching particular interventions has shuffled over the years. For example, in March 2015 McCann said the company planned to first launch a digital therapeutic related to addiction (which ended up being split into two reSET and reSET-O) followed by one for PTSD. As the pipeline above shows, Pear's PTSD offering, called reCALLAt one time reCALL was a virtual reality-based program that worked with a VR headset, but the company has not mentioned this therapeutic or its current iteration in recent years. , is now half a dozen products down the pike. Back in 2015, McCann expected depression, general anxiety, and sleep to follow, but it seems likely Pear's insomnia therapeutic, Somryst, will be its third on the market as it currently awaits FDA approval in early 2020.

Pear's longterm strategy is to develop into a platform that serves up 50 to 60 digital therapeutics. It aims to have five more prescription digital therapeutics on the market within the next four years. Once that milestone is reached it aims to accelerate its launches and scale up with multiple PDTs advancing on parallel tracks.
Pear's 2016 direct-to-consumer debacle
Perhaps more than any other digital therapeutics company today, Pear stresses that its products are all prescription digital therapeutics, and it has even pushed the abbreviation PDT along with that messaging.
At a neurogaming conference in 2014, Pear's CEO Corey McCann teased the launch of a direct-to-consumer line of products, which — as it turned out — was still two years away:
"The first quick and dirty category for us is in the supplement and food space. We are in the process of launching a family of products into one of the supplement chains you are all familiar with. This would create a suite of supplement software combinations."
Pear's first product launch was for a line of digital wraparounds packaged with a line of supplements co-branded with the big supplement retail chain The Vitamin Shoppe. Starting in mid-October 2016, the digital supplement product line was available online and at any brick-and-mortar Vitamin Shoppe.
The vita+apps experiment included digital supplements for mood, sleep, memory, stress, vision, and attention. Here's what they looked like:

"vita+apps, powered by Pear Therapeutics is a mental/behavioral training tool used in conjunction with matched dietary supplements. All of our apps and games are based on clinically validated and tested therapeutics. As a novel approach to address vision, memory, mood and more, vita+apps combines digital applications with supplements to create a short-term, goal-oriented approach that helps patients modify the thoughts and beliefs that may underlie distress and behaviors."
A year later the apps went offline and the vita+apps homepage just featured a thank you note that announced the apps would no longer be supported. Apart from the archived homepage, a passing mention on Pear Therapeutics' Facebook page, and a tweet on The Vitamin Shoppe's Twitter account, there is no other mention of vita+apps online. During the two years that the Pear worked with The Vitamin Shoppe to develop and launch vita+apps its strategy changed. In 2014, McCann talked about its three revenue streams coming from digital wraparounds for supplements, digital therapeutics paired with generic pharmaceuticals, and digital therapeutics paired with branded pharmaceuticals.
Key struggle: Hiring tech talent to build digital therapeutics
In the beginning, Pear believed that its digital therapeutics would need to be built by people who had experience creating games because the company predicted that engagement would be all-important. One of Pear's first key technical hires was its first CTO, Rabah Shihab. Pear actually didn't hire Shihab, it acquired his mobile engagement SaaS startup, AppBarbecue/IndieYardThe startup had just one investor: James Hong, co-founder of Web 1.0 viral sensation Hot or Not. , which was a mobile game promotion service for indie developers.
Shihab and Pear's founders then hired a tech team that favored candidates with gaming experience, and while that team likely was well-suited to build Pear's ill-fated direct-to-consumer products, the company ultimately realized game developers are not ideal developers for the regulated world of software as a medical device. Here's McCann in 2018 looking back on the early tech hires:
"So we hired a bunch of people who had been successful game designers and game coders, and that's not a crazy approach. If you look at Akili Interactive, which is the other player in the space, this is exactly what they have done. It has worked for them. It didn't work for us at all."
Pear found that its best developers were ones who had prior experience building electronic medical records or, failing that, developers with experience building in highly-structured, regulated industries, like fintech. FDA regulatory submissions required the software team to abide by quality management systems (QMS) and to make sure every line of code adhered to general manufacturing principles (GMPs). No game developers thrived in an environment that might include check-ins three times a day to ensure compliance, McCann said, adding: "There is a lesson there that we learned the hard way. And, in full candor, we learned it many times over."
Pear's tech team looked very different before the company's vita+apps launch vs. after the line of consumer products was shuttered in late 2017.
One final note on Pear's hiring: From the outset, Pear has been adamant about its dual-headquarter strategy with offices in both San Francisco and Boston. The company believes the best talent for tech is in the San Francisco area and the best biotech talent is in Boston. Rather than compromise, Pear decided to have a footprint in both locations.
Pivot to prescription-only
By September 2017, Pear had removed all mentions of its old supplement partner, The Vitamin Shoppe, from its website and refreshed its branding to emphasize its focus on prescription digital therapeutics. It's likely no coincidence that September 2017 was the same month Pear secured a de novo clearance from the FDA for its reSET prescription digital therapeutic. It's also the month that the FDA announced Pear was one of the very few companies to get into its Pre-Certification pilot. Did the FDA suggest that Pear cut ties with The Vitamin Shoppe and steer clear of the supplement industry?
Pear Therapeutics is now focused on three types of asset-based deals with pharmaceutical companies:
discovery deals where an asset doesn't yet exist but it can by leveraging Pear's platform;
development stage deals that already have some clinical data backing an intervention but they require more to get FDA approval;
and commercial-stage deals that already have enough clinical data to get approval (or are already approved by the agency) and now just need to be sold.
Pear's mandate is to prove that its platform can support all three flavors of asset-based deals.
Pear's asset licensing strategy: "Not in the content business"
One of the tactics that sets Pear Therapeutics apart from most of the other companies operating in the digital therapeutics space is that Pear licenses digital interventions from academic researchers instead of building their own from scratch. Pear has a close relationship with controversial patent clearinghouse Intellectual VenturesNoted neurosurgeon Dr. Eric Leuthardt, whose intellectual property Pear licensed at the very beginning in order to have freedom to operate, has said he introduced McCann to IV. , but the company has also signed contracts directly with individual scientists and smaller holding companies.
McCann has referred to the company's asset licensing as a "roll-up" that Pear spent most of its time on during its first year of existence in 2014 and 2015. While the exact number of licensing deals has never been disclosed, the company's executives have implied their portfolio is sizeable and likely includes dozens of interventions.
During their first year, McCann and his team combed through the medical literature and other sources to create a list of between 1,500 and 2,000 digital interventions. Because Pear believed early on that obtaining regulatory clearance or approval for these digital therapeutics would be their most formidable bottleneck, they prioritized digital interventions that already had good quality data backing them up.
In particular, Pear sought out interventions that had already gone through randomized control trials where patients in the control arm received an active comparator, which could make for an existing approvable endpoint in the eyes of the FDA. Those criteria winnowed the list down to about 500 after excluding any without RCTs. The list got much smaller after factoring in the control arm. Fine-tuning for clinically- and statistically-significant effects left the team with their initial list of targets. In the final analysis, Pear focused on interventions that targeted patient populations with significant unmet needs, which might include areas where clinician consolidation make access to care particularly challenging.
Two examples (with financial details) of Pear's licensing agreements
Pear signed a licensing agreement in late 2014 with a small Canadian company called ehave, which had developed a web-based intervention for ADHD. Here are the basic terms of that deal:
On December 9, 2014, we entered into a software license agreement with Pear Therapeutics, Inc. ("Pear") pursuant to which we will provide Pear with a world-wide, non-transferable perpetual license to the Company's products for Pear to create, commercialize, distribute and sublicense a combination product using our Megateam software applications for treating mental health conditions including ADHD. The license will be exclusive with respect to a combination product subject to Pear obtaining rights to sell with an acceptable drug and non-exclusive with respect to any other rights.
Pear will pay us a royalty of 2.5% of any net revenues from the license of our products, to be paid quarterly. We may terminate the agreement if Pear has not paid us $4,000,000 in annual royalties for each of 2022, 2023 and 2024 and Pear has not obtained regulatory approvals to commercialize combination products and integrated products (our software imbedded within the source code of Pear branded products) within eight years. Either party may terminate the agreement for a material breach by the other after notice and a 30-day cure period. Pear may terminate the agreement upon a change of control of the Company, the Company becoming insolvent or upon 60 days' prior written notice.
Notably, ADHD is not on Pear's disclosed pipeline as detailed above, but the ehave agreement does allow Pear to use its intervention for other mental health conditions. Still, the 2022 deadline is just three years away, and an ADHD prescription digital therapeutic does not appear to be a priority for the company right now.
A more interesting example is the licensing agreement Pear struck with Dror Ben-Zeev, Ph.D., a professor of psychiatry and behavioral sciences at the University of Washington and licensed clinical psychologist, for an intervention focused on schizophrenia.
After Pear announced its deal with Novartis to commercialize a prescription digital therapeutic focused on schizophrenia (called THRIVE) that was based on Ben-Zeev's intervention called FOCUS, he sued the company alleging they breached the agreement. I won't get into the specifics of the lawsuit here, but suffice it to say the two settled out of court. Still, it must have been a tense few months for Pear whose new partner Novartis must have raised an eyebrow or two over the suit. Here's how payments were structured in Ben-Zeev's original April 2015 agreement with Pear:
Pear agreed to pay Ben-Zeev 5 percent royalties on net revenues within 90 days of receiving the revenues itself.
Pear agreed to pay $30,000 as a licensing fee when the agreement began and additional payments of $15,000 on that date each year the agreement remained in effect.
Pear agreed to pay $200,000 when the prescription digital therapeutic that included Ben-Zeev's intervention secured regulatory approval.
Pear agreed to pay another $200,000 when it made the first sale of the commercial product.
Ben-Zeev agreed to provide 30 hours of consulting during the first year. Any consulting beyond that would be billed at $200/hour.
These two agreements alone show that Pear's licensing terms vary from intervention to intervention.
How and when Novartis pays Pear
While specific numbers and percentages have not been publicly disclosed, payments in Pear's February 2018 agreement with Novartis are similar in structure to the terms outlined in its contract with Ben-Zeev.
Novartis paid Pear an upfront fee and has agreed to pay additional amounts once the THRIVE prescription digital therapeutic reaches certain milestones related to the clinical trial and FDA approval.
Novartis will also pay Pear royalties on later commercial sales of THRIVE.
Pear's regulatory strategy, accomplishments to date
McCann has long said that getting Pear's first digital therapeutic through the FDA was the company's primary bottleneck. It took Pear two years of discussions and meetings with the FDA before the agency announced it had cleared Pear's addiction therapeutic, reSET in September 2017. That same month, Pear won a coveted spot in the FDA's Pre-Certification pilot for companies developing software as a medical device. More than a year later, in December 2018, Pear announced the FDA had granted it a clearance for reSET-O, which was cleared for use in opioid use disorder. In early 2019, Pear announced that it had submitted its insomnia digital therapeutic Somryst to the FDA, but it claimed the digital therapeutic would be the first medical device to be cleared via the FDA's Pre-Cert program in early 2020.
Back to Pear's first meeting with the FDA back in 2015. Five of Pear's early employees attended the meeting, which Pear set up to explore how the agency would regulate its digital therapeutics in the future. Here's how McCann described how he thinks about the agency in 2018:
"I know people are afraid of the agency, but they get a bad rap. Their mandate is to make patients better."
Besides buttering up the FDA from industry conference stages (never a bad tactic), McCann's strategy was to approach the agency with its addiction digital therapeutic first since the opioid epidemic was in full swing. Pear recognized the agency had few, if any, pharmaceuticals in its pipeline that might address the problem:
"If you look at that mandate in the context of brain-related conditions, and specifically in the context of addiction-related conditions, there is almost nothing in the pipeline. There are 30 million Americans that suffer from these conditions, and we are in the midst of an epidemic. So it would be a good thing if the FDA is able to make a positive contribution in treating this set of patients. The first strategy for approaching the agency is to make the conversation sufficiently specific."
McCann believed that had the Pear team approached the agency with vague questions about how it might regulate digital therapeutics in general, the result would have been a "nebulous regulatory conversation" that could make one of their investors or partners antsy. McCann also made clear from the first slide of his presentation to the FDA that Pear had a huge pipeline of digital therapeutics. This wasn't a one-off conversation but rather a discussion about an approach Pear would take with the agency for many years to come.
Some news that has not been reported elsewhere yet: Pear just lost its VP of Regulatory Affairs to Apple a few weeks ago. David Amor is now listed in the FDA's registry as the main contact at Apple for regulatory matters. Amor has shepherded Pear's regulatory strategy for more than two years. He joined Pear in July 2017, which was just a few months before the company's first FDA clearance. The job ad Pear posted to recruit Amor's replacement shines a little light on the company's regulatory strategy moving forward. Pear is seeking someone with experience in, not just SaMD, de novo, and 510(k) clearances but also:
"Substantial experience in all aspects of regulatory affairs, including successful NDA/MAA submissions, Commercial support, CMC, Clinical, Device 501(k) submission; experience with drug/device and 505(b)(2) product submissions strongly preferred."
In its early years, Pear explained that it would first seek an FDA clearance for its software via either the de novo or 510(k) pathways. Once that was secured, the company planned to submit the software and drug as a combination product via a 505(b)(2) application.
The job posting also seeks candidates with regulatory experience from Asia, EU and other international markets, which suggests Pear has plans to go international soon.
One closing note for this section: McCann likes to tell the story of how the FDA notified Pear about its de novo clearance just minutes before the agency published its own press release celebrating the novel therapeutic's approval. The FDA's press release caught Pear off-guard and caused it to scramble to put together a media strategy that morning. It's an interesting detail considering almost exactly a year later the FDA seemed to coordinate with Apple on its de novo clearances, which the FDA allowed Apple to announce first at the company's World Wide Developers Conference.
Pear's funding and investor strategy
Pear Therapeutics has raised $134 million across three rounds. Here's a quick summary in reverse-order:
January 2019: Pear raised $64 million in its Series C round led by Temasek with other return backers: Novartis, 5AM Ventures, Arboretum Ventures, JAZZ Venture Partners, The Bridge Builders Collaborative, and Singapore-based EDBI. New investors included Blue Water Life Science Fund, Trustbridge Partners, and an undisclosed major diversified hedge fund.
January 2018: Pear raised $50 million in its Series B round led by Temasek with participation by 5AM Ventures, Arboretum Ventures, JAZZ Venture Partners, Novartis, Singapore-based EDBI, and the Bridge Builder's Collaborative.
February 2016: Pear raised $20 million in its Series A led by 5AM Ventures, Arboretum Ventures, and JAZZ Venture Partners with participation from Bridge Builders Collaborative and several unnamed investors.
In the early years of Pear, McCann took meetings with other investors outside the ones mentioned above and he concluded that many biotech-focused funds were hesitant to invest because they believed the barriers to entry in digital therapeutics were too low and the IP would prove difficult to protect. Meanwhile, many tech-focused firms believed Pear's biotech-like approach to building the business was too slow. In the end, McCann assembled a group of investors whom he had worked with personally in the past. The early investors brought skill sets and valuable insights from each of the major industries that Pear would meld together.
5AM is a biotech-focused venture fund. Arboretum is a medtech-focused venture fund. Jazz is a tech-focused fund. McCann said each of these investors saw something different in Pear. 5AM was impressed by the pitch that Pear was a very rapid path to a novel pharma product with drug-like reimbursement. Jazz saw the potential in leveraging the speed and iterative properties of software and applying those to medicines. Arboretum, like many medtech-focused funds, had been burned on many medical device deals that promised reimbursement, so the work there was convincing them Pear would be able to convince payers with the right proof points.
McCann often says that Pear was built like a traditional biotech company. Its roadmap is simply: get the data, get the approval, get the market traction, get the reimbursement, get the revenue, get the profit — in that order. That order of operations is also very different from a traditional tech company approach, which would start with building an MVP, getting it to market, and improving it based on early users' feedback. McCann's strategy with investors was to help them see Pear was just making "one cognitive leap". This is just a biotech company where instead of a pharmaceutical it's software. Everything else is the same.
What's next for Pear Therapeutics
2020 is likely to be another milestone-filled year for Pear Therapeutics. Here are a few things to watch for:
FDA authorization for Somryst. Pear made a surprising announcement that its insomnia digital therapeutic would be the first to secure FDA approval via the agency's Pre-Certification program. Many believe the Pre-Cert program to be a pilot that does not have the authority to clear devices. The FDA still needs to use the de novo backdoor for these authorizations. As a result, I'm curious to see what form the FDA authorization of Somryst takes.
Commercialization of reSET and reSET-O. Pear's first two products are already in the market and I'm curious if its partner Novartis subsidiary Sandoz ends up publishing any financials related to these PDTs. I'm also curious to watch how these therapeutics are delivered to patients. Pear's partnership with Diplomat's EnvoyHealth is focused on patient and clinician onboarding. Finally, will payers get onboard? That all needs to take off in 2020. Another related, new endeavor that will begin for Pear: Real-world, commercial insights from Pear's analytics partner InCrowd and resulting improvements to reSET/reSET-O based on them.
Customers beyond Novartis/Sandoz. Pear's first customer is a big name pharma company, but it's worth noting that the head of digital medicines at Novartis, Jeremy Sohn, was an executive at MPM Capital along with McCann and Pear co-founder William Greene. MPM clearly had a hand in incubating Pear given that McCann worked at both companies simultaneously for most of 2014. While Sohn certainly wasn't the only decision-maker at Novartis to sign off on this deal, his connection to McCann was likely critical to it coming together. That background raises the question: Can Pear ink deals with pharmaceutical companies outside its founder's inner circle?
IPO buzz. Pear Therapeutics is on many people's shortlists for near-term digital health IPOs, and one of its early backers, Stephen Kennedy Smith, recently said in an interview that Pear would IPO in 2019. However, Pear executives often talk about the company's goal of getting five to seven prescription digital therapeutics commercialized as its immediate mandate between now and 2022/2023. While market conditions will obviously have a big impact on this decision, Pear would be wise to wait and IPO once it has these initial half dozen PDTs in the market.
Longterm success: For Pear, longterm success looks the same as it does for any life sciences company. It either needs one of its digital therapeutics to take off and reach blockbuster status or it needs to drive similar, aggregate revenues across its portfolio. Pear executives typically state that showing PDTs work across its portfolio is the company's longterm mandate.