Issue 020.
Get E&O weekly. | Subscribe | Digital health research from Brian Dolan.
Welcome to E&O.
Last week's newsletter had a 64 percent open rate. Here's what's happening this week:
I'll be at the DTxEast event in Boston next week, and I'm excited about the lineup. Let me know if you'll be there.
Missed this last week: Trialcard acquired medication adherence startup Mango Health. When Mango's founder and CEO Jason Oberfest left to join Apple's health team in December, it was a fair assumption that the company was looking for a buyer.
Germany-based digital therapeutics company Kaia raised $8 million in a round led by UnitedHealth Group's Optum Ventures. Kaia offers programs that address back pain and COPD. The company says it has enrolled 275,000 people into its programs. It just raised a $10M round in January led by Balderton Capital.
Sequoia-based digital therapeutics company Limbix, which markets a VR kit for various mental health conditions is currently pursuing an FDA clearance for its VR-based digital therapeutic, called Spark, for adolescent depression. It's working with Stanford and TrialSpark on the prescription digital therapeutic, which is currently undergoing a feasibility study. Check out its full pipeline of PDTs here.
A former Walgreens exec, Adam Falat, just announced the launch of his new digital therapeutics startup ATX Therapeutics. The company's initial strategy is to try to sell digital therapeutics directly to consumers. No specific focus is revealed in the launch announcement, but the company does hint at a few areas of interest: "many chronic diseases are caused by a short-list of risk behaviors, such as tobacco use, poor nutrition, lack of physical activity and excessive alcohol use."
At Health 2.0 in Santa Clara, Omada Health's CEO Sean Duffy said the company has had 275,000 people enroll in its programs. Omada typically uses the cumulative number of people instead of a real-time one. The latest figure makes for about 25,000 new users since the last update, which was 250,000 in May of this year. At this current rate, Omada is currently adding about 7,000 or so new users each month. It also added 50 new customers (600 now) since it announced its funding in June, when it had 550 customers.
This study concluded that diabetes prevention programs should take measures to address depression and anxiety issues in their patient populations: "Both depressive symptom burden at baseline and change in this burden are associated with a graded reduction in the effectiveness of diabetes prevention programs at increasing physical activity in primary care."
Did this get forwarded to you (again)? C'mon now. Put your freeloader days behind you. It's time. You can sign up for real by clicking here.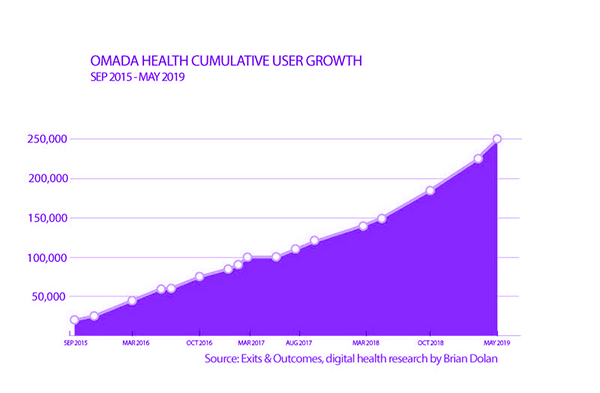 Livongo, Omada, Kaia, Healthvana, Propeller user numbers: 100,000 – 300,000
It just struck me after compiling the quick links above that a number of companies I'm tracking have disclosed users numbers in this range. While they're not apples-to-apples since some talk only of cumulative users, it's striking how each of these companies count users in the low hundreds of thousands now:
Livongo: 192,000 members.
Propeller Health: >100,000 patients enrolled (as of May).
Kaia: 275,000 users enrolled.
Omada: 275,000 cumulative users.
Healthvana: >250,000 users.
Follow-up thoughts on Pear Therapeutics
In the days following the publication of The Pear Therapeutics Report last week, I've had conversations with a few of you about the findings. While Pear only recently launched its first product commercially, the company has managed to move quickly since its founding five years ago. Of all the twists and turns in Pear's story thus far, the tactics that continue to pop up in conversations have been related to the company's licensing strategy.
License others digital interventions: First off, Pear's "roll-up" strategy in its first year of operation (2014-2015) to gather up (somewhat) exclusive rights to dozens of digital interventions that have proven their efficacy via RCTs with solid control arms, has allowed the company to skip a few steps. Most digital therapeutics companies begin with an idea for a digital intervention that they need to build and prove-out with a randomized control trial. Pear acquired the rights to interventions instead, and it did most of this licensing work early on, and quietly before the digital therapeutics trend had received much notice.
Use the interventions' existing efficacy data for FDA: Pear has also managed to secure FDA authorization for at least one of its prescription digital therapeutics by referencing the efficacy data related to the early, academic version of the PDT. Pear still refines and evolves these digital interventions with its own team, but the advantage of showing up to the FDA with a mostly-baked, RCT-proven digital intervention has helped Pear get to market sooner. That same strategy will help it get future PDTs to market faster than the competition, too.

In many of Pear's known licensing agreements to date, the company has attained exclusive rights to use the inventor's digital intervention as part of a combination product with some kind of pharmaceutical. In most cases, the inventor has retained the right to develop their digital intervention as a stand-alone offering or, at least, not as part of some combination product with a drug.

A couple of the academics whose research is critical to Pear's various digital therapeutics have banded together to form their own digital therapeutics company called eQuility. That startup includes various Pear Therapeutics inventors and licensors like Eric Leuthardt M.D., Roy Levien, Walter Greenleaf Ph.D., and Dror Ben Zeev. eQuility is working on digital therapeutics focused on depression, bipolar disorder, and sleep currently. It also has designs on anxiety, RA, IBD, and other inflammatory diseases. This slide deck from July is a good introduction to eQuility (slides 5-24).
Digital Pharma/Medtech deals: Sanofi-Happify, Bayer-One Drop, Medtronic-Novo, and more
This week saw an unusual number of deals between medtech/pharma and digital health companies. Here's a quick rundown:
Sanofi inks 10-year deal with Happify Health: Happify Health will develop a version of its digital platform specifically for people with multiple sclerosis and plans to submit the co-developed digital therapeutic to the FDA for clearance as a medical device. Prior to this deal Happify has been focused on a direct-to-consumer and payer-facing offering that uses CBT to reduce anxiety and depression in the general population. Happify has managed to attract 4 million users for its consumer programs.
Bayer leads $40M investment in One Drop: One Drop, a diabetes-focused digital health company, which recently secured shelf space at Apple's stores, just announced a $40 million Series B round led by Bayer. Perhaps more interesting: Bayer also inked a global commercial licensing agreement to use One Drop's platform in areas beyond diabetes, including oncology, cardiovascular disease, and women's health.
Medtronic-Novo Nordisk and Sanofi-Abbott: Medtronic partnered with Novo Nordisk in a nonexclusive agreement integrate insulin dosing data from future Novo smart insulin pens into Medtronic's CGM devices, like its Guardian Connect system. Novo's new smart pens are set to launch in 2020. Sanofi and Abbott inked a similar deal this week: The two plan to co-develop "tools that combine the revolutionary FreeStyle Libre technology with insulin dosing information for future smart pens, insulin titration apps and cloud software."
That's a wrap on Issue 020.