I first met Sean Duffy — the health entrepreneur, not the US congressman — at TEDMED 2009. That was the year the founder of TED helped resurrect the medical version of his famed event after a long hiatus. Duffy and I were there for the same reason: He was writing for Medgadget (and he had just started as an MD-MBA candidate at Harvard). I was finishing up my first year as co-founder of MobiHealthNews.
Packed with celebrities, TEDMED had a circus-like atmosphere. Martha Stewart gave a poignant talk about her time in prison. Magician David Blaine taught attendees how to hold our breath for 17-minutes. Even the real Patch Adams bounced around the event's venue. It was surreal.
While I was probably on minute two of a Blaine-sanctioned, breath-holding exercise, Sean Duffy was in the shrimp cocktail line. He was having — what would turn out to be — a life-changing conversation with Dennis Boyle, founding member of renowned design firm IDEO. That conversation led to a summer internship at IDEO that grew into a year-long gig. Ultimately, Duffy dropped out of Harvard to pursue Omada Health, a startup idea he developed as a skunkworks project while at the design firm.
Omada Health's Origin Story
Boyle tasked Duffy and another IDEO colleague, Adrian James, to use IDEO's human-centered design principles to take a clinically-proven, in-person intervention and translate it into a digital program that had a focus on preventing chronic disease. Stanford University's Byers Center for Biodesign has an excellent case study on the origins of Omada, and it explains how Duffy and James applied IDEO's frameworks to develop the technical and business cases for the potential startup.
After a few weeks of research, Duffy discovered the landmark NIH-backed Diabetes Prevention Program (DPP) study from 2002:
"Duffy and James were impressed by the effectiveness of the behavioral interventions in the DPP. Even more importantly, they knew they had found the clinical evidence base from which they could begin to address diabetes prevention. 'We could imagine an online version of the coaching and guidance provided in the DPP trial that would leverage human-centered design and digital technology. But we wouldn't have to prove the value of those interventions. We wouldn't have to run our own randomized controlled trial to have a starting point,' remembered James. Instead, they could use the compelling results from the DPP as a foundation from which to build in both developing their offering and driving its adoption."
Omada Health went on to join Rock Health's very first accelerator class — back when the venture capital firm was a non-profit. Omada has come a long way since. It remains one of the few success stories from those early days of digital health. This report aims to chronicle some of Omada Health's accomplishments. In these pages we'll cover:
Omada Health's Growth Metrics
Omada Health's Investors and Funding
Omada's Current Product Line-up
Omada Health's Business Model
Operational Innovation
Omada Health: Digital Provider
Omada's Approach to Regulators
Medicare's Big Mistake
Omada's Evidence Generation Strategy
Omada's Competition
What's Next for Omada?
Omada Health's Growth Metrics
Like most private companies Omada Health shies away from sharing financial numbers, but it frequently shares the cumulative number of participants that have gone through its programs. Using this data as a starting point, I've put together estimates for the company's annual revenue figures, but these carry a few important caveats, as discussed below.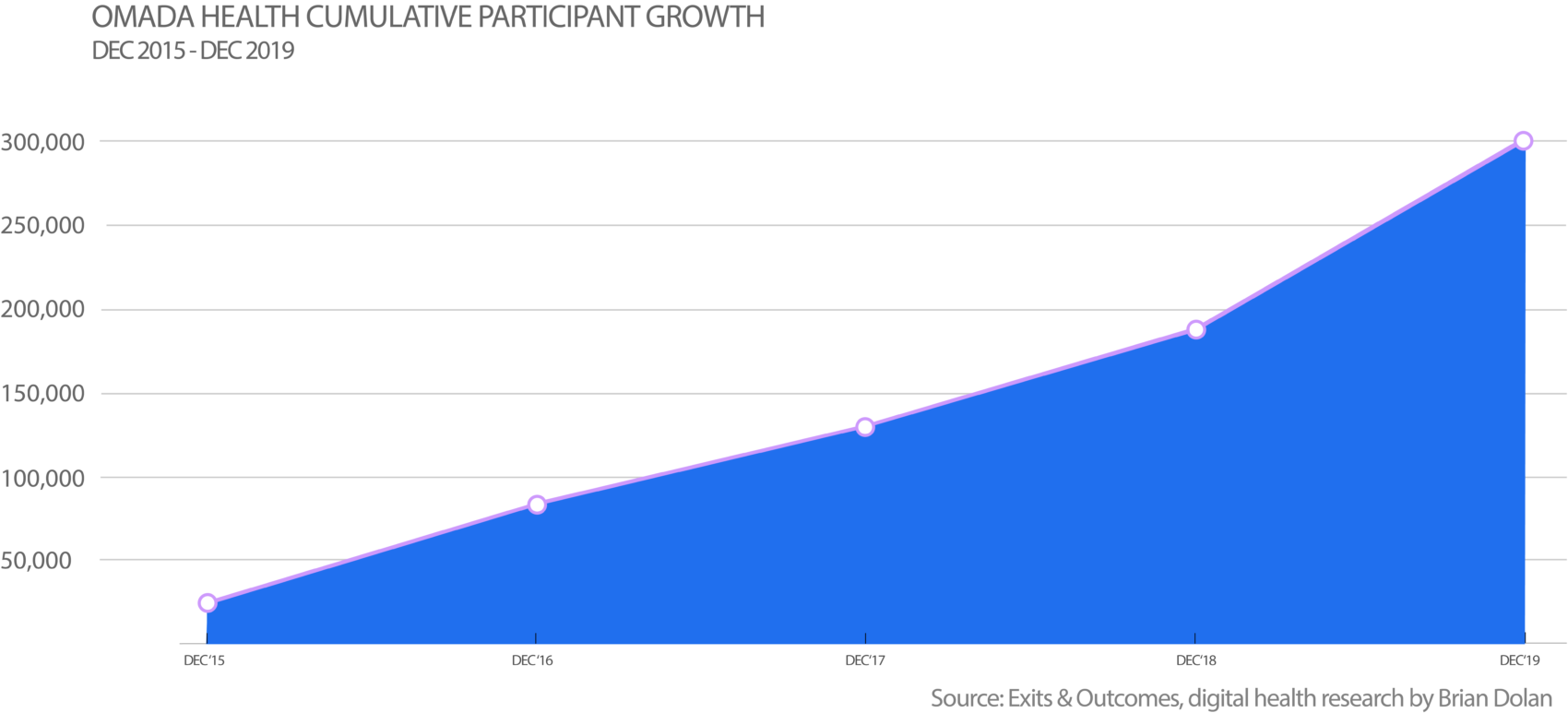 In the business model section below, I'll discuss details on how Omada prices its programs as well as when and how it bills payers. It's important to know that Omada bills per actual participant. In its prevention programs, Omada only bills for a given month for three types of events: when the participant has enrolled, if they have engaged with the program up to a certain threshold that month, and based on the percentage of weight the participant lost that month.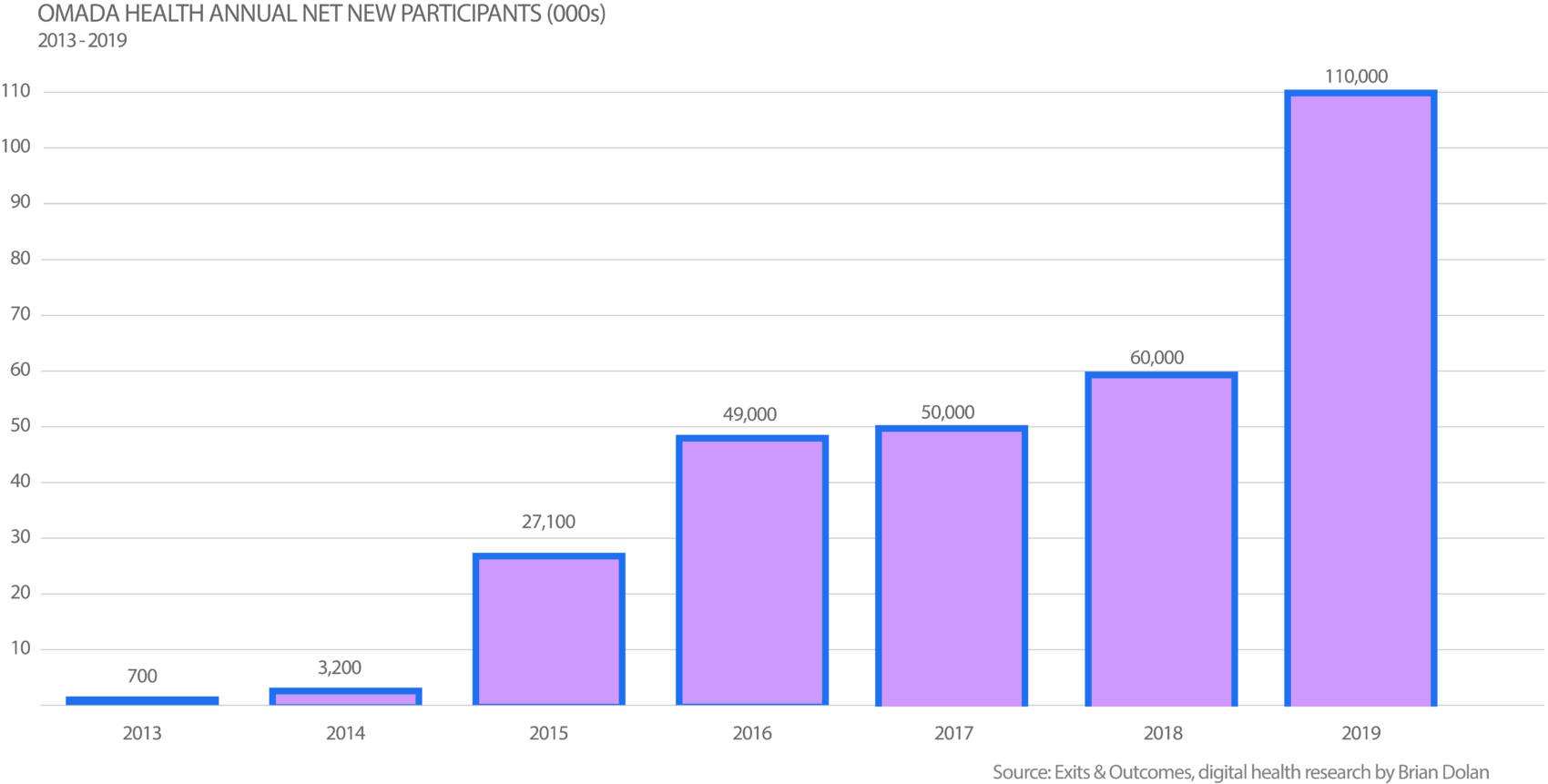 An important caveat to keep in mind with the estimated annual revenue figures in the chart below is that I calculated revenue per participant and accounted for it in its entirety for the year in which they enrolled. That means if a participant started in December of 2018, my numbers show revenue from that participant in the 2018 figure, instead of the 2019 figure where most of it likely booked since Omada charges on a monthly basis. Therefore, an unknown (but possibly significant) amount of revenue should be shifted to the year ahead.
I'll be interested to see how these numbers compare to the official ones Omada releases in its S-1, if it decides to go public this year. That document will only include the two most recent years of financial data, however, which won't show the company's slower-growth years in 2016 and 2017. They would show the 2018 numbers but only in comparison to 2019, which would point to high-growth:

The other assumptions built into the estimated annual revenue numbers above come from the scant details the company has shared about how it prices its various programs.
Up until 2019, Omada only offered programs that were permutations of its core prevention offerings, so the pricing was assumed to be the same on average for all participants those years.
Starting in 2019 Omada began offering additional programs, including one for managing Type II diabetes that operates on a per member per month model instead of Omada's outcomes-based model. I kept the calculations above simple by applying the same average pricing across all participants.
A few of the key pricing (and other) numbers Omada or its customers have shared over the years:
a range of $650 to $800 per participant that completes the program
an employer referring to the cost of the free-to-the-participant program as $600 to entice enrollments
a stat that implied 10,000 enrollments was worth $6.5 million in revenue between 2015 and 2017
finally, Omada has often noted that about 80 percent of participants complete the program
while it doesn't factor into these models because we have participants numbers, worth noting that Omada once said their enrollment rate for most at-risk populations is between 20 and 30 percent, which is high.
I put together a few different simple models based on the relevant metrics above, including:
a straight $600 times the number of net new participants each year
another that assumed 80 percent of  net new participants completed the program for $725 each + remaining 20 percent only triggered bills between $140 and $420 based on one to three months of engagement
If you can ballpark those, you can tell these various models yielded relatively similar annual revenue figures. As mentioned before, the important caveat here is that participants trigger billing events every month, so attributing the entirety of their revenue as booked during the year they enrolled is sure to lead to time-shifted dollars that will be at odds with Omada's actual books. Directionally, however, these numbers help us better understand the company's narrative so far, and I'll refer to the estimated annual revenue chart throughout the report below.
Employer customer growth: 2019 was clearly a breakout year for Omada Health as it went live with an expanded relationship with longtime partner Cigna that essentially made it a covered benefit available to any employer customer who worked with Cigna. Omada said it started 2019 with a little more than 400 employer customers, topped 550 by mid-year and at the beginning of 2020, it crossed the 1,000-mark.
Headcount growth: Omada's team has more or less doubled in size over the past two years. In 2018 Omada's headcount grew from about 218 at the beginning of the year to 273 by year's end, based on LinkedIn data, which often includes advisors and part-timers, too. That made for a 25 percent year-over-year jump. Last year brought the company up to about 398 employees, which marked a 45 percent year-over-year growth.
Omada tends to add a higher number of new employees between December and January, which is why it is already up over 425 employees in 2020, according to LinkedIn. Omada does not publicly discuss the number of coaches it has on hand, but it does stress that it believes in a high-touch service that relies on real live coaches more than its competitors. LinkedIn data shows about 144 coaches work at Omada, but that assumes all coaches have the title "coach" and all their coaches use LinkedIn.
Omada Health's Investors and Funding
Omada has raised at least $199.5 million over the course of eight rounds of funding, including its most recent — a strategic and undisclosed investment from Intermountain Ventures. Prior to that Omada Health closed a $73 million Series D in mid-2019. Omada's list of investors is lengthy but it also includes Andreessen Horrowitz, Norwest Venture Partners, Kaiser Permanente, Cigna Ventures, Sanofi Ventures, Civilization Ventures, Providence Ventures, Wellington Management, Vertical Group, Founder Collective, NEA, TriplePoint Capital, Kapor Capital, Rock Health, dRx Capital, GE Ventures, and more.
Early days for digital health funding: USVP's General Partner Dr. John Root led Omada's Series A round, which was announced in March 2013, but Root invested before Omada had figured out its business model. Duffy has said that the best seed investors bet on the problem and the team. Duffy also said that when Omada was first raising money, few investors had an appetite for digital health startups. Life sciences-focused investors wanted to see a startup's monopolistic IP, while tech-focused investors couldn't get over how long it would take to generate an evidence base via clinical trials. Omada's earliest investors usually were from either healthcare or tech but had already dabbled a bit in the other sector.
Omada's Current Products
Omada's core offering is its digital diabetes prevention program (DPP), which it launched in 2012. In the early years this program was called simply Prevent, but now Omada refers to it as "Omada for Prevention". Since weight loss is beneficial to preventing a number of metabolic diseases, by 2015 Omada also marketed its prevention program to people with high blood pressure, high cholesterol, as well as metabolic syndrome. At times the company swapped in other conditions or names for the same ones, like high blood sugar instead of prediabetes, high blood fats instead of high cholesterol, and obesity instead of metabolic syndrome.
By the end of 2018, the mix of conditions and preconditions that Omada mentioned on its homepage changed to include, prediabetes, Type II diabetes, hypertension, and high cholesterol. It wasn't until the beginning of 2019 that Omada launched its behavioral coaching for people with Type II and with hypertension. These programs maintained the general structure of the original Prevent, but they are billed on a PMPM basis instead of on an enrollment plus outcomes-based model.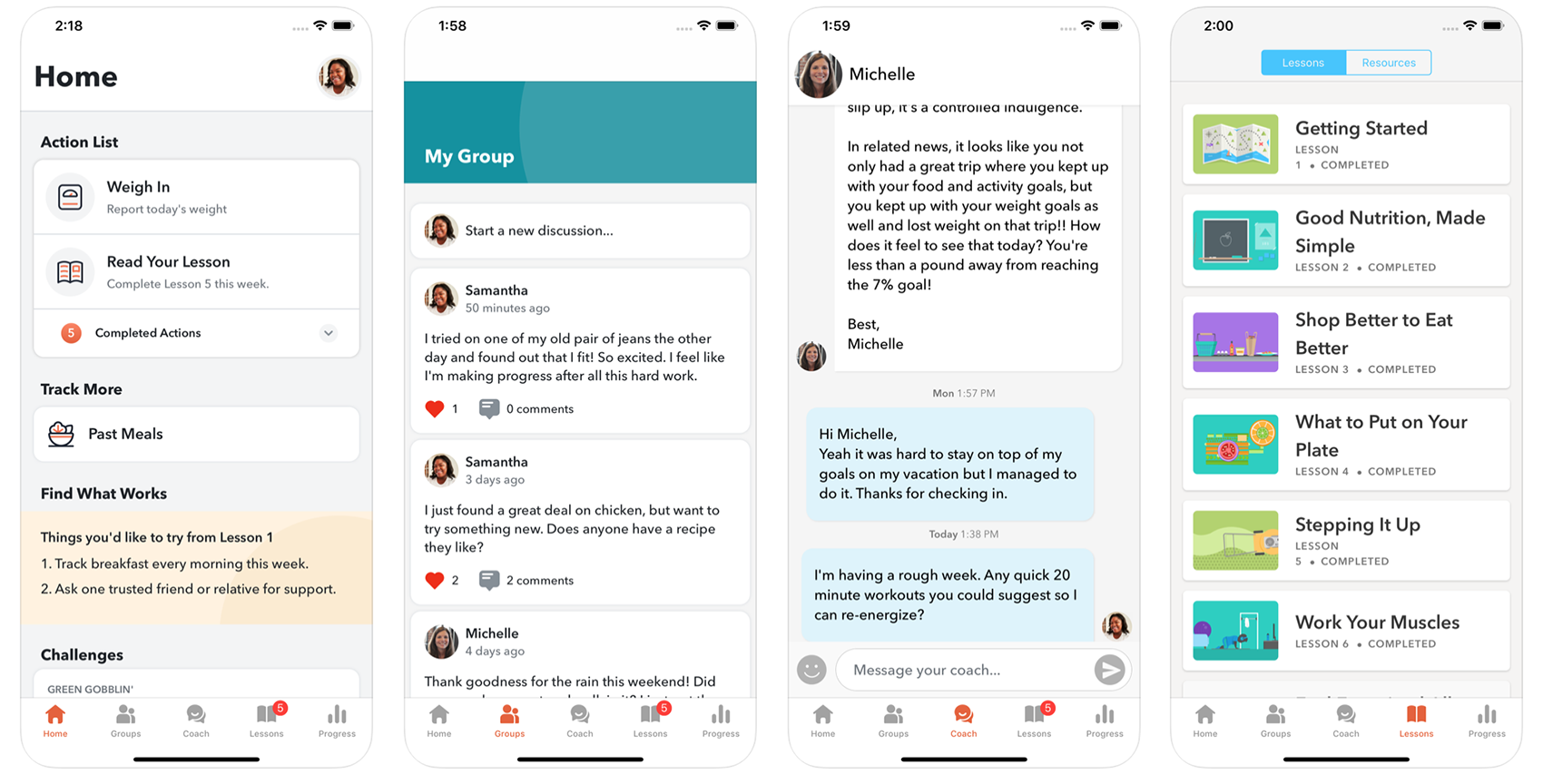 At the end of 2019, Omada began to integrate more sophisticated cognitive behavioral therapy content into its programs, which it licensed from Lantern. These interventions added mental health support to participants in its various programs, but they also would lead to a dedicated mental health intervention offering that Omada is likely to take the wrapper off soon.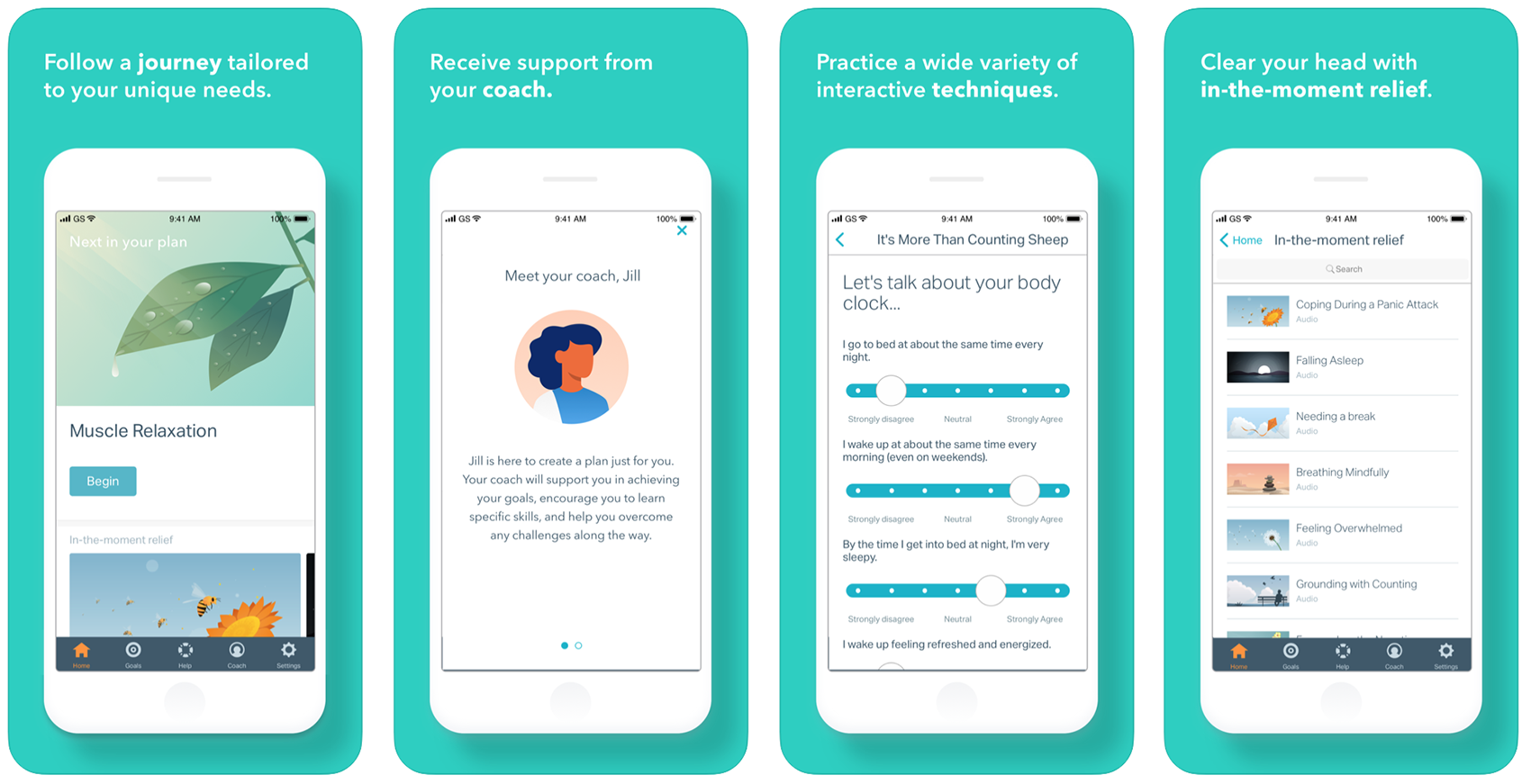 Omada Mind, which includes programs focused on anxiety and depression, marks the first fully separate program that breaks away from Omada's original Prevent model. As a result, the Omada Mind service comes with the first new app from Omada since the company's original one. A key difference between Omada Mind and Omada's other programs is that Mind does not appear to include a group feature, it's just the participant and a coach in this program. It's unclear how the business model for Omada Mind will work but it is likely PMPM.
Five programs as of January 2020: In summary, the company's current and (soon-to-be-announced) offerings include: Omada for Prevention, Omada for Type II Diabetes, Omada for Behavioral Health, Omada Mind, and Omada for Hypertension. The company has described Omada for Behavioral Health as an "Intel-inside" digital intervention that it embeds into its various programs.
Key features of Omada's core prevention program:
Omada's prevention program includes an intensive 16-week lifestyle change program, based on CDC's curriculum for diabetes prevention. It includes instruction on diet and exercise as well as guidance for sleep and stress management along with lessons on breaking unhealthy habits and avoiding triggers. When it comes to dieting, the program focuses on positive psychology to help encourage participants to eat more of the healthy foods they already like to fill up vs. focusing on cutting out unhealthy foods.
Following this 16-week program is an ongoing maintenance program designed to sustain these lifestyle and behavior changes.
Participants are put into a peer group of between 18 and 24 other participants, who are matched based on BMI, location, and age. While the group members do not compete, they can see a progress bar for how close each member is to the shared weight loss goal of 7 percent of their body weight.
Each group is led by a professional coach who has been trained by a Diabetes Technical Training Assistance Center Master Trainer.
Each participant is sent a weight scale with cellular-connectivity embedded so that the device is already set-up and sending data to the participant's account right out-of-the-box. Participants also receive a pedometer.
Finally, the participants complete lessons on a weekly basis but asynchronously. They have continuous access to message their coach.
Omada Health's Business Model
Omada's founders spent the first year of the company better understanding how dollars flow in healthcare and wondering why disease management companies and other health-related companies sell into employers using a per employee per month (PEPM) model.
Omada's early assessment of the legacy/incumbent business model: Historically, those models would contract something like 30 cents per employee per month for an employee population of 1 million. That business model misaligns the service provider with the payer, however, as it misaligns the revenue model and the cost of goods. In other words, as more employees sign up, the service provider's margins are compressed. It sets up a perverse incentive to get just enough employees to sign up to make the numbers work and keep the payer relatively happy with the enrollment figure, but not so many it hurts the service provider's profits.
"We are in a neat moment in digital health where, because of the data you can collect from these interventions, you can create new business models." — Sean Duffy, 2017
Omada's first innovation was to only bill when participants enrolled in the program, engaged in the program, or lost weight from the program. Furthermore, the company says if a participant only enrolls and engages but does not lose weight, Omada turns no profit from that participant. All of Omada's upside is in helping the participant lose weight, the fees from enrollment and engagement only cover Omada's costs. One reason Omada charges an enrollment fee at the start of the program is each participant receives a cellular-enabled weight scale, which the company says costs under $100.
In the best-case scenario, 55 percent of the revenue from a participant who loses a significant amount of weight in Omada's prevention program accrues to Omada's profit margin, while the remaining 44 percent of the revenue from that participant covers the costs of their participation. Omada charges a monthly fee based on the percent of weight lost, which Omada has said averages around 5 percent for the participants who complete the program.
A key benefit of Omada's model over PEPM is that the company can calculate exactly how much more revenue it could bring in if it helped a particular participant lose an additional percentage point of weight. This aligned incentive pushes Omada to find ways within that budgeted revenue to nudge the participant toward success.
CPT 0488T: First digital health billing code from American Medical Association: Omada Health was instrumental in convincing the AMA to create a digital-specific CPT code, 0488T, for billing claims from digital diabetes prevention programs. Digital providers are currently excluded from Medicare reimbursement for diabetes prevention programs, but the CPT code above is helpful in streamlining payment from commercial payers based on pricing and contracts negotiated between them and Omada — as well as other DPP providers. In September 2019, Omada said it has sent 500,000 billing claims to commercial payers since it started filing claims in 2013. 
Self-pay: From the very beginning Omada Health decided it would not be a direct-to-consumer weight loss company. However, Omada Health has always offered the option to self-pay for its prevention programs, which started out at $120 a month for the first four months in the early years, but now run $140 a month for the first four months followed by $20 a month thereafter for the maintenance phase of the program. Omada has said it only offers this program to either help people who switch jobs but want to stay in the program or to allow significant others to join to go through it with their partners.
Operational Innovation
More than anything else, Omada Health prides itself on what it calls "operational innovation". One clear example of operational excellence is the company's ability to pull off its complex digital programs, as Duffy explained in an interview once:
"On the product side, and the operational side, we have a very intricate operational model by design, because we think it's the right experience for the person. But I don't think there's another company that I know of out there that literally matches people up, mails them equipment, bills it, makes sure it's registered to the right person, deals with hardware, supply chain, a warehouse, gets it there on time, launches people on Sunday, makes sure there's a coach that's trained and available, balances forecasting capacity, has a code that's on a clock base where each week something changes, packages that are mailed. It's very intricate."
Omada's other key operational innovation may have been more difficult to execute: It's clear from the number of net new participants in Omada's programs that the company's growth slowed between 2016 and 2018. In 2017, the slowing growth is what led Omada to announce its only round of layoffs in the company history.
Part of what caused the stagnancy those years was a change in strategy. From 2013 until 2016, most of Omada's revenue came from direct contracts with self-insured employers, but the company understood that employers' HR departments generally did not have the staff or budget to maintain direct contracts with more than a few vendors. Starting in 2017 Omada began to focus more on setting up relationships with health plans and other channel partners to remove the sales friction from selling into employers. While it was easier now for employers who worked with the health plans and TPAs Omada Health contracted with, it was unusual — and still is — for a digital health company to have an NPI and file claims just like it was an in-person provider. The transition may have led to slower sales in the near-term, but the strategy helped propel Omada's gains in 2019.
"I do think that health plans, three or four years out from now, will have contracting groups that setup in-network relationships with in-person providers and they will have contracting teams that setup with digital providers. We are not there yet. We had to jury-rig it like that scene in Apollo 13." — Sean Duffy, December 2019
Omada Health: Digital Provider
Over the years, Omada has described itself in a variety of ways:
2011: "Among the first to apply the principles of social networking to the legitimate clinical treatment of a disease".
2015: "The pioneer of the emerging category of digital therapeutics."
2018: "Weirdly, the best way to think about Omada is almost as a digital hospital for early metabolic disease".
2020: "A digital care provider."
NPI since 2013: Despite its morphing marketing language, Omada Health has had a National Provider Identifier (NPI) number since 2013. It's officially listed as a "health educator". NPIs are a standard created under HIPAA and they make it easier for providers to bill for services without giving away any potentially PHI sensitive information about which services the provider specializes in. As such, Omada Health has operated as a covered entity under HIPAA as defined by 45 CFR 160.103 since its founding.
Growing into digital provider from digital therapeutic: Omada Health described itself as a digital therapeutic company back when it was wholly focused on diabetes prevention. When it had one specific protocol and one specific clinical outcome that it published clinical research against, that moniker fit. As Omada has evolved to help provide care for more diverse patient populations, like people with Type II diabetes, by creating personalized pathways based on where they are at clinically, the company believes that isn't too different from what a provider might do for a patient with Type II diabetes who walks into the Mayo Clinic.
High touch and patient-centric: Omada has also increasingly referred to seeing itself as a provider when it stresses the importance of how high touch its programs are and how important real-live coaches are to its programs vs. automated scripts.
It also often mentions its provider identity when the question of who owns the data in its servers. Omada actually changes its terms of service in 2018 to make clear and confirm that every Omada participant owns the information they supply to Omada or that Omada collects about them with their permission. The company said such a stance is just part of being a provider.
Even the FDA's head of digital health Bakul Patel noticed Omada's evolution and hinted at the company's regulatory status with the agency:
"If you think about the folks like Google and Omada Health and others who have not really been in this space and purely [been] in general wellness, are now moving quickly into [the] medical device space, and how do you sort of provide a path for them so they can actually deliver products, bring that innovation to healthcare that we all [hope] for?" Bakul Patel, FDA, October 2017
Omada's Approach to the Regulators
In 2016, Duffy wrote that three things Omada Health had committed to since its founding were to gather evidence, embrace incumbents, and make nice with the regulators:
"We insisted on proactively engaging policymakers that set the rules of the road for our industry. This meant understanding how regulations that were written before the advent of digital healthcare would apply to a new company during the greatest upheaval of the healthcare system in a generation. It also meant educating regulators on where we fit within that changing landscape."
Omada Health has been an active participant in Washington's discussions about the future of digital health. As noted above, the FDA has tracked Omada's evolution from a prevention program into a digital provider. Omada has actually registered its weight scale with the FDA as a Class I medical device for years — likely as a prerequisite for filing billing claims on it. Omada has weighed in on the FDA's Pre-Cert program, its hands-off approach to General Wellness devices and apps, as well as its oversight of clinical decision support software.
In addition to the FDA, Omada Health has worked closely with the CDC on its certification process for diabetes prevention programs, and it has participated in policy discussions around information blocking, HIPAA and more with ONC and the HHS Office of Civil Rights.
Since Omada has been operating as a digital health company longer than most, a key theme across much of its policy work and commentary is to encourage various government agencies to coordinate better when it comes to policy that relates to digital health. For example, why should CMS re-evaluate what standards should be for diabetes prevention programs if the CDC has already worked for years to establish them?
Medicare's reimbursement of the DPP — and digital programs' exclusion from that reimbursement — might be the policy issue that Omada has spent the most time and lobbying dollars on to date. More on that below.
Medicare's Big Mistake
During the Obama administration, specifically on March 23, 2016, HHS Secretary Sylvia Burwell announced that Medicare would begin the process of reimbursing providers for delivering the diabetes prevention program to at-risk beneficiaries. The plan was to reimburse for both in-person and digital programs. The day of the announcement, Duffy wrote:
"Today's news is also hugely important for our company and our mission of inspiring and enabling people everywhere to live free of chronic disease. As the largest CDC-recognized DPP provider in the United States — in-person or digital — our data set on the engagement and weight loss outcomes of more than 50,000 participants in all 50 states can be a valuable resource as CMS implements this new benefit. Omada Health's Mike Payne, Chris McGowen, and the public policy team have already [held] multiple conversations with CMS about how seniors will integrate a digital diabetes prevention benefit into their daily routines, and how programs can be designed to get optimal results for those over 65."
By May 2016, Omada Health had posted a job opening for a Senior Manager of Medicare Development.
However, when the Trump administration took office in 2017, the new leadership at HHS and CMS reviewed the plans to reimburse for DPP. By July 2017, CMS proposed that the reimbursement program should not include digital or virtual programs. Since the original DPP study did not include digital programs, CMS argued they did not have the statutory authority to include them in the reimbursement policy. The new leadership also had concerns about providing potentially valuable devices, like cellular-enabled weight scales, to Medicare beneficiaries as incentives to sign up. CMS also raised concerns around fraudulently billing for weight loss not verified by an in-person coach.
In August 2017, Duffy wrote:
"In the July 13 rule, CMS proposed only making in-person DPP providers eligible for reimbursement, despite enormous evidence that virtual providers can achieve equal, or even better, results with senior populations. In addition, CMS' sister agency, the Centers for Disease Control and Prevention, has been recognizing digital programs for more than two years while also collecting data demonstrating these programs' effectiveness."
Initial enrollment numbers showed that only 202 Medicare beneficiaries had participated in the new MDPP program during its first calendar year of availability, from April to December 2018. About 400 beneficiaries were enrolled during the first quarter of 2019 — a far cry from the 110,000 people the MDPP had hoped to reach during its first year.
According to lobbying records, Omada Health spent $215,000 in 2017 to lobby Congress and HHS to expand the diabetes prevention program to include digital providers. The company only spent $8,000 on lobbying in 2016, and it didn't spend any direct dollars in 2018 or 2019. Since 2017, Omada's lobbying strategy has focused on joining and working through advocacy groups instead of going it alone.
CMS made a promise to announce a path to reimbursement for digital providers by the end of 2017, but the agency has not made good on it. Additionally, because CMS has excluded digital DPPs from becoming Medicare suppliers, administrators of Medicare Advantage plans are hesitant to offer digital DPPs to their beneficiaries, too. Omada and others have argued that allowing Medicare Advantage plans to offer digital DPPs would be one way to help build the evidence base that digital DPPs will work for the broader Medicare population in the future.
Coincidentally, this Medicare saga hit Omada Health during its difficult and pivotal year — 2017. It had just announced a small round of lay-offs (about 20 people) and was quietly working to re-jigger its sales team to move away from direct contracts with employers to focus on health plans and billing like a true provider.
Omada's Evidence Generation Strategy
As mentioned above, Omada Health exists because the founders discovered the results of the 2002 Diabetes Prevention Program, a randomized control trial that included 3,000 people with diabetes and showed that a high-touch, in-person lifestyle and behavior change program (similar to Omada's digital version) could help prevent the onset of diabetes better than a placebo or a medicine, Metformin. At a high level, Omada's genesis is somewhat similar to Pear Therapeutics' strategy of acquiring digital interventions that have already proven themselves via an RCT.
The chart below is a bit dated as it was created in 2017, but it's a helpful visual to better understand Omada's evidence roadmap. While the chart mentions 9 peer-reviewed publications to date, Omada now has 14-peer reviewed studies published. It's also expecting to complete its first RCT in March of this year.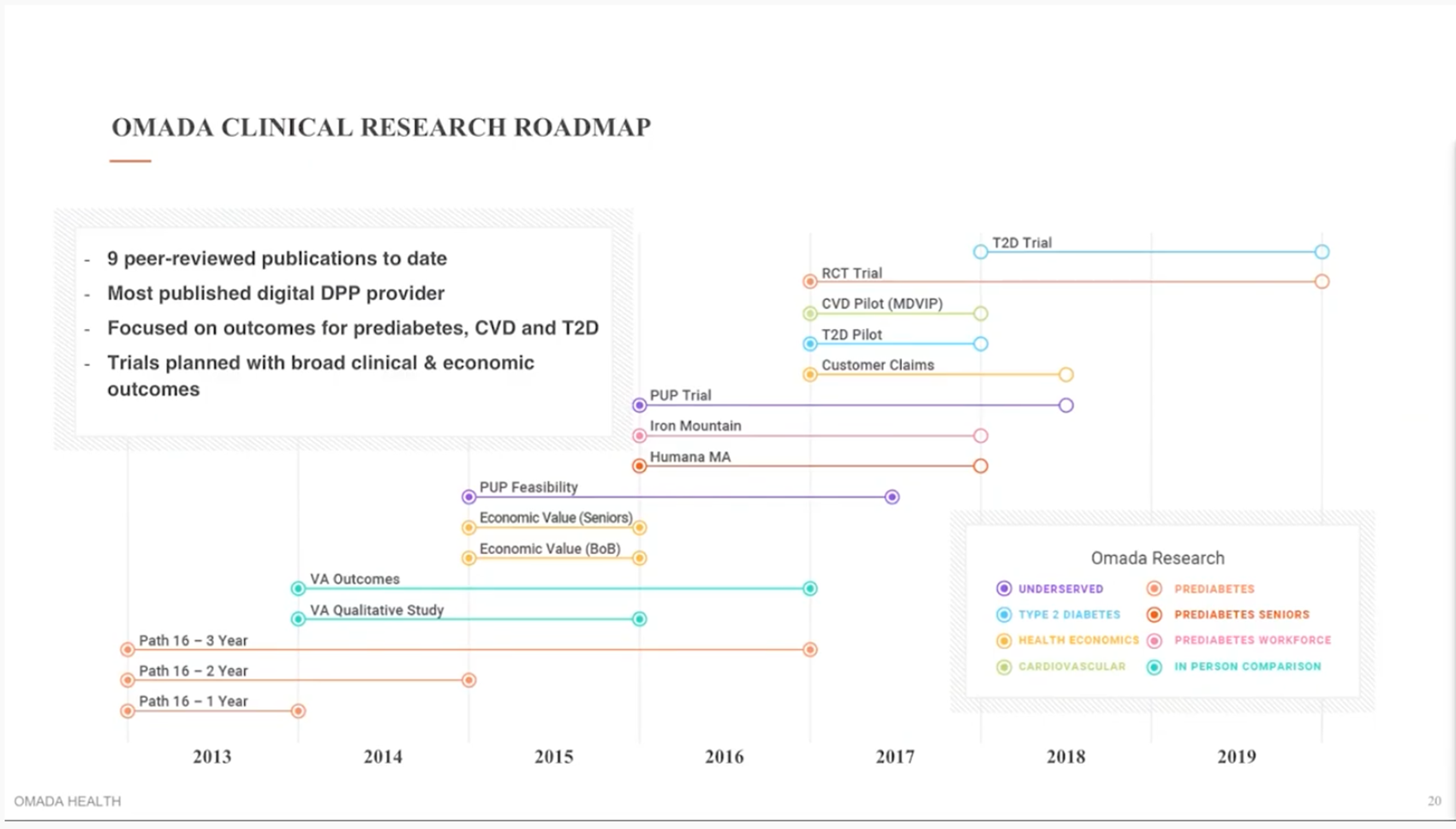 Omada has found that cohort studies have worked well in its case because no payers are worried that people are going to automatically lose weight without some kind of intervention. There are countless randomized studies for in-person weight loss interventions with control arms that show this never happens. As a result, Omada has not felt compelled to run its own RCT until recently. RCTs take a long time because they are best used to show multi-year results, but that also means they are expensive. Omada said the RCT is not required in its case but it will be helpful to convince the small slice of the health plan market that raises it as an objection.
Omada's focus on evidence generation paid off from the very beginning. In its early days, Omada's biggest internal champions at health plans and IDNs were the medical directors and clinical directors, because they could see via the published studies that Omada's intervention worked.
Omada Health's Competition
The number of companies and organizations that have filed with the CDC to gain certification as a diabetes prevention program is now up over 1,500. Of those only 35 are digital programs delivered online like Omada, and only 14 of those have secured full recognition from the CDC. What's more, Omada Health's DPP appears to be the market leader in terms of the number of participants it has served.
Livongo Health, which IPO'd last year, started with a focus on diabetes management but entered the prevention space via its acquisition of Retrofit. Like Omada, Livongo also has programs targeting hypertension and behavioral health. Overall, Livongo is Omada's biggest competitor, but each still has a larger stronghold with its original program's market.
Livongo has mentioned that being a public company helps bolster its standing with self-insured employers that might trust a public company more than a private one. Livongo has also managed to secure "preferred status" for its various programs — including its prediabetes program — in Express Scripts' new Digital Health Formulary. While Omada is featured in the formulary with its various programs, Express Scripts is contractually obligated to pitch its clients Livongo's programs first.
Virgin Pulse is another company that is eyeing Omada. Virgin Pulse recently acquired Blue Mesa, one of the 14 digital-only DPP companies to have secured full recognition from the CDC. While Blue Mesa has relatively few customers compared to Omada, Virgin Pulse claims to serve 4,000 clients in 190 countries around the world. Virgin Pulse started as an employee wellness solution but has quickly added on digital therapeutics services via partnerships and is now entering the DPP market directly with its Blue Mesa acquisition.
What's next for Omada Health?
Three quick areas of discussion for Omada's future: New programs, internationalization, and a potential 2020 IPO.
According to an Omada slide deck from November 2016, the company planned on adding new program modules focused on depression (which it has done), nicotine, and COPD.
I'm curious whether pressure from Virgin Pulse, which is very much a global company as described above, will push Omada to consider international expansion soon. Omada actually incorporated in the UK years ago when that country was rolling out its own version of a national diabetes prevention program, but Omada UK has since gone dormant. In 2015, Duffy also indicated that he planned to set his sights on international markets in 2017. More recently Duffy has said that while Omada absolutely has global ambitions still, in healthcare you need to be careful about when and how you go global:
"It is hard enough when you are a software business to take your business to the rest of the world. I've heard so many stories of CEOs of SaaS companies massively underestimating the challenge of entering these markets just with software. Healthcare is different and the bar is higher." — Sean Duffy, 2020
Omada is widely expected to IPO in 2020. Like most private companies weighing that decision, Omada has not said much about an IPO besides describing it as just another financing event. Interestingly, Livongo's annual revenue numbers for the two years leading up to its IPO tracked closely to the estimated annual revenue figures for Omada in the chart at the top of this report. Livongo posted $30.9 million in revenue for 2017 and $68 million in revenue for 2018 before IPOing in 2019. By my estimates, Omada posted around $39 million in revenue for 2018 and around $72 million in revenue around 2019 before possibly IPOing in 2020.