Issue 036. Get E&O weekly. | Subscribe
Digital health research from Brian Dolan.
Welcome to E&O.
Last week's newsletter had a 58 percent open rate. Here's what's happening this week:
Thanks for all the suggestions for the Omada Health report. Aiming to post and send that your way next week.
Jones Day published a lengthy recap of major 2019 policy changes related to digital health around the world. Well worth a look if you operate globally.
STAT has a must-read piece on Akili Interactive's FDA purgatory, which includes this quote from CEO Eddie Martucci: "The process is obviously longer than some of us had hoped, I can say that much. And any disappointment is more that we're not yet getting a product to ADHD families that they really need."
At a talk in Ireland, Apple CEO Tim Cook hinted at future health products from Apple along the lines of its FDA-cleared ECG app on its Watch: "Most of the money in healthcare goes to the cases that weren't identified early enough. It will take some time but things that we are doing now – that I'm not going to talk about today – those give me a lot of cause for hope."
Cook also talked up augmented reality (AR) in his talk. The FDA just announced plans for a public workshop in March on VR/AR in healthcare.
This older post received some attention on Twitter this week: In September VC Jason Calcanis shared revenue numbers for one of his portfolio companies, Calm: "$7m in 2016, $20m in 2017, $80m in 2018 and an estimate of $150m in 2019."
You may have already read through a draft version, but NIST just released Version 1.0 of its privacy framework. While voluntary (of course), the framework aims to help enterprises abide by the growing number of privacy regulations around the world.
Finally, because it hasn't been reported elsewhere, worth mentioning: RDMD quietly raised another $8 million. The startup is building a "Flatiron Health" for rare diseases and its past investors include Lux Capital.
Did this get forwarded to you? Sign up as a paying subscriber to get full access to E&O. Head on over to the pricing page here: Click this link.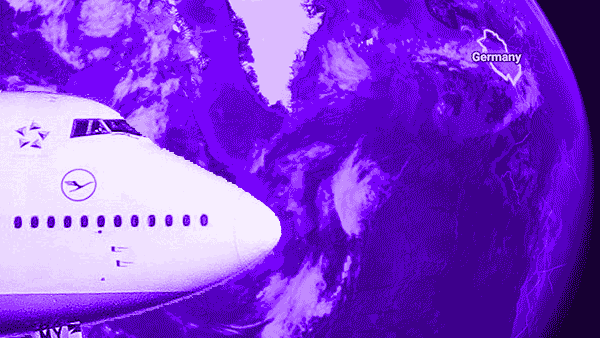 Healthcare M&A summary with multiples by deal category
The table below comes from investment firm Healthcare Growth Partners' recent report. It made the rounds on Twitter this week. Sign up for their research in the footer of their site here.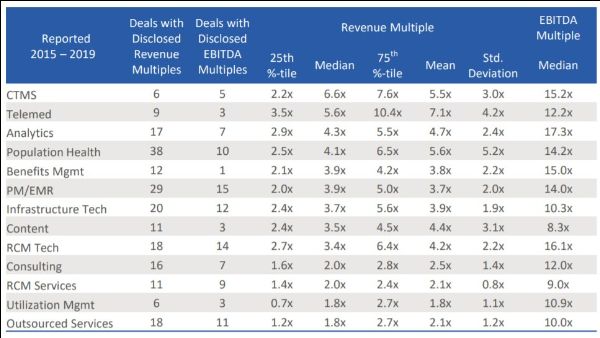 Verily's Study Watch adds irregular pulse monitor via new 510(k) clearance
This week Google's life sciences company Verily announced that its Study Watch had added a feature for irregular pulse monitoring via a new 510(k) clearance. Curiously, the clearance comes one year to the day of its first 510(k) for the device.
Verily writes that it plans to use the Study Watch to monitor patients for irregular pulse in clinical settings across the company's ongoing cardiovascular programs in addition to using it in its collaboration with peel-and-stick ECG monitor company iRhythm Technologies.
"iRhythm's own research estimates that 10 million Americans are at high risk for atrial fibrillation (AFib) — the most prevalent irregular heartbeat that can lead to blood clots and stroke. Our objective is clear: work together to develop best-in-class solutions for improved screening, diagnosis and management of patients with AFib."
Health Advances' Andrew Matzkin predicted that the new FDA clearance may be the next step in Verily launching an Onduo-like service for heart patients.
Digital hires, departures: Otsuka, Astellas, Sanofi, Orion, Sandoz
Here's a round-up of recent hires, promotions, departures from the past few months. It includes digital therapeutics companies, digital roles at pharma companies, and other related ones:
Following its recent break-up with Proteus Digital Health, Otsuka promoted Rohit Bansal as its new US commercial lead for digital therapeutics. Bansal will oversee marketing, market access, and sales for Otsuka's digital therapeutics.
Dr. Maanuv Bharadwaj is the new senior director of global digital therapeutics at Sanofi as of November 2019. Dr. Bharadwaj was previously head of Sanofi business services for APAC.
Alicia Tozier, Astellas Pharma's global commercial head of digital therapeutics & global marketing lead of regenerative medicine, left to take a senior director of marketing role at Genentech.
Finnish pharma Orion's Chief Digital Officer Sammeli Liikkanen has a new title: Director of Digital Medicine.
Kevin Mader left virtual reality company Magic Leap where he worked as a deep learning software engineer for digital health to join Apple as a machine learning engineer.
Pear Therapeutics clinical director Ken Weingardt PhD left to join Emilio Health as its VP of Clinical. Emilio is developing a new behavioral health clinic for children. It recently started up and was founded by a former Livongo executive.
Former pioneering commercial lead at both Omada Health and Virta Health, Mike Payne, who most recently was leading Ancestry's health strategy, left the company.
Cognoa hired Ashwin Bhuvanendran as its senior director of commercial from Medtronic where he was a senior manager of managed markets.
U.N. Amighi, who previously served as a business development lead at Wellframe, has joined Welldoc as its VP of Health Plan Sales.
Pharma company Orexo hired Dennis Urbaniak as EVP for Digital Health.
Sandoz's director of marketing for digital therapeutics Glenn Omanio left to join Takeda as director of reimbursement, access, and value for its gastro group. Likely fallout from the Pear-Sandoz uncoupling.
GSK's former digital therapeutics lead Kai Gait has joined Boston Scientific as its digital transformation leader.
Vifor Pharma's global head of eHealth ventures and digital therapeutics, Hans-Peter Frank left to join point-of-care testing company LiVET.
Clayton Robnett is Propeller Health's new VP of health system and payer development.
Voluntis' Insulia business development lead Logan Harper left to join Withings as business development manager US.
Patrick Masterson joined digital therapeutics company Beats Medical as its new Group Chief Commercial Officer from Oneview Healthcare.
Salumedia co-founder Luis Fernandez Luque, PhD is starting up a still stealth digital therapeutics company in Spain.
Quick links to E&O research reports
The links below aim to make it easier for paying subscribers to find the long-form research reports on the E&O site:
(new one added here next week!)
The Google Health Report (Subscribers-only Link)
The Pear Therapeutics Report (Subscribers-only Link)
The AliveCor Report (Subscribers-only Link)
Apple's Healthcare Work Experience (Subscribers-only Link)
Approximating Livongo's S-1 (Subscribers-only Link)
That's a wrap on Issue 036.