Issue 038. Get E&O weekly. | Subscribe
Digital health research from Brian Dolan.
Welcome to E&O.
Last week's newsletter had a 60 percent open rate. Here's what's happening this week:
Welcome to all the new readers! Spikes in subscribers are always attributable to current readers mentioning E&O on Twitter or forwarding these newsletters to their smartest, most-accomplished colleagues. So, thanks for doing your part to spin this here flywheel with me…
Lots of great calls this week with current subscribers about trends in digital health (as well as conversations about ways to deepen and expand E&O). One particularly succinct line I heard sums up the tension digital health will have to navigate this decade: "There is no precision medicine without surveillance." 'Shivers down the spine' kind of one-liner.
Speaking of surveillance, Google Health has yet to reveal a health-sensing, Nest-branded device (yet) — like the stealthy project I covered in-depth in The Google Health Report — but the business unit continues to eke out its provider-facing strategy and it's sharing more about it via short YouTube videos with Google Health head Dr. David Feinberg. In this latest one, Feinberg makes the case for how searchable medical records might benefit patients.
Related: I believe this on-stage interview back in 2014 was the first time Google's founders discussed the "searchable EHR" opportunity (since shutting down the original Google Health years before). Here's Larry Page in 2014: "Imagine you had the ability to search people's medical records in the US and that any medical researcher could do it. Maybe they have the names removed. Maybe when the medical researcher searches your data, you get to see which researcher searched it and why. I imagine that would save like 10,000 lives in the first year."
The FDA cleared Eko Devices' AFib and heart murmur suite of algorithms, which work in tandem with the company's smart stethoscope device. Eko just announced that the FDA had granted breakthrough device status in January.
Following its GreatCall acquisition a few years ago, Best Buy is looking to hire a Boston-based Director of Data Science to help it continue to build out its digital health products for seniors that include "wearable and IoT sensors to track activity, detect emergency events, and assess the current and future physical and mental health of seniors."
CVS-owned Aetna is looking to hire an executive director for its Mental Wellbeing organization, which is working to augment in-person provider networks with digital services. The job ad offers up "expanding virtual care and digital therapeutics options" as one tactic the yet-to-be-hired strategist might consider.
AppliedVR and UCSF announced a joint research project "to identify barriers and facilitators to digital therapeutics, including VR treatment from AppliedVR, for vulnerable populations such as Medicaid patients."
ICON posted a worthwhile whitepaper that includes high-level perspectives from ten payers (health plans and PBMs) on digital therapeutics. According to those interviewed, surprisingly, digital health formularies seemed to be three to five years away from adoption. That said, they believed they had the resources in place to launch one within 12 to 18 months.
Bunny Ellerin's annual healthcare venture capital in the state of New York report is out this week — read it here.
Mercer published results from a massive global survey that found 68 percent of employers plan to invest more in digital health offerings over the next five years.
Finally, the AMA published survey results on physician adoption of digital health — an update to its first such survey from 2016. It found, among other metrics, that physician adoption of virtual visits has doubled from 14 percent to 28 percent during the three-year period.
Did this get forwarded to you? You can sign up as a paying subscriber and get full access to E&O by clicking here and then clicking just another time or two after that.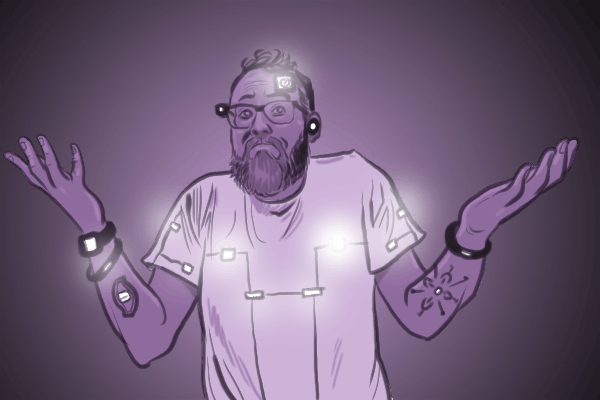 Why didn't Bayer just buy One Drop?
On his podcast, This Week in Startups, angel investor Jason Calcanis asked One Drop CEO and Founder Jeff Dachis the question in the headline above. Bayer made a $20 million contribution to the startup's Series B round in September. Why not just acquire the company outright? (As part of that deal, Bayer also inked a $10 million licensing agreement with Bayer.)
As you might expect, Dachis didn't really answer the question about a Bayer buyout, but, maybe more interestingly, he explained the origins of the relationship and a little bit about how One Drop might fit into Bayer's digital strategy:
"First, there is a personal relationship. [Stefan Oelrich], the [chief] of Bayer's Pharmaceutical Division used to be the [head] of Sanofi [Diabetes], the French pharmaceutical company's diabetes unit. I'd been doing work with Sanofi for several years now, and their teams, so [Oelrich] and I developed a personal relationship. He was at Bayer, went to Sanofi, then went back to Bayer as the [chief] of Bayer Pharmaceutical. When he shifted roles, I started talking to him about what we could do together. We kept our energy and rapport going and that was sort of the seed and germination of how we were able to get there with the Series B."
"And then, as [Bayer] was working through their strategy about 'what do we want to do in digital: Do we want to be doing digital therapeutics inside each — as a companion to every drug that we have? Or do we want to have a broader digital platform that could focus on health and wellness for people? Or?' So, they're working through their strategy and I just said, 'Hey, I think we could fill a very big chunk of your strategic hole, if we can work together.'"
"So that's how the Series B germinated. It was an investment and then there was a huge commercial licensing agreement that they did with us."
The whole conversation is an hour-long and covers a lot about One Drop's business — watch the video version of it here on YouTube.
Novartis highlights partnerships with Verily, Pear Therapeutics in its 2019 annual review report
In the "data science and digital technologies" section of its annual review report (page 24), Novartis highlighted its partnerships with Alphabet/Google's Verily and Pear Therapeutics. The pharmaco also wrote that it has now "collected approximately 2 million patient-years of data through our clinical trials alone," and it's building much of its digital strategy on this "data asset".
Here's how it summed up its "alliance" with Verily:
"Verily has built a platform that fosters the testing of patient-centric, technology-enabled research approaches. Initially, we're using it to test digital recruitment for clinical trials. Pharmaceutical companies have historically relied on doctors at a limited number of sites to identify participants for clinical trials. We might be able to improve patient participation in research by connecting with them in new ways, including through online health registries."
Novartis also noted its work with Pear on a digital therapeutic to treat depression among patients with MS, but hinted the therapeutic could be used with other patient populations, too:
"[Pear and Novartis are] working together to design and test a prescription digital therapeutic to treat depressive symptoms in patients with multiple sclerosis, a project with potential applications in other diseases."
Finally, Novartis said it had digital ambitions across its portfolio of therapeutics:
"We've started to convene agile teams of digital experts to identify and prioritize risks and opportunities for each molecule during development and for clinical care. In 2019, we examined the possibilities for our most promising assets, including CFZ533 (iscalimab), an experimental immunomodulatory therapy with the potential to make kidney and liver transplants durable. And we plan to routinely take this approach in the future."
Tracking the lay-offs: Proteus Digital Health headcount down by 80 since October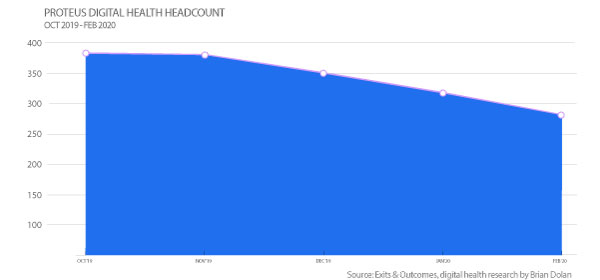 Swedish biopharma Orexo to launch two GAIA DTx products in the US over the next three years
Based on a presentation Swedish biopharma Orexo gave at the end of 2019, it expects to commercially launch the first digital therapeutic to come out of its partnership with GAIA as soon as this year.
GAIA and Orexo are developing two DTx offerings: OXD01 for opioid use disorder (OUD) and OXD02 (branded as "vorvida") for alcohol use disorder (AUD). Orexo has a global license to GAIA's OUD DTx, but plans to launch it first in the US in 2022. It expects to launch the AUD DTx (which it only hold a US license for) as soon as this year or next. The companies are planning a discussion with the FDA to determine whether the AUD DTx will require an additional study before it can secure market authorization from the agency.
Read through the presentation here (slide 7 is dedicated to DTx products).
Quick links to E&O research reports
The links below aim to make it easier for paying subscribers to find the long-form research reports on the E&O site:
The Omada Health Report (Subscribers-only Link)
The Google Health Report (Subscribers-only Link)
The Pear Therapeutics Report (Subscribers-only Link)
The AliveCor Report (Subscribers-only Link)
Apple's Healthcare Work Experience (Subscribers-only Link)
Approximating Livongo's S-1 (Subscribers-only Link)
That's a wrap on (the actual) Issue 038 of Exits & Outcomes. If you're especially attentive to detail, you likely noticed last week's issue was mislabeled as "Issue 038" when it should have been "Issue 037". E&O regrets the error.