Do big tech companies understand healthcare? It is a common refrain in healthcare circles that, no, they don't. Usually, that's followed by pointing out past failures like the go-to Google Health debacle.
CareMore CEO Sachin Jain, perhaps the most thoughtful healthcare executive writing today, just published a column in Forbes on this very subject. Here's how it starts:
My mentor, Leeba Lessin, used to say, "You can't change something unless you know something." Amazon, Apple, Google, Uber and a host of startups are all trying to enter the health care market, promising products and systems to improve efficiencies and outcomes. When I read about their efforts, I think about Leeba's wisdom.
History is filled with the stories of companies that have tried and failed to enter the health care market.
Why did they fail? In many cases, it's because innovators and technologists alike thought of health care from one perspective – their own.
It's easy to imagine a technologist designing a system based on her experience as a new parent in a maternity ward, or as an outpatient in a surgery clinic, or as a visitor tending to a sick parent in the hospital. Unfortunately, this perspective misses so much about health care that lies outside of those experiences.
Jain has almost certainly had direct experience to back up his thesis, but his column is focused on solutions to the problem, not exploring the problem itself. Jain moves quickly past the table setting because he knows his readers accept the premise that Big Tech companies like Apple just don't get healthcare.
At the same time in pharma circles, executives are quick to point to big tech as competitors that they need to take seriously. Here's what Alessandro De Luca, the CIO of Merck Healthcare at Merck Group, said in a keynote speech in Brighton, England this week:
I don't know about my future competitors, but my present competitors are called Google, called Alibaba, called Facebook, Tencent, and Amazon. Those are the pharma competitors. These guys are entering the pharma space very strongly, and those are not small players. They have the data. They have the technology and when digital health [is commonplace] they will rule the world. And everybody will have to adapt.
Finally, here's one more take from a pharma executive.
One of the speakers at the Yale Digital Medicine Symposium last month was the man who brokered the deal between Apple and J&J for the multi-year study the companies are collaborating on focused on patients with AFib. The speaker was Dr. John Whang, J&J's head of integrated evidence in cardiovascular and metabolism. When asked how he managed to bring these two massive companies together, Whang said (emphasis mine):
Really, Apple had their own vision. It was not aligned with ours initially, but [I] sort of brought them to — because they are new to healthcare, they don't really know the dynamics. You can hire people in, but unless you sort of have the DNA of operating in the healthcare environment, you don't really know the issues you are going to face in implementation. I had to sort of walk them off their storyline to get us in line together and that was sort of the nut of it. And persistence. Probably more than anything else, there were so many times when this thing was going to go dead. And you just pick it back up and you try again. For innovation that is always a key part.
Whang wouldn't say any more about the deal-making process, but his implication was clear. If you weren't a healthcare company from the beginning — if it's not in your DNA, to use his words — you can't "hire in" healthcare expertise to make up for it. This report aims to put some data around how much healthcare expertise Apple has now, but it won't answer the question Whang's comments give rise to: Does it matter? Apple's own successes or failures in healthcare will have to prove that out.
Methodology: Patents to inventors to colleagues to past work experience
Most analyses of Apple's health team focus on a few big-name hires, but for this report, E&O went the other direction. By mining Apple's nearly 25,000 patents and extracting the inventor names listed on about 150 health-related ones, E&O developed a list of 113 Apple employees who officially contributed to Apple's health R&D. Of the 113 a little over 100 have LinkedIn profiles that listed their prior work experience and educational background.
One interesting finding: For Apple's core health R&D team, or those named as inventors on health-related patents, the average number of years working at AppleMost of the employees in this group continue to work at Apple on health projects so that number is increasing. is about 5.5 years.
In addition to the patent holders, E&O found another 128 Apple employees on LinkedIn who disclosed that they worked at Apple on health projects.
The graphic below lists out the 27 digital health companies that current or recent Apple health employees worked at prior to joining Apple. Of course, Apple acquired both Gliimpse and Beddit so those startups perhaps contributed more to Apple's health expertise than the others. The list of digital health companies is impressive — it reads almost like a who's who of successful or, at least well-known (Theranos!), health tech companies.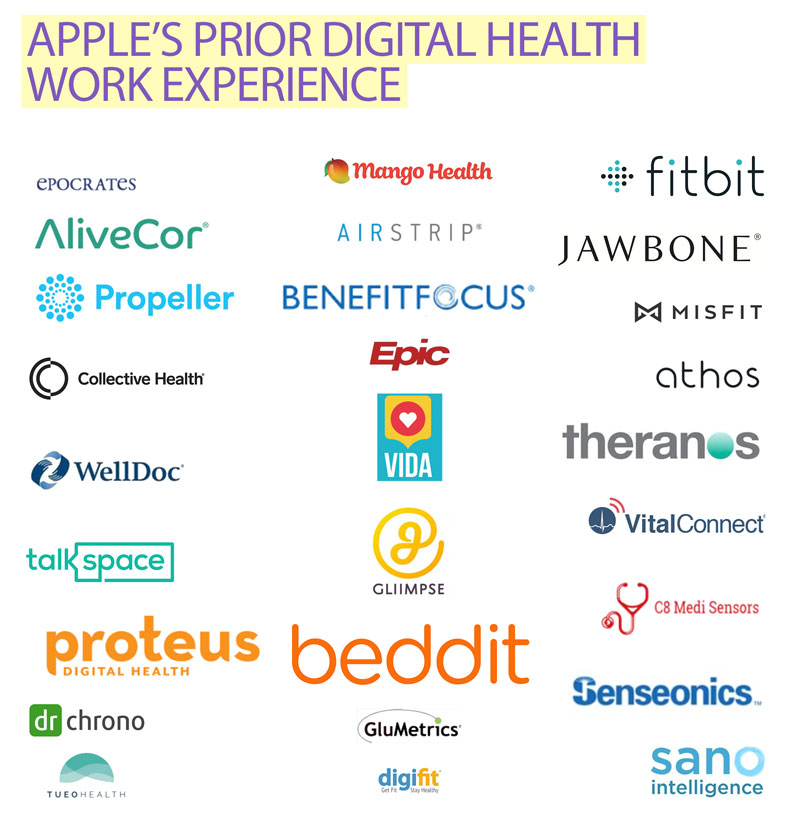 Apple's health team also hails from more traditional healthcare organizations, including health systems, life sciences companies, and big medical device makers. The image below lists the 25 healthcare companies and organizations that Apple's health team worked at prior to Apple.
Take, for example, Erno Klaassen, Director of Health Technologies at Apple. Klaassen has worked at Apple since early 2013, which is the year Apple began aggressively hiring for health talent. Klaassen joined Apple after six years at medical device giant St. Jude Medical where he worked as a technical manager of teams working on sensors for implantable medical devices. Klaassen now leads R&D efforts for new health-related technologies, applications, and products, according to his LinkedIn page. His various teams shipped products include the hardware powering the ECG feature on Apple Watch Series 4 and the sensing, firmware, algorithms, software, and UX behind the Beddit Sleep Monitor.
Another Apple health R&D employee with prior medical device work experience is Divya Padmanabhan, a senior engineering manager at Apple. Padmanabhan worked at Medtronic for two years on software that connects with an implanted pacemaker/defibrillator. During her 9.5 years at Apple she has served as the lead software engineer for optical sensors on the first Apple Watch and worked her way up to managing multiple sensor software teams that deliver a range of software products that support Apple's health initiatives. Her team also writes the software that powers the Apple Watch's elevated heart rate alerts, irregular heart rhythm detection, and ECG.
There are many more: Olivier Humblet, formerly a data scientist at Propeller Health, has worked on Apple's fitness products for the past three years and is named on a patent related to wearable devices and caloric expenditure. Thomas Sullivan, formerly of Proteus Digital Health, led the hardware team that built the ECG feature of the Apple Watch Series 4. Ueyn Block, who previously worked at C8 Medisensors like three of his other Apple health colleagues, has co-invented a number of patents, including one for a method that uses an optical heart rate monitor to identify physical activity.
What counts as health care experience?
When Jain wrote his Forbes column this week he probably wasn't thinking about medical device R&D as relevant healthcare experience, but he does indicate that tech companies don't have a broad enough view of healthcare. Whang also focused his criticism on inexperience in "implementing" healthcare. Given the lists of health companies in the images above, I'd argue Apple has pulled talent from almost every corner of healthcare.
If you take a generous approach, about half (49 percent) of the Apple health employees in this study have some kind of healthcare experience. That might mean they previously worked at one of the companies listed above or they might have a medical degree of some kind — including biomedical engineering degrees, which are common in this group. The percentage shrinks when you focus on the Apple health R&D team, or those named in Apple's health-related patents. For that group, we have data on 103 out of 113 people, because 10 of them don't have LinkedIn profiles. Some 38 percent of the 103 Apple health team employees named on patents have previous healthcare experience.
The beginnings of an Apple Health Mafia
Of the 103 Apple health employees listed on health-related patents, 23 — or 22 percent — have left Apple and now work elsewhere, went back to school or retired. E&O tracked another six Apple health employees in this study who have since moved on. Notably, of that wider group eight (8) now work at Google. Two went to Airbnb and one is at Amazon. Only a couple former Apple health employees have gone on to start their own companies, but given the concentration of digital health talent at Apple right now I predict that will change in the next few years. Here's a quick rundown on a few Apple health employees who have either gone on to start their own companies after leaving Apple, or are likely to do so given their entrepreneurial past.
Brian Carlsen spent about nine months working on Apple's health team before leaving to start Ciitizen Corp. While at Apple, Carlsen was named as an inventor on two patents related to Apple's efforts to make it easier for people to access their medical records. As co-founder and director of clinical informatics at Ciitizen, Carlsen is taking a similar tack: The company's initial focus is to make it easier for people with cancer to "have complete control of their health data".
Marcelo Lamego left Apple's health team in mid-2014 after a seven-month stint and founded his own wearables startup, called True Wearables. During his brief time at Apple, Lamego said he helped Apple define the current and future required resources needed for the Apple Watch's bio-sensing capabilities, helped hire scientists and engineers to build the Apple Watch, and negotiated a contract with a local, large university "for data collection on human subjects to model the interaction between the subjects' physiology and bio-sensing technology," according to his LinkedIn page. Lamego's new startup, True Wearables is focused on low-cost, fully disposable, wireless medical devices. Its first device is a single-use, 0.12 ounce pulse oximeter called Oxxiom.
Current Apple health employees who are likely second-time digital health entrepreneurs
Apple has publicly acknowledged two health acquisitions in recent years: Beddit and Gliimpse. Gliimpse co-founder Karthik Hariharan is still at Apple but is likely to start a new company or join his Gliimpse co-founder Anil Sethi at Ciitizen, the health startup he founded after leaving Apple. One of Beddit's early employees, software lead Kim Dikert, who has continued on at Apple, was one of the founders of Rovio Entertainment, the company that created the popular Angry Birds game. Dikert and his former Beddit colleagues, Mikko Waris, Joonas Paalasmaa, and Lasse Leppäkorpi, all seem likely to start new ventures in the future.
Apple's health team also includes a couple of well-known digital health founders whose companies it did not acquire. Mango Health's founder Jason Oberfest recently joined Apple and while he isn't likely to leave soon, he's another one to watch. Like Oberfest, Tueo Health's founder Dr. Bronwyn Harris joined Apple in the past year, so while she likely wouldn't strike out on her own again soon, another startup might be next for her. Another interesting former entrepreneur on Apple's health team is Evan Doll, the founder of Flipboard. He worked at Apple prior to founding Flipboard so leaving Apple's health team to start a new health venture tracks with his prior moves.
Sara Kianian, a clinical research study lead at Apple, describes herself as: "passionate about exploring innovation and entrepreneurship with biological sciences and medicine in order to integrate technology with health care in an effective and positive way." Kianian was previously the CEO and founder of Aera Devices, which aimed to develop non-invasive medical devices that detected COPD early on to prevent debilitating symptoms associated with the chronic disease. (Makes you wonder if she's leading a COPD study for Apple.)
Ali Amin, a mechanical design R&D engineer with Apple's health technologies group describes himself on LinkedIn as having a "strong entrepreneurial drive" since he previously started a medical device company and an electronics hardware store. The medical device was CareChair, which aimed to reduce the risks associated with moving a person in a wheelchair to a bed. He co-founded CareChair while still studying at university. Earlier in his studies, he worked at a startup called Medella Health that wanted to develop a wearable to help people better manage their diabetes.
There are at least another half dozen Apple health team members with some kind of entrepreneurial venture in their work history. Apple's concentration of digital health talent is sure to produce a number of health startups in the future.
Conclusion: When does Apple become a healthcare company?
J&J's Dr. John Whang's implication that a tech company doesn't have healthcare in its DNA and hiring in healthcare expertise won't change that, captures a commonly held view in health circles about big tech as it tries to break in. About 38 percent of Apple's health R&D team has prior healthcare experience. Overall, half of its health team may have prior healthcare experience from some of the largest healthcare incumbents across health systems, medtech, and pharma. Apple has also recruited talent from more than two dozen digital health companies.
Whang should think of this team as a group of former Dignity Health, St. Jude Medical, Cleveland Clinic, Quest Diagnostics, Medtronic, and Duke Health employees. Apple's health team benefits from experiences forged working at digital health pioneers like Propeller Health, Alivecor, WellDoc, Proteus Digital Health, and AirStrip Technologies.
He might be right that none of those hires, nor the sum of those hires, changes Apple's DNA. But he has to admit: This isn't the iPod team trying to figure out healthcare.