Issue 003. FDA Pre-Cert Dropouts? Amazon wearable.
Get E&O weekly. | Subscribe | Digital health research from Brian Dolan.
FDA wants more Pre-Cert participants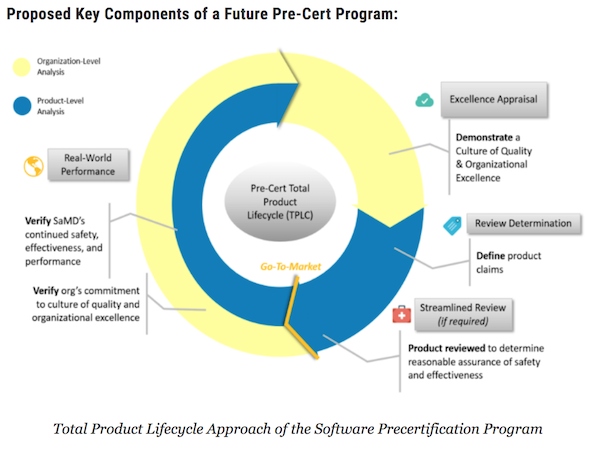 In something of a surprise move, the FDA announced this week it would open its Pre-Cert program up to new participants who will be accepted on a rolling basis for what it's calling the 2019 Test Plan. The first batch of Pre-Cert participants had to show they were planning to apply for a De Novo clearance, but this new call for volunteers seeks both De Novo and 510(K) applicants. One industry insider (and longtime Pre-Cert detractor) wondered whether the news means some of the original nine participants dropped out. As a reminder, those included: Apple, J&J, Fitbit, Pear Therapeutics, Phosphorous, Roche, Samsung, Tidepool, and Verily.
Rock Health follow-up analysis to its Q1 funding report
"Since Q1 2018, the top five deals each quarter account for about one-third of total digital health funding in that quarter." For this most recent quarter, Rock Health found that $534M was invested in the ten largest funding deals or about 55 percent of funding dollars that quarter. Four deals accounted for one-third of the capital raised in the quarter, or about 6 percent of the 64 Q1 deals Rock Health tracked.
For your next slide deck
Juniper Research predicts the digital therapeutics market, which it describes as "software that augments or replaces traditional therapies", will increase from $2.2 billion in revenues in 2019 to $32 billion in 2024. Diabetes and weight loss therapies will make up more than $19 billion of those future revenues, according to the firm.
CableCos to try home health again
CNBC reports that its parent company Comcast is developing a health-focused device that passively tracks people while they are at home. The cable company's planned device will sit in the home in a fixed place like a smart home assistant (Google Home, Amazon's Alexa-powered Echo), but won't offer any smart speaker or assistant features. Somehow, Comcast's device will track how often a person uses the bathroom as one signal about their health condition.
The reported device might be an offering from Comcast's health joint venture with Philly-based Independence Blue Cross, Quil Health. Quil is currently testing an app-based service that is trying to help people better navigate their way through the health system. For now, the app is focused on helping people follow their care plan post knee surgery.
Like Big Tech companies, cable companies have a long history of joint ventures and false starts in healthcare. Cox and Cleveland Clinic announced one in 2015 called Vivre Health that intended to launch a home health service. In the same press release Cox announced an investment in kiosk-based telemedicine company, HealthSpot. Both Vivre and HealthSpot are now out of business.
Here's how NightWare described itself in a recent, 50-person interventional clinical trial it just wrapped up:
"NightWare (Minneapolis, MN) has developed a novel approach to the treatment of nightmares. Through the use of a smartwatch-based application that senses physiologic parameters, the participant is aroused from sleep (without awakening the participant) so that the nightmare is interrupted prior to reaching a threshold of severity in which the participant would awaken in distress. Seconds later the participant returns to sleep without having experienced a nightmare. This approach avoids risk from pharmacological treatment, avoids exacerbation of symptoms from image rehearsal therapy and allows for a simple method with easily achieved adherence compared to existing treatments."
Big Health is now available to 12 million
This week mental health and sleep-focused digital therapeutics company, Big Health, announced that its Sleepio product is available to 12 million people around the globe. The company just inked a big deal with the NHS that grants 8 million people in London and another 2.3 million in the Thames Valley complimentary access to the digital therapeutic for poor sleep. The remaining 2 million make up the total covered lives at Big Health's self-insured employer customers in the US. The company did not share how many of these potential users converted into actual ones.
Code-named Dylan, Amazon working on voice-activated, health-focused wearable: According to a report in Bloomberg, Amazon is working on a voice-activated wearable that recognizes human emotions and may advise the wearer how to better interact with those around them. The device attempts to discern emotional state based on an analysis of the wearer's voice. Bloomberg is quick to point out this device appears to be early-stage and may never launch, but Amazon has launched some kind of beta program related to it.
That's a wrap: Please hit reply to send feedback my way. — Brian