AliveCor might never have existed if the Speaker of the House during Watergate, Rep. Carl Albert (D-OK) hadn't had heart issues. That inspired his son — years later — to pursue biomedical engineering coursework while in medical school at Duke. He took those courses so that he could figure out how to build a heart monitoring device for his dad. (Those weren't so easy to find back in the 1970s.) Dr. David Albert, the co-founder of AliveCor, did end up getting his medical degree, and he has invented many medical devices for heart patients since he began tinkering at Duke.
It's also almost a certainty that AliveCor would have been a footnote in the annals of digital health history if a certain venture-backed company hadn't botched its chance to acquire it — for a song — before the rest of the world had even heard of the iPhoneECG.
There's also a good chance that if Dr. Albert hadn't uploaded his YouTube video of a demo featuring his pre-FDA, prototype device before heading to CES 2011, the iPhoneECG would not have gone viral; Albert would not have appeared on Good Morning America and countless other news programs; and investors would have continued to argue that there was no market for a direct-to-consumer medical device for heart patients.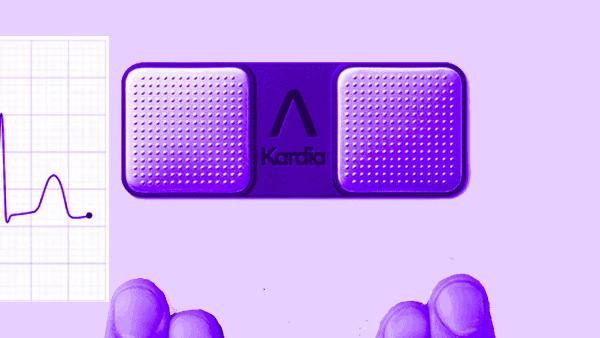 But, through a mix of luck and grit, AliveCor does exist. And as these pages will make clear, it's an important case study for digital health entrepreneurs and investors. Apple clearly agrees. Last year, at a time when it was considered the most valuable company in the world, Apple announced its very first FDA-cleared medical device: a stripped-down, knock-off version of AliveCor's Kardia Band.
Without a doubt, the tale of AliveCor is a storied one. Despite the many tempting rabbit holes in AliveCor's history, this report will focus on the strategic decisions AliveCor management made along the way. It's broken into sections focused on AliveCor's growth metrics, product portfolio, regulatory strategy, business models, hiring problems, and longterm strategic opportunities.
AliveCor by the numbers
AliveCor is a private company so it keeps quiet about most of its growth metrics. Here's a quick summary of ones mentioned throughout this report as well as a few additional ones that have not been reported elsewhere:
2018 revenue: $24,000,000.
2019 expected revenue: $40,000,000.
2018 Q4 revenue: $10,000,000 — largely attributed to increased media attention resulting from Apple's announcement about adding its own ECG software to the Apple Watch.
Monthly active users: 200,000.
First-year revenues from the veterinary market, pre-FDA clearance for humans: $1,000,000.
Number of ECGs in AliveCor's database: Nearly 50,000,000.
Number of ECGs captured each month: About 1,500,000.
Current employee headcount: About 70.
A few quick takeaways
This has yet to be reported elsewhere: As of this summer, AliveCor has stopped selling its Kardia Band device as a result of Apple's ECG feature launch. AliveCor has also put its SmartRhythm feature on pause, but this may make a return for other smartwatches in the future.
The venture-backed company teased in the introduction of this report was eCardio. Before AliveCor had a prototype built, eCardio made a $250,000 investment in the venture with an option to acquire AliveCor in short order. However, eCardio ran into revenue problems soon after and forfeited its option to acquire AliveCor's technology. The AliveCor founders got to keep the money and used it to fund the development of its prototype devices, including the one featured in Dr. Albert's viral YouTube video.
The metrics above show a current headcount of 70 employees with $24 million in revenue for 2018. While the headcount was likely closer to 60 for most of last year, the numbers (and the existence of the company's television advertisements) suggest AliveCor is spending a substantial portion of its revenues on customer acquisition. Perhaps it goes without saying, but particularly true in this case: The ideal analysis of AliveCor's long-term prospects would hinge on its CAC, which this report does not manage to piece together.
As the conclusion below discusses, AliveCor is well-positioned for growth. It will both complement and compete with the likes of Apple — and other big consumer device makers working to commoditize ECG features in wearable fitness devices. In other words, rumors of AliveCor's demise have been greatly exaggerated.
AliveCor's products, past and present
AliveCor Veterinary iPhone ECG: Launched in August 2012, the first commercial product from AliveCor was for veterinary use only: dogs, cats, horses, and other animals veterinarians treat. It's still available via resellers for $299.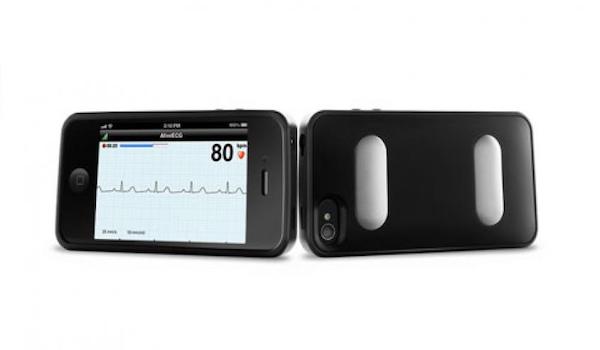 iPhone ECG/Alive ECG/AliveCor Heart Monitor: First available for preorder December 2012, this FDA-cleared device was for physicians-only initially at a $199 price point. It was a single lead ECG embedded in a case that fit the iPhone 4 and iPhone 4s. The second iteration of the device wasn't a case, but a smaller, companion device that could be adhered to the back of various Android and iOS smartphones via velcro stickers. Physicians had to prescribe the device to patients who would then pay for it out-of-pocket.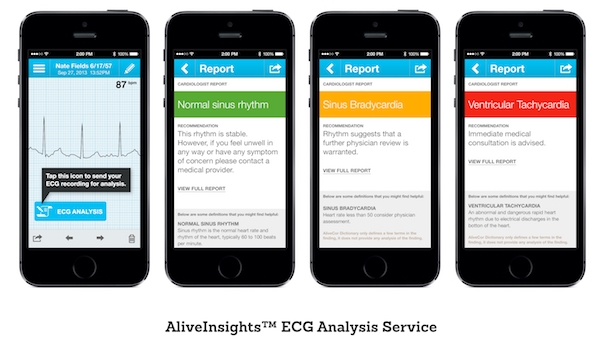 AliveInsights: AliveCor added a remote interpretation service for its device users in November 2013. Patients prescribed an AliveCor device from their doctors could use the new service by taking an ECG reading and then opting to send it to either a cardiac technician or cardiologist, right from their smartphone. It cost $12 for a cardiologist to interpret it and either $2 or $5 for a cardiac technician to do so in either 24-hours or 30 minutes, respectively. The service was a temporary pilot powered by partnerships with CompuMed and its one-time, almost acquirer eCardio.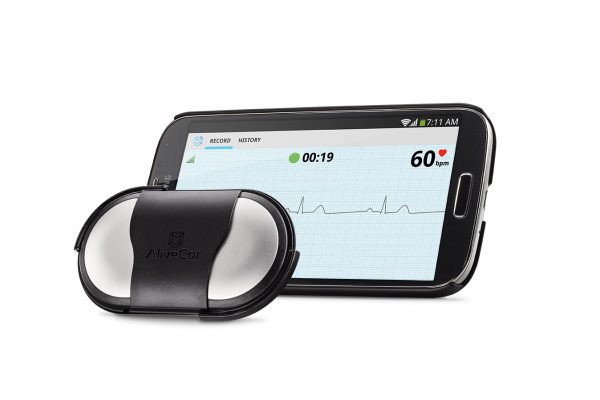 AliveCor Heart Monitor (OTC): In February 2014 AliveCor announced a new FDA clearance that made its device available to patients direct-to-consumer the following month. Anyone could now buy the device from AliveCor's website for $199. They could send their ECG to their own physician via email (if their physician allowed that) or send the ECG to a remote interpreter via AliveInsights, as noted above. The price for buying a device OTC eventually settled at $99.
Kardia Pro/Kardia Station: In March 2017 AliveCor launched a physician portal called KardiaPro. They renamed it to KardiaStation in mid-2018 on the AppStore but the old branding weirdly remains in place elsewhere. Patients pay $15 a month to connect to their physician's KardiaPro account. Physicians use the portal to review ECGs sent in from their own patients and they get reimbursed for Medicare patients using CPT Codes, including the new remote patient monitoring CCM codes. Kardia Pro aims to make getting this reimbursement easier. AliveCor has also worked to interface Kardia Pro with some EHRs, including Epic installations at various hospitals.
Kardia Mobile Premium: Each AliveCor device comes with 30 days of free premium service, which allows users to store unlimited ECGs in AliveCor's cloud, provides them with a monthly summary of their readings, unlocks the ability to track medications, and allows them to buy a replacement device for just $19.99 if something happens to their first one. This service runs $9.99/month or $99/year.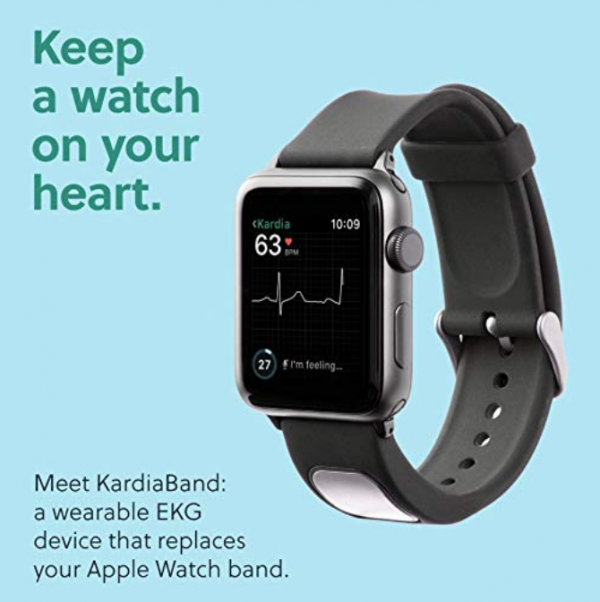 Kardia Band: The first FDA-cleared medical device for the Apple Watch actually launched first (pre-FDA) in the UK in October 2016 for £199 / €229. It cost $199 in the US initially and the price was dropped to $99 shortly after Apple announced plans for its own FDA-cleared ECG software in September 2018. Apple's launch effectively made Kardia Band obsolete. AliveCor quietly discontinued its Watch band in the summer of 2019, and it can no longer be purchased on AliveCor's site or via Amazon.
SmartRhythm: As part of its Kardia Band offering, AliveCor used the continuous heart rate monitoring function of the Apple Watch to create a new analysis feature called SmartRhythm in its Kardia app. The offering compared users' heart rate data and activity data to what AliveCor's neural network predicted the user's heart data should look like. When it sensed something was off, SmartRhythm instructed the user to use Kardia Band to record their ECG. AliveCor discontinued SmartRhythm in mid-2019, but it is like to return on other platforms — possibly even Apple's — in the future.
FDA cleared algorithms: While not individually priced products today, AliveCor has been a pioneer in submitting new algorithms to the FDA for clearance as medical devices. So far the company's algorithms are cleared to indicate: normal ECG, bradycardia, tachycardia or possible atrial fibrillation. The FDA has also cleared AliveCor's algorithm for detecting hyperkalemia via ECG analysis.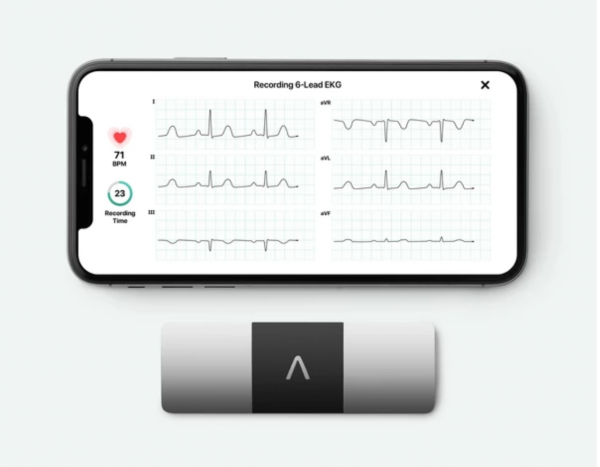 Kardia Mobile 6L: AliveCor's newest product is its six-lead ECG device, which launched in May 2019 for $149. The 6L's debut coincided with the winding down of the company's Kardia Band offering and it marks a strategic shift for the company to stick with its smartphone-enabled peripheral devices and away from smartwatches — for now. The company has kept this device in its back pocket for years as it was originally invented in 2013. By collecting heart rhythms from six leads instead of one, Kardia Mobile 6L gives interpreters and its own algorithms five additional views of the rhythm data, which will lead to more accuracy and new opportunities for analyses.

Kardia Accessories: The company also sells carrying pods ($29) and clips ($15) to attach the Kardia Mobile to a smartphone.
How AliveCor brings in revenue
Direct-to-consumer medical devices: The core business model for AliveCor has remained consistent since the years before its flagship product got FDA clearance to go to market: Sell smartphone-enabled medical devices directly to Baby Boomers with heart conditions or concerns. AliveCor has also sold devices to medical professionals like veterinarians, cardiologists, and other physicians both from past offerings and current ones, but the large majority of their revenues have come directly from patients who pay for AliveCor devices out of pocket. Pre-launch, AliveCor pitched investors and potential partners an expected $99 price tag for its over-the-counter ECG device, which is where the price stands today for its single-lead ECG. For one iteration AliveCor tinkered with a $75 price point a few years ago. It has sold older models at clearance prices (as low as $40) to move inventory, but the $99 price has stuck. AliveCor's new six-lead device, however, has a starting price of $149.
Price it like a co-pay: That original $99 is meant to be around the price of a co-pay for the average Medicare patient. AliveCor has long-received pushback on this strategy because medtech incumbents believe the only way to sell a medical device is to ensure the physician or hospitals could make money off of it. When the company first launched its product, the idea that a heart patient would willingly pay $99 out-of-pocket also struck many AliveCor detractors as a non-starter. And yet that's where the vast majority of AliveCor's revenue comes from today.
Major heart centers as sales catalysts: AliveCor has published research with PIs from most of the big name cardiac care facilities in the US. Most of these now suggest their patients buy an AliveCor device, and a few use AliveCor's Kardia Pro software to analyze ECGs sent in from their patients. The advent of CCM billing codes for remote patient monitoring has opened up a new reimbursement stream for these care providers, and Kardia Pro aims to make it easier for them to get paid via that reimbursement pathway. AliveCor gets paid by patients who send ECGs to their providers Kardia Pro accounts as this requires a subscription fee to unlock. AliveCor also does integration work to make Kardia Pro interface with some EHRs, but it is unclear if they charge providers for this service or they consider it a cost of doing business with that provider's patient population.
Unregulated veterinarian market first: Before AliveCor had FDA clearance to market to human patients, it began selling its original device and its companion app to veterinarians who use it on dogs, cats, horses, and even grizzly bears, monkeys, and eagles. In its first year on the market for veterinarians, AliveCor brought in close to $1 million in veterinarian revenues for the startups before they were cleared to market in the human health market. Beginning in this unregulated market was great for AliveCor's cash flow, but it also helped them fine-tune the product, which was the same as the device undergoing the FDA clearance process at the same time.
Selling DTC medical devices is hard: AliveCor has long struggled with CEOs — it has had six in the past eight years, as discussed more in-depth below — but one of those interim CEOs, Ira Bahr, has been the brains behind the company's direct-to-consumer marketing strategy. Bahr is a longtime marketing executive who is perhaps most famous for naming Sirius satellite radio. He is currently AliveCor's COO and has helped develop a series of television commercials with major ad agencies to drive AliveCor sales. The company's ads have run alongside game shows like Wheel of Fortune and a number of popular Fox News shows like Sean Hannity's, which has garnered the ire of protesters seeking to block conservative talk shows of any ad revenue. While AliveCor makes use of less expensive ads on Facebook and other platforms, its core demographic — the average AliveCor patient is 61 and up — is more likely watching TV. This expensive acquisition channel may explain why the company continues to take on debt and hasn't ramped up its hiring dramatically in recent years. Its headcount has grown modestly over the years from around 50 in 2016 to around 70 today.
Competition from Apple drove revenues in 2018: AliveCor says its revenues in Q4 2018 jumped thanks to Apple's announcement that it would add an FDA-cleared ECG function to its latest version of the Apple Watch, a near clone of AliveCor's Kardia Band. While industry watchers roundly concluded this spelled the end for AliveCor, the company said that the media mentions it received in every article that covered the Apple ECG watch led to that revenue spike. It helped, of course, that Apple announced the product and the FDA clearance but its ECG function wasn't activated until months later.
As a result, AliveCor raked in about $10 million in Q4 revenues for a total of $24 million for 2018. The company aims to bring in $40 million in revenues for 2019.
AliveCor's regulatory foibles, tactics, and firsts
AliveCor has both pioneered new categories of regulated medical devices and creatively found ways to legally market its products outside of the regulator's purview.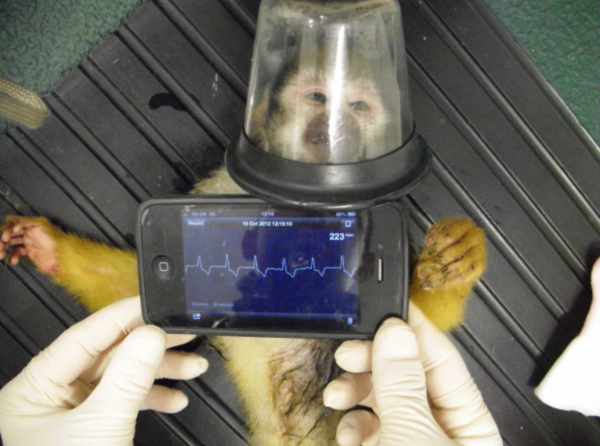 First, sell into an unregulated market: As discussed briefly above, AliveCor's decision to market its iPhone-enabled ECG device to veterinarians brought in about $1 million in revenues the year before AliveCor secured FDA clearance to market its device for use with humans. While the FDA regulates how a company markets its devices and the language it uses around the claims it makes, selling the AliveCor ECG device to veterinarians also opened up the door for e-patients (and maybe even a few doctors?) to buy one for themselves. AliveCor never encouraged this behavior, but it is hard to tell how much of that initial $1 million was from veterinarians. While it's not a focus today, AliveCor does continue to sell into the veterinarian market through resellers.
Accidental pre-FDA clearance marketing: AliveCor's founder Dr. David Albert rose to fame in 2011 after he uploaded a four-minute video demo of his heart monitor prototype to YouTube. He uploaded the video because a handful of potential partners and investors told him they would not be making it to the Consumer Electronics Show that year, but they would still be interested in learning more about the iPhone ECG device. Albert also absent-mindedly clicked an option on YouTube to share the video with his network on LinkedIn, which inadvertently sent the video into viral territory. The viral video ended up on countless local news networks around the country and the world. Before long Albert was on The Today Show and some talked about the not-yet-legal-to-market iPhone ECG being the break out device of CES 2011. The media attention led the FDA to call Albert who convinced them it was all a big accident, and he never intended the video to be so widely viewed.
Get prescription-only clearance first, then over-the-counter: While AliveCor always intended its ECG device to be sold direct-to-consumer, its first FDA clearance was a prescription-only device. That meant only physicians could buy them directly and patients could only buy them via their physicians. The company decided to start with an Rx-only clearance because it believed it to be the easiest path to market. It likely made the FDA more comfortable, but it also helped get an initial community of physicians familiar with the device before patients began bringing ECGs in with them on their own. AliveCor held back from revealing which predicate device it used in its initial clearance, but the FDA has since made a redacted version of AliveCor's first 510(k) document public. The predicate was: HeartCheck Pen Handheld Heart Rhythm with GEMS Home (K121009).
Smartphones, algorithms, smartwatches: AliveCor's original iPhone-connected ECG device was part of the first wave of FDA-cleared medical devices that worked as a companion to smartphones. While Apple claimed to create the first "direct-to-consumer" FDA-cleared medical device for the Apple Watch when they announced their own homegrown ECG software, AliveCor should be recognized as the true innovator with the first FDA-cleared Apple Watch peripheral. Apple claimed it was truly direct-to-consumer (and, therefore, the "first"), because AliveCor's ECG device requires a physician to remotely interpret the user's ECG before the device is unlocked for the patient to use on their own. Both Apple's and AliveCor's devices are cleared as over-the-counter (OTC) devices, however, and so neither require a prescription. Finally, AliveCor has been a pioneer in FDA-cleared algorithms, including ones for detecting AFib and hyperkalemia (dangerously high potassium levels in the blood). While there are dozens of FDA-cleared algorithms now, AliveCor's AFib algorithm, which the FDA cleared in 2014, is widely considered to be the first to secure 510(k) clearance.
Evidence first: More on this below, but as part of its first 510(k) submission, AliveCor collected clinical data that it had published and presented at the American College of Cardiology and Heart Rhythm Society scientific sessions. The data focused on both AliveCor's accuracy as well as its clinical value.
AliveCor is a clinically-validated company first and foremost
With more than 75 studies published to date and well over 100 poster sessions at leading cardiology scientific sessions, AliveCor rightly stresses the body of clinical data that supports its product offerings. The company put together this helpful PDF that covers many of its studies and breaks them down into various subcategories.
AliveCor's CEO problem
While I don't have the data to prove it, I suspect AliveCor has had more CEOs than any other digital health company. In its eight years of existence, the company has had six CEOs. AliveCor's messaging on this has remained consistent since the beginning: Inasmuch as the company is inventing a new category, it is creating a new type of corporate leader. Since AliveCor is both a consumer electronics company that sells DTC as well as a medical device company regulated by the FDA and beholden to various international standards, it has hired high-profile CEOs with experience in one but not the other of both of those worlds. An ideal CEO would understand both, but the company argues no such person exists in the business world today.
Here's a rundown of AliveCor's six CEOs.
Judy Wade, AliveCor CEO June 2012-December 2012: AliveCor's first CEO lasted less than a year. Wade had been CEO of a mobile games and apps company named Hands-On Entertainment. She was an executive at Linden Lab, makers of the online game SecondLife, prior to Hands-On, and she spent much of her career climbing the ranks at McKinsey. AliveCor touted her consumer technology background. In those early days, however, AliveCor was very much a medical device company focused on R&D, building an evidence base, and trying to get through the FDA. It was too soon to focus on the DTC strategy.
Dan Sullivan, AliveCor CEO April 2013-August 2013: AliveCor's second CEO had an even shorter tenure and a markedly different background. Sullivan had most recently grown and sold a medical device business named SuperDimension to Covidien for $300 million. AliveCor highlighted his medtech and global commercialization capabilities when they announced the hire. Sullivan and Wade both likely felt uncomfortable navigating digital health's uncharted waters.
Euan Thompson, AliveCor interim CEO August 2013-November 2015: Khosla Ventures investor and longtime medtech executive Euan Thompson took over as CEO on a part-time basis while still working as a VC for Khosla. At the time Khosla Ventures owned a majority stake in AliveCor (it no longer does). While it was an interim CEO position, the company noted early on it was likely to be a longterm situation. Thompson deserves a lot of credit for building the foundations for AliveCor that led to it growing into the company it is today.
Vic Gundotra, AliveCor CEO November 2015-January 2019: Thompson only stepped down as interim CEO once the company had recruited Gundotra, a high-profile executive at Google. Gundotra's appointment was transformative for the company as he brought on other former Googlers to lead both software and hardware at AliveCor. His appointment also elevated AliveCor's brand in tech circles since Gundotra is well-known among the tech and business press. After serving as AliveCor's longest-running CEO for almost 3.5 years, Gundotra stepped down for personal reasons unrelated to the business.
Ira Bahr, AliveCor interim CEO January 2019-July 2019: AliveCor's marketing lead Ira Bahr stepped in briefly as the company and its lead VC Vinod Khosla searched for Gundotra's replacement. As noted above, Bahr has leveraged his formidable experience in the ad agency world to build AliveCor's direct-to-consumer marketing machine. While Bahr stepped down as interim CEO, he remains with the company as COO.
Priya Abani, AliveCor CEO July 2019-present: Vinod Khosla personally recruited Abani from Amazon, where she was general manager and director of the company's Alexa group. Before joining Amazon three years ago, Abani spent a decade at Intel, but AliveCor marks her first healthcare venture. Vinod Khosla is also now the chairman of AliveCor's board, which shows how focused he is on this particular portfolio company now.
How AliveCor competes with Apple, others
In September 2018 when Apple announced that it had secured two FDA clearances for heart sensing software on its Apple Watch, many industry watchers assumed this was the beginning of the end for AliveCor. After all, Apple's announcement more or less made AliveCor's latest product, the $199 Kardia Band, obsolete. In the short term, however, Apple's move buoyed sales of AliveCor's devices leading to a massive $10 million spike in revenues that quarter, which was about how long it took Apple to go from announcement to market launch. Apple's entrance into the ECG market has had an impact on AliveCor's strategy, but the company is well-positioned to compete against Apple and other comers. Here's why.
Apple drove AliveCor to shutter two products: As noted above, AliveCor has quietly discontinued sales of its Kardia Band device as of the summer of 2019. The sunsetting of its smartwatch product line was timed with the launch of its six-lead ECG device and marked the beginning of AliveCor's new hardware strategy in the face of competition from Cupertino. An earlier casualty inflicted by Apple was AliveCor's SmartRhythm feature, a premium analysis feature that crunched heart rate data from the Apple Watch and prompted Kardia Band wearers to take an ECG reading if something appeared off in their HR. AliveCor users noticed that SmartRhythm was interfering with the accuracy of their activity data tracking on the Apple Watch, and AliveCor decided to shut the offering down because it could not control the underlying platform that it was built on. (This mentality is also highlighted in AliveCor's decision early on to use a high-frequency chirping technology to transmit data between its hardware and smartphones instead of a smartphone's data port or Bluetooth. The chirping tech only required the smartphone to have a microphone, so this tactic helped AliveCor avoid having to update their hardware every time a new smartphone model came out.)
Biggish data and a 50M ECG moat: Apple's brilliant privacy strategy has led the company to forgo storing user's health data on any company servers. Instead, health data is stored locally on the user's device. Meanwhile, AliveCor is collecting 1.5 million ECGs every month right now, and it already has close to 50 million ECGs in its database. Apple won't compete with AliveCor on this front, it has already established that. Meanwhile, the PatientsLikeMe-iCarbonX forced divestment makes clear that the US government won't let companies from China build a massive database of US patients' health data, including ECGs. (It's an open question if that policy might expand and extend to companies headquartered in other countries, like, say, South Korea?)
Do AliveCor's demographics trump Apple Watch's? AliveCor's typical user is a 61-year-old with a known or suspected heart condition. According to the company, more than half of its users have said their physician recommended they buy an AliveCor device, which again reinforces the idea that AliveCor users are heart patients. Apple Watch users, meanwhile, are likely much younger: Overall, growth in the smartwatch market has been driven by people aged 18 to 34, according to the NPD Group. Given that atrial fibrillation is typically an issue for an older demographic, the majority of Apple users probably won't need the feature. Still, at the scale Apple is operating on, with tens of millions sold, it is likely that Apple has more Baby Boomers and seniors than AliveCor's 200,000 monthly active users using its built-in Apple Watch ECG.
Big data (from the right patients) is machine learning opportunity: Despite Apple possibly having a larger patient population using its ECG software, AliveCor is in a position to mine its datasets to create new clinical products. The best example of this is AliveCor's hyperkalemia algorithm, which is FDA-cleared to detect dangerous levels of potassium in the blood right from the ECG. No actual blood is required for AliveCor's analysis. AliveCor will continue to launch FDA-cleared algorithms and products and services based on them. Some will be prescription-only algorithms.
Better hardware, better data: AliveCor discontinued sales of its Kardia Band in the wake of Apple's move into ECG, but it managed to swap out that smartwatch peripheral for a six-lead version of its single-lead ECG device instead. AliveCor had actually invented its six-lead device way back in 2013, it only brought it to market once Apple closed off its immediate hardware opportunity in wearables. The Kardia Mobile 6L offers better quality data, which will lead to new, regulated algorithms as AliveCor's database of six-lead ECGs grows. In light of the super quick launch of the 6L, however, the company's likely deep bench of hardware inventions shouldn't be underestimated.
Beyond hardware: Longterm AliveCor has the opportunity to grow beyond its hardware business. As FDA-cleared ECG-sensing becomes commoditized, in part thanks to Apple's unprecedented and odd FDA clearances, AliveCor's ability to develop algorithms from its massive ECG dataset will allow it to sell analytical services to patients using any ECG-sensing device on the market. That means even if Fitbit, Garmin, Samsung, and other wearable companies follow Apple's lead into FDA-cleared ECG offerings, AliveCor would still be well-positioned to dominate the analytics layer.