It all started, improbably, with marbles. Virtual ones.
In October 2012, a group of graduate students in London, including an American ex-pat named Daniel Perez and German national named Gabriel Mecklenburg, launched Marblar. The platform attempted to help governments R&D shops and other inventors find entrepreneurs willing to license their old, unused patents. Here's how TechCrunch described it at the time:
"The authors of un-commercialised discoveries work with the Marblar team to post a listing of their invention — distilled in an accessible, yet comprehensive form — from which the crowd are tasked with drilling further into its capabilities and, in contest form, enter ideas for possible commercial uses. Each 'entry' is then voted upon by the Marblar community, while there's a wiki-like Q&A section so that users can interact with and bounce ideas off of the invention's author. There's also a heavy dose of gamification, users earn points — marbles — and trophies for their participation."
Marblar launch at the height of the crowdfunding/crowdsourcing trend. It hoped to turn the crowd onto tech transfer.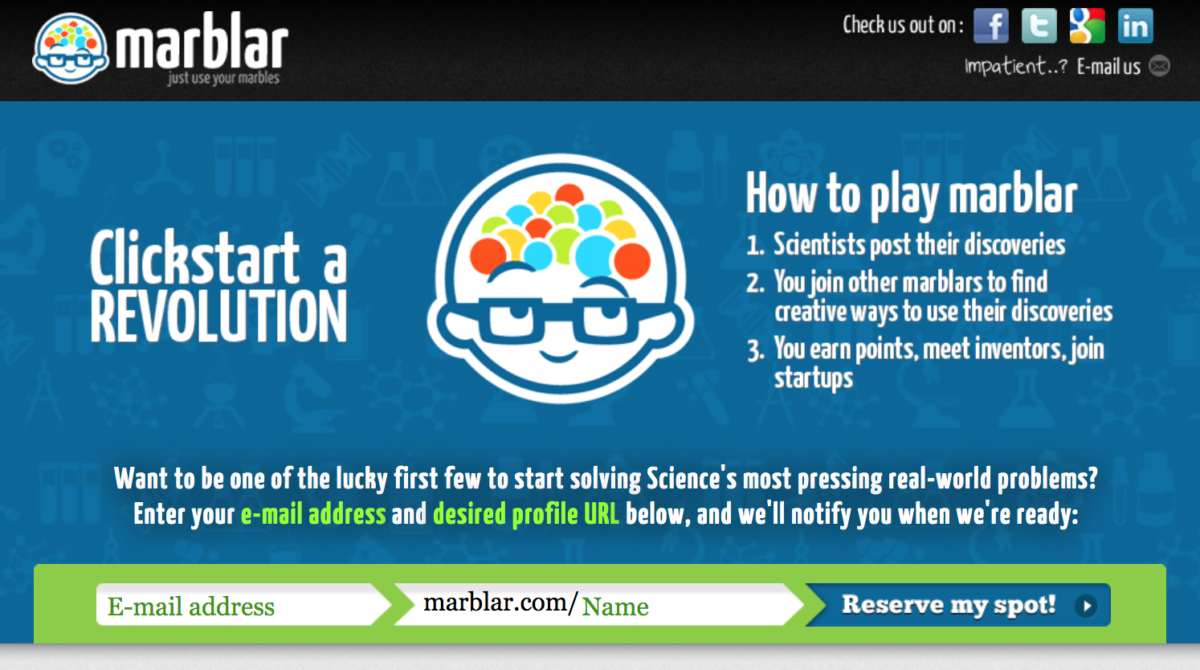 Marblar garnered interest from NASA, Singapore's tech transfer agency, Oxford, Caltech, the University of Pennsylvania, and South Korea's Electronics and Telecommunications Research Institute. Samsung was even ready to manufacture products that the site's members dreamed up based on the listed IP.
During its almost two-year run, however, Marblar was most successful at generating press. It racked up encouraging feature stories — not just in TechCrunch — but also Nature, the BBC, The Economist and many more.
Ultimately, by mid-2014, after 25,000 people had combed through its patent listings with few bites, Marblar was ready to call it quits. The startup's founders announced they were pivoting to become a product development company. Here's why:
"We realized that if we really wanted to turn science into products we should do it ourselves.
Marblar went to work commercializing two projects: The first was an undisclosed consumer product that Marblar wanted to build based on technology it had licensed from NASA, but this apparently proved to be a dead-end.
The second was a product that would evolve into Hinge Health:
"Our second product is in the athletic and health care space, using separate (non-NASA) technology to solve a problem for everyday active people that we feel is somewhat overdue a solution."
Marblar wrote that in August 2014 — just two months before founding Hinge.
2015: Hinge Health launched direct-to-consumer following UK government grant
The UK government awarded Marblar a grant for more than £55,000 (roughly $68,000) to conduct a feasibility study of a technology described as a "smart knee sleeve for continuous monitoring and analysis of range of motion and swelling." The project was set to begin October 2014 and finish up March 2015, but by early 2015, Hinge Health had a website and social media accounts up and running.
On February 11, 2015 on Twitter, Hinge posted its first tweet:
"We're on a mission to redefine how you track and manage arthritis for a more pain-free life. Join us!"
That same month Hinge Health launched an arthritis tracking and exercise therapy program direct-to-consumer for a one-time fee of £149 (roughly $184). The offering included a welcome kit similar to what Hinge offers today: A tablet, two wearable motion-tracking sensors embedded in exercise bands, unlimited customer support, and a 12-month warranty on the hardware. Here's how Hinge pitched the service to consumers at the time:
"Hinge tracks and manages your knee arthritis. Hinge is composed of two simple bands with motion sensors that you wear for about 15 mins per session (recommended 5x/week). The bands accurately measure your knee's angle to track your range-of-motion and guide you step by step through key activities to reduce your pain and increase your mobility. Our software also logs your pain, stiffness and total motion over time – allowing you to track progress, appreciate trends and share with your family and doctor. Hinge comes complete with a tablet pre-programmed and ready to go out of the box. We designed Hinge so that no experience with technology is necessary."
2016: Hinge Health broadened its focus to MSK and began selling to employers
In early 2016, Hinge began to reposition its program as one focused on musculoskeletal (MSK) issues instead of simply "arthritis". While it's likely the DTC version was just an early attempt to get users into the program to iterate, Hinge also shifted its business model to employers and away from direct-to-consumer.
At the time, Hinge was still a London-based company, and the small team tried to sell into the NHS. Here's how Hinge Health CEO and Co-founder Daniel Perez described that period on the Willis Towers Watson podcast, Cure for the Common Co.:
"We did try to build the company in London. I love London. I love the UK… from an entrepreneurial perspective, it was very difficult to deal with the NHS. That is a single-payer system in the UK. We couldn't quite sell into the NHS. We tried for about a year-and-a-half in various iterations. And we realized it was time to move to the US when I found it was easier for me to schedule meetings with US customers from London than it was for me to schedule meetings in London with people in London."
In mid-2016 Hinge Health quietly raised a seed round of $1.6 million and the founders moved to San Francisco soon after. The startup began to pursue self-insured employers with an MSK offering in the same way Omada and Livongo sold their prediabetes and diabetes programs.
Hinge Health was the first digital health company to sell an MSK program to self-insured employers in the US. Perhaps the key reason Hinge has managed to grow faster than its competitors was this first-mover position.
Hinge's founders have demonstrated a knack for timing the market. If recognizing that the self-insured employer market was ready for an MSK offering in 2016 was their first perfectly-timed move, raising a $90 million war chest months before the outbreak of a pandemic and economic recession has to be a close second.
By July 2017, Hinge disclosed a growth metric for the first time: 1,000 people had gone through its MSK program. The company also announced an $8 million Series A, and it began to build its book of business in earnest.
Read on for a better understanding of the Hinge Health program, the company's business model, competition, and future prospects. But first, let's dig into the company's progress to date.
Hinge Health's Growth Metrics
While Marblar was something of a tech press darling during its run, Hinge Health has remained mostly out of the spotlight. For example, Hinge Health has rarely spoken at industry events and its executives have only appeared on two podcasts, as far as I could tell. Hinge has rarely shared growth metrics, so the data below are cobbled together from the company's enrollment flyers, published outcomes studies, sales presentations, and press releases.
Cumulative Users: Nearly 40,000 as of February 2020.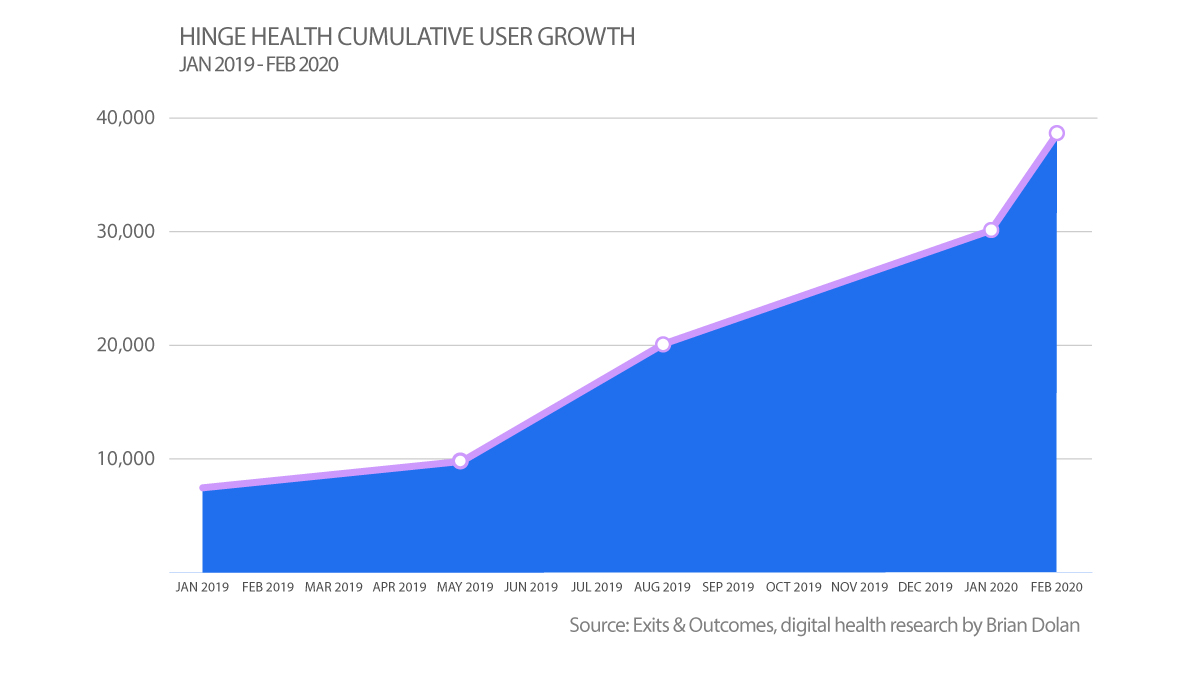 While Hinge has kept its user count relatively quiet in the press, the company does include the metric in some of its enrollment materials. Knowing that 30,000 people have already gone through the program and experienced some progress seems like a winning tactic. Hinge's marketing team doesn't always update the template for its enrollment flyers, so sometimes an older number of cumulative users is in there.
August 2019 was the first time Hinge's marketing team created a flyer that stated 20,000 people or more had gone through the program. During the second week of January 2020, the team created a flyer that used the figure 30,000. When Hinge announced its massive $90 million round in early February, CEO and Co-founder Daniel Perez posted a celebratory note on LinkedIn and disclosed that nearly 40,000 people had gone through the Hinge program.
I found two other important data points for cumulative users. The company announced 1,000 people had gone through its program as of mid-2017 and its big RCT study published in February 2020 noted that more about 10,200 people had gone through the program between February 2017 and May 2019. I assumed these 10,000 participants enrolled at a steady rate during this time period, but it is more likely many more of them came toward the end of this period than the beginning. As a result, 2019 begins with about 8,000 participants having already gone through the program.
All of these numbers and assumptions impact the next two charts.
Net New Users: About 24,000 in 2019.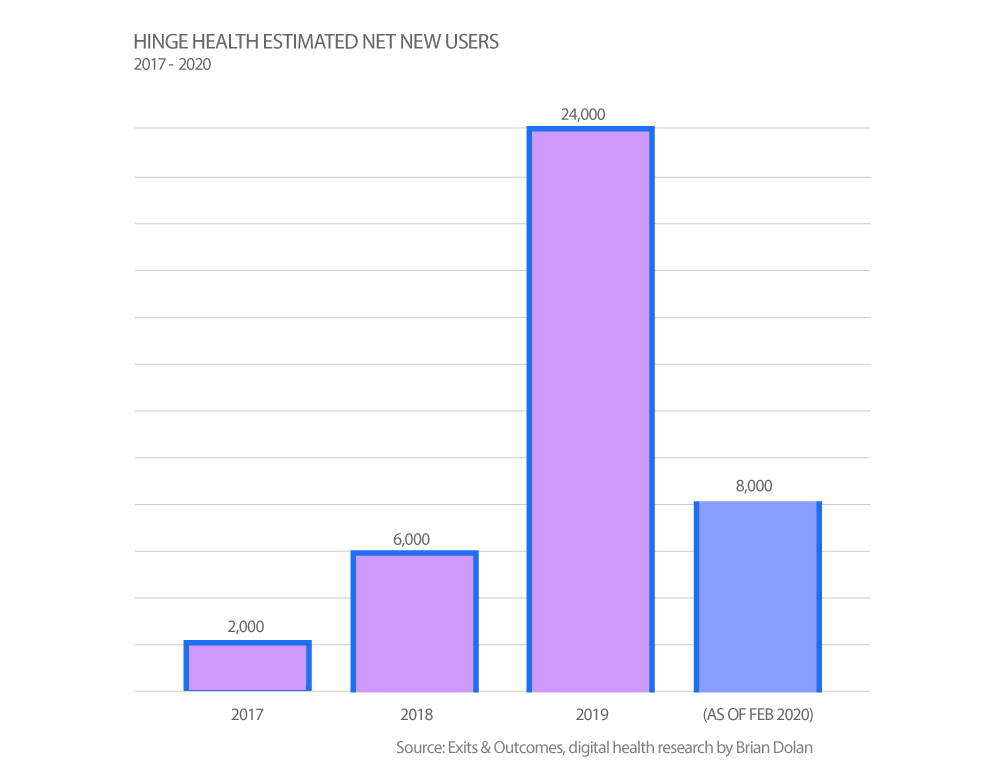 While this chart is largely explained by the discussion above, one key consideration is that the 8,000 net new users of as of February 2020 could be any number between 5,000 to 10,000. In his LinkedIn post, Perez simply said the company had nearly 40,000 cumulative participants, which is up from the 30,000 number his marketing team used in a flyer created on January 9th.
Calculated Annual Revenue from Net New Users and Pricing Data.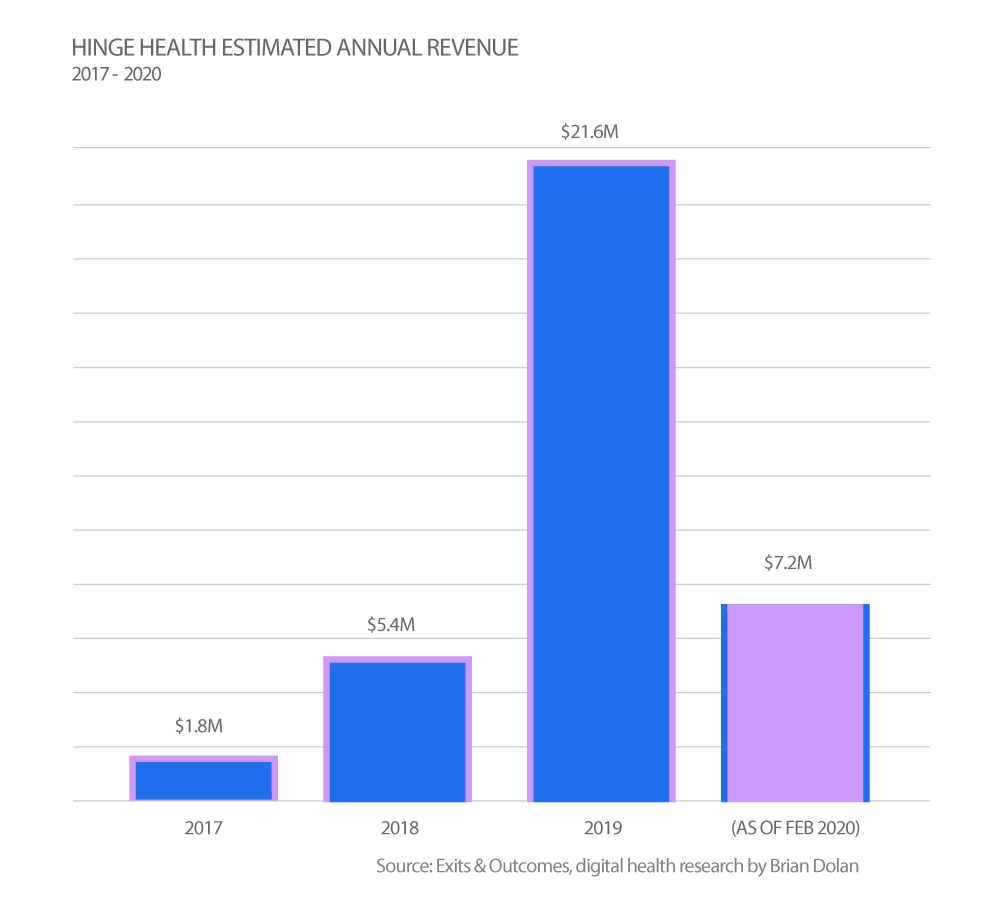 The chart above comes from multiplying out the number of net new users by the price of Hinge Health's program. While some of Hinge's enrollment materials tout the program as having a $1,000 value, Hinge's studies attempt to calculate cost savings to their employer customers. We will get into how Hinge makes claims below, but the key point here is this phrase from the company's most recently published study:
"The 1-year net saving of the digital care program is US $4340 (13.1% * US $40,000, corrected for the cost of the digital care program)."
Again, we will explain what all these numbers mean in a section below, but this formula shows that .131 * $40,000 = $5,240 and thus the correction is $5,240 – (x) = $4,340. So, "x", or the cost of the Hinge Health program, is $900.
If we multiply out $900 by each net new user per year, then we have a fairly good estimate of Hinge's annual revenues. This simple method works particularly well for Hinge since it charges for its program at enrollment and not month-to-month based on engagement or outcomes. Hinge does offer a monthly plan to users who want to continue beyond the initial program. The revenue numbers above do not account for those dollars, but they may be insignificant.
One final metric to add here is that I've heard that Hinge tells its investors that it expects to have about $70 million in annual revenue by the end of 2020. If my estimate of $21.6 million for 2019 was a little higher, say $23.3 million, that would fall in line with other statements Hinge has made around expecting to triple many of its metrics between 2019 and 2020.
So, I think the numbers above are close to reality.
Hinge Health now has more than 100 employer customers.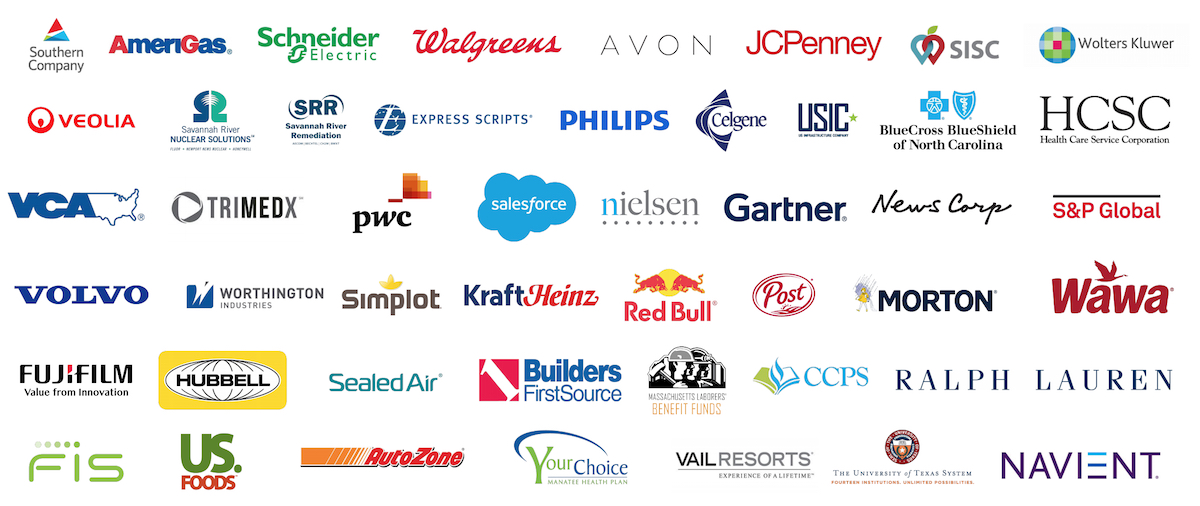 Hinge crossed 100 employer customers at the beginning of 2020. That's up from a few dozen in August 2018 and about 50 in mid-2019. So, a rough average for participants in the program per customer is 400. (40,000 cumulative users divided by 100 customers.) Hinge likes to say it has never lost a customer, but it signed on the vast majority of its customers in 2019.
Headcount: Hinge started 2020 with 200 employees and hopes to hit 400 by year-end.
Hinge has been doubling its headcount for the past few years with an eye on tripling or quadrupling its revenues moving forward. A few reference points for headcount: Hinge had 18 employees when it raised its Series A in July 2017. It had 70 employees in August 2018 when it raised $26 million. It hit 200 around the same time it raised $90 million at the beginning of 2020, and it has said it hopes to clear 400 by the end of the year.
Other growth goals for 2020: Users, unit costs, user:coach ratio.
According to a recent job posting, Hinge said that in addition to doubling headcount, its 2020 goals include:
Increase the number of users year-over-year by 3.5x, (which by my count would mean 84,000 net new in 2020);
Reduce unit costs by 15 percent;
Increase user-to-coach ratio, while maintaining outcomes.
Overview of the Hinge Health program
Hinge's offering has not changed significantly since the company began selling to employers in 2016. While the company's original direct-to-consumer offering in the UK described itself as an arthritis program, Hinge began describing it as a musculoskeletal (MSK) program in 2016. Its original digital care pathways, as Hinge calls them, focused on knee pain and lower back pain.
More recently, Hinge has added shoulder, neck and hip-focused pathways, but the company is still building an evidence base for these. As a result, when a new user signs up for these pathways, they are asked to participate in a study, too.
Hinge says that by targeting these five body parts enable it to cover 75 percent of MSK issues.
We'll get into how Hinge sells its program, its business model, and how it makes outcomes claims in the next section. Here's what Hinge looks like from the user's perspective, which the company sometimes refers to as the member experience.
The Hinge Health Member Experience
Hinge creates a customized enrollment kit for its new employer customers that includes digital flyers, posters, emails and more. Hinge uses a number of tactics to try to activate potential enrollees. The company uses deadlines and claims there are limited spaces for participants to help drive enrollment.
Once a potential Hinge user is "activated" by this outreach, they head to a customized URL on the Hinge website to take a screening survey. Hinge believes this survey should weed out people who are not likely to be committed to the program, and the company's founders have said it takes between 10 and 20 minutes to complete.
Once accepted into the program, Hinge mails the member a kit that includes a free Amazon tablet as well as two wearable motion-tracking sensors. Hinge believes that receiving something physical helps create a reciprocity dynamic that may cause participants to engage more. They participate in an onboarding call with their coach, who is a real live human, before starting the digital care pathway they selected during the screener: knee, back, shoulder, neck, or hip.
Three pillars: Education, Exercise Therapy, and Behavioral Support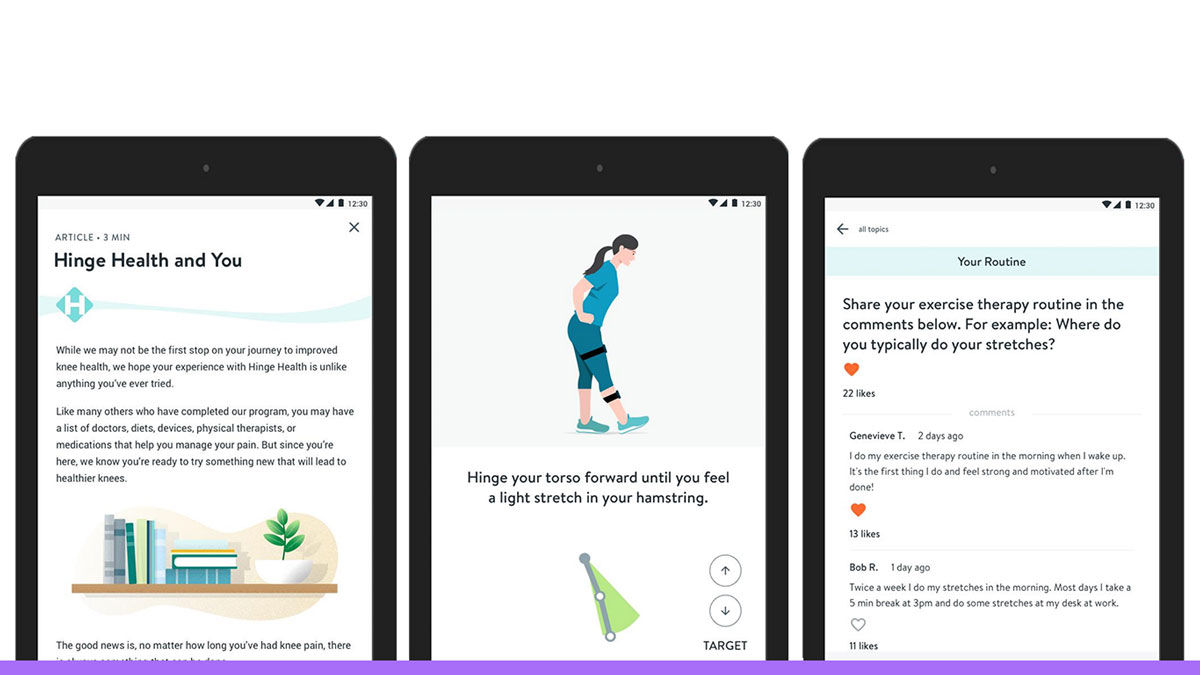 Hinge describes its offering as a 12-week, coach-led, digital program for chronic back and joint pain that was built on evidence-based care guidelines from the CDC, Intermountain Healthcare, and the American College of Physicians.
The program includes, what Hinge refers to as its "three pillars": education, exercise therapy, and behavioral support and coaching. Each of those is depicted in a screenshot from the Hinge app above.
The education pillar consists of an article that members are expected to read each week.
The exercise therapy consists of 15-minute sessions that are guided and tracked in real-time on the app via the wearable motion-tracking sensors.
The behavior support is similar to Omada in that it includes a small group of other members and it is led by a real human coach. Members are awarded points for engagement. Hinge also promises the coach is available via unlimited texts, phone calls, or emails. The company's coaches are all full-time, and since Hinge recently said they had about 100 coaches, they may account for about half of the company's headcount. Hinge coaches all have a national health coach certification or are working to secure one, according to the company.
Hinge says between 70 percent and 80 percent of enrollees participate in the program for the full 12 weeks.
How Hinge Health sells MSK to self-insured employers
Hinge Health favors a handful of data points in its sales presentations to self-insured employers. The first is that 54 percent of a company's employee population is likely to be affected by some kind of MSK issue in a given year, according to data from The Bone and Joint Initiative. Another favorite data point is that with 16 percent of the total, MSK spend outstrips every other category of medical spend for employers, according to a 2013 survey from Truven Health Analytics. Cancer and cardiovascular issues are second and third, respectively, according to Hinge. The company, however, misconstrues Truven's data, which actually ranked the categories by how quickly spending in each was growing.
Still, most employers recognize that MSK issues are at least a top-four area of spend for their organization.
Hinge also points to the medical literature to argue that 50 percent of MSK spend is wasteful, largely because 80 percent of employees with MSK issues do not receive non-surgical, preventive care. It then cites its own analysis of claims from 100,000 employees in its customer base, Hinge claims that 64 percent of MSK spend is on surgeries. Another 13 percent is spent on medications for MSK disorders. Hinge goes on to cite data that MSK issues are the number one cause of opioid use, absenteeism, and disability among workers.
Hinge Health's Business Model and its 1:1 ROI Guarantee
Like other digital health companies, Hinge does not use a flat per employee per month (PEPM) fee structure. Instead, Hinge charges employers only if an employee makes it through the screening process, enrolls, and receives a kit. As mentioned above in the Metrics section of this report, Hinge charges about $900 per enrolled employee. The company also charges those who would like to continue the program after the 12-week program is over, and these members are charged only if they engage with the program in a given month.
Like Omada, Hinge has initially focused on larger self-insured employer customers, but it is adding smaller companies as customers through a growing number of deals with health plans too. Hinge co-founder Gabriel Mecklenburg discussed this on the Reconstructing Healthcare podcast in January:
"Right now we are working with employers with 2,000 or more [covered lives], but we are working with a number of health plans to lower that number. That requires very tight integration with the health plan. So HCSC, [which includes] Blue Cross of Illinois, Texas, Oklahoma, and New Mexico. For them, we go down to a few hundred [covered lives], but there the health plan manages most of the implementation. Over the next couple of years we are looking to expand that sort of model more and more, but that obviously requires the courses of some pretty big ships with those big national health plans. It's happening just happening slowly."
Hinge has set its program up to that it can bill through claims, but because it is not a formal physical therapy treatment program, it is billed as an educational preventive program. Hinge note that this set-up also means it is covered with first-dollar coverage in high deductible health plans, which means the program is available at no additional cost to members on those plans. So, while in-person PT would carry an out-of-pocket fee for those employees, Hinge would not. The company says that resonates with its customers who believe that set-up removes a barrier to enrollment.
Hinge has said keeping their pricing simple has made it easier for customers to make the case for an MSK program to their CFOs. Hinge Co-Founder Gabriel Mecklenburg said in an interview on the Reconstructing Healthcare podcast that the team wanted to avoid a more complicated billing structure where "if this happens, you pay this; if that happens, you pay that". I believe he was referring to outcomes-based pricing, like Omada's model where part of the program sees customers pay only if the program actually works.
Hinge, however, does guarantee its customers will see at least a 1:1 ROI from its program. It goes about proving that ROI in a curious way.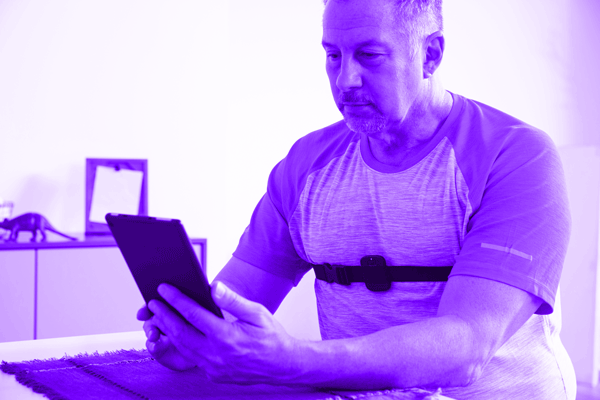 How Hinge Health makes its claim
While Hinge lists various ways that MSK conditions drive up medical spend for employers, its sales pitch makes clear that surgeries are the biggest MSK cost driver. Since a majority of MSK patients do not receive preventive care, Hinge argues much of this surgery spend is wasteful. A key part of Hinge's screening survey is to establish that a potential Hinge participant has chronic joint or back pain. The survey also asks, on a scale of 1 to 10, how likely the person is to seek out surgery to fix their medical issue in the coming years. Then, at the end of the 12-week program Hinge asks those participants who completed the program, on a scale of 1 to 10, how likely they are to seek out surgery for their medical issue in the coming years.
Hinge's claim starts with the assumption that an MSK surgery costs $40,000. The company then takes the participant's starting answer, the participant's answer post-program, and subtracts the two. Hinge comes up with a savings per participant dollar amount by applying the average reduction in intent-to-treat via surgery (based on the participants' responses) to the $40,000 pricetag of a surgery. Here's what that calculation looked like in one of the company's studies:
"Based on the reductions in surgery likelihood we also calculated the net savings per participant of the program after accounting for the costs of delivering the program. The 1-year net saving of the digital care program is US $4,340 (13.1% * US $40,000, corrected for the cost of the digital care program), the 2-year savings are US $4,660, and the 5-year savings are US $7,900."
Since Hinge's program costs $900 per enrolled employee, the company's 1:1 ROI guarantee means the calculation above needs to show at least a 2.25 percent reduction in intent-to-treat based on the survey questions. Hinge has said that some of its customers have dug into their claims data following their employees' participation in the Hinge program and proven to themselves that the cost reduction is real.
Hinge has not published a claims data analysis.
Five Success Metrics Hinge Tracks for its Customers
In an interview with the Willis Towers Watson's podcast, Cure for the Common Co., Hinge Health CEO and Co-Founder Daniel Perez listed five measures of success that Hinge tracks and reports to its customers. Perez said the first thing was sign-ups, which they report to customers fairly early. Secondly, they report on pain reduction based on survey data with participants. The third outcome is the one discussed above, self-professed interest in pursuing an elective procedure. Fourth, Hinge reports on mental health. The program screens for depression and anxiety levels during the program. The fifth and final measure of success is member satisfaction and Net Promoter Score.
What's next for Hinge Health
Fleshing out its care pathways for hip, neck, and shoulder
Hinge's product portfolio to date has expanded into care pathways focused on particular body parts. Hinge started with chronic back pain and knee pain before moving into hip, neck, and shoulder. The company still has more work to do to build out its evidence base for the newer pathways.
Reducing costs and/or pricing by going BYOD
While Hinge Health has enjoyed a first-mover advantage selling MSK programs into self-insured employers, the past year has seen a surge in competition. The company most commonly cited as Hinge's main competitor is Kaia Health, which entered the US market last year after getting its start in Germany.
Kaia has north of 70,000 active monthly users currently, thanks to a successful direct-to-consumer offering in Germany that now has coverage from most of Germany's health plans. Its price point in the US is around $600, which is significantly lower than Hinge's $900. One reason for the lower price is that Kaia uses advanced image recognition and motion-tracking software that runs on the user's own smartphone or tablet.
Hinge has set a goal of reducing its unit costs by 15 percent this year, and it is also developing an iOS app. It is possible that instead of mailing each participant their own free Amazon tablet and wearable motion-tracking sensors, Hinge could create a software-only offering like Kaia's. It's also possible that the iOS app they are working on it a coach's dashboard or another internally-facing app project.
One potential risk for Hinge is that giving away a free Amazon tablet as part of its enrollment process may have helped to juice its numbers. Creating a BYOD, software-only option and then analyzing its effect on enrollment could help allay any customer concerns about employees signing up just to get a free tablet.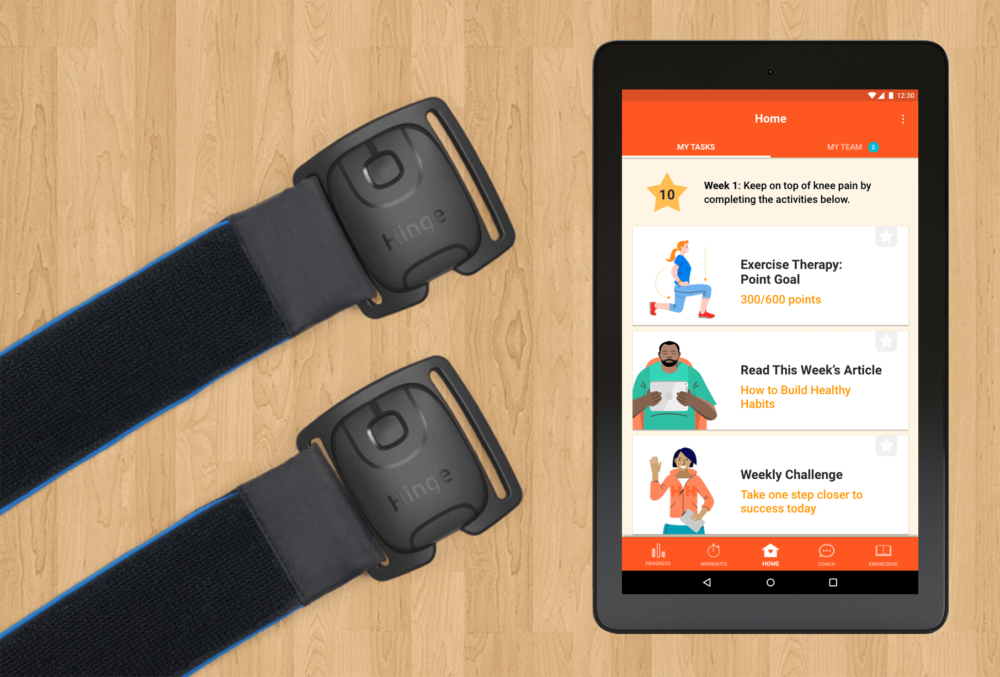 Robust claims analysis publication
Given that Hinge was the only company selling MSK to employers for a number of years, they may have gotten away with a less robust method for making a claim around surgery avoidance. Kaia, again, may put pressure on Hinge on this front, because the German company has partnered with Optum and UnitedHealth. I have to imagine that partnership will produce deeper claims data analysis for Kaia's MSK offering than Hinge's before and after survey.
Surviving the economic recession thanks to its recent $90 million raise
Hinge's team deserves a lot of credit for its ability to time the market. Hinge managed to raise $90 million at the beginning of 2020 just before the COVID–19 pandemic stopped much of the world's economy. Having even some of the war chest at their disposal in the coming year should ensure that it can outlast the economic recession, while some of its competitors won't. Their timing wasn't all luck. In that same podcast interview with Willis Towers Watson, Hinge CEO Danial Perez said:
"I think in Silicon Valley and maybe even across America right now, money is pretty cheap. And there's a lot of money out there. We've worked hard to ensure that we don't waste time and we don't waste money. And I think we're in the longest economic expansion in our history. I don't have to replay what you're reading in the news reports."
"And I think at some point, the music will stop playing. And there's going to be a lot of people who are not finding a seat. And we want to make sure that we're building a company that's going to last through up uptimes and downtimes, and that we're building an institution, a market-creating institution, an iconic company."
"And that means we've got to survive the nuclear blasts. And I think there is going to be a nuclear blast that's going to go off. The economy is going to sink. And when the nuclear blast goes off, it's only the cockroaches that survive. And we've tried to build a company that is a bit more 'cockroachey'."
Moving beyond MSK
Like other fast-growing digital health companies, Hinge Health has designs on expanding beyond its original focus. Hinge has long described itself as "pioneering the world's most patient-centered digital hospital, starting with musculoskeletal health." So, MSK is just a starting point for the company, similar to Omada's original focus on diabetes prevention and Livongo with diabetes management.
While Hinge has not explicitly mentioned any other therapeutic areas it is likely to move into next, it has always stressed the connection that mental health has to MSK conditions. Its sales pitches often include slides about the depression-pain dyad. Hinge's MSK programs already screen for depression and anxiety, so a dedication care pathway focused on mental health conditions is likely on the roadmap.
Another likely contender is substance abuse disorders. Hinge typically mentions opioids as part of its pitch to employers, and a program dedicated to opioid use disorder, similar to Pear Therapeutics' prescription-only digital therapeutic reSET-O, seems like  a natural progression for Hinge.
An exit: M&A or IPO?
Forgetting that we are in the midst of a lockdown and in an economic recession, Hinge's hoped-for growth trajectory for 2020 would put it in line with where Omada Health was a year ago. Hinge is aiming for $70 million in revenue this year, while my estimated revenue for Omada in 2019 was $72 million. Hinge's stretch 2020 revenues would also be fairly close to what Livongo was posting the year before it filed for an IPO — $68.9 million in 2018.
The pandemic hit just as Hinge started to see hockey stick growth.
Hinge's momentum was, arguably, its competitive moat. This pandemic has slowed every company down, but it probably gives Hinge's competition time to catch up.
In normal times, I'd guess that Hinge would be gunning for an exit in the next two years. The company's massive $90 million raise complicates the prospect of Hinge getting acquired anytime soon. It's possible that in a year's time Hinge is a slower-growing, less dominant, and more palatable M&A target.