Issue 017.
Get E&O weekly. | Subscribe | Digital health research from Brian Dolan.
Welcome to E&O.
Last week's newsletter had a 74 percent open rate. Here's what's happening this week:
The late arrival of your weekly newsletter follows a 24-hour, feverish flu afflicting the entire editorial staff — absolutely everyone — at E&O.
Big news for ResApp: The Australia-based DTx secured a CE Mark for its first commercial product ResAppDx-EU, as a Class IIa medical device. "ResAppDx-EU is a mobile software application to be used by clinicians for the diagnosis of lower respiratory tract disease, croup, pneumonia, asthma/reactive airway disease and bronchiolitis in infants and children."
Israel-based BioBeat Technologies received FDA clearance for its cuffless, blood pressure device, which already has clearance for pulse oximetry. Still waiting for the summary document to hit the FDA database, but the official listing is right here.
Did this get forwarded to you? Not yet a paying subscriber? You can sign up by clicking these very words.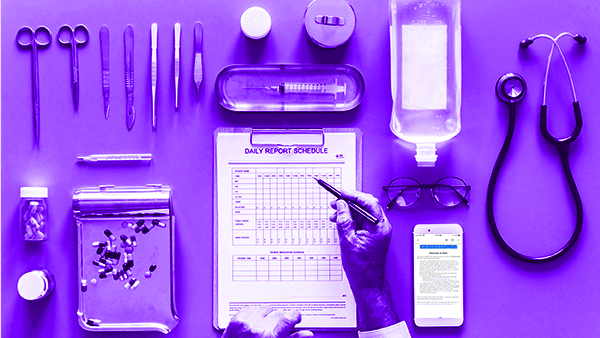 Rethinking digital health platform strategies
Propeller Health's Chief Commercial Officer Chris Hogg wrote a column this week over at TechCrunch that makes the case for best-of-breed digital health offerings instead of a one-app-to-rule-them-all strategy. Here's a snippet from his column:
"In this future, patients use a core clinical app, likely provided by their health system or primary care provider, that takes care of clinical interactions like scheduling, clinical data, reminders and follow-ups.
"Beyond that, patients use a set of specific apps that specialize in particular health issues — for example, respiratory disease, diabetes, mental health, increasing activity or improving sleep. Those apps will rise to the top because they're the best on the market at managing those issues. The experience of managing your mental health will feel different than managing your diabetes, just as using Instagram feels different than using Facebook.
"In this ecosystem model, the patient's core clinical app will link out to and connect to the problem-specific solutions. Health systems and physicians will adopt a small number of specialized platforms and products to focus on large clinical domains like cardiovascular, diabetes, respiratory and mental health. Data from these solutions will integrate back to the provider's organization and will be available in the EMR and for population health management."
While Hogg doesn't name Livongo or Omada in his column, my read on this is that he is arguing that their current strategies will fail.
Livongo is a diabetes management company and the only financials and growth metrics it has disclosed to date are from that core program. However, the company has touted its hypertension program and mental health programs (via its myStrength acquisition) as evidence of their platform strategy. Other areas Livongo has expressed an interest in include respiratory disease management and musculoskeletal issues. I'm curious to see whether Livongo shares any data on its next quarterly investor call that shows its customers have demonstrated an interest in working with them beyond diabetes.
Omada hasn't pushed a "beyond diabetes" narrative quite as much as Livongo. Omada started out as a prediabetes focused company, moved into diabetes, and added mental health-related programs after acquiring some of Lantern's assets.
Even if these companies were to remain focused primarily on people with diabetes, offering complementary programs focused on hypertension and mental health to their diabetes population will help drive positive outcomes for patients with comorbidities. It may be that Livongo never actually moves into new areas and away from diabetes. Maybe it just bolts on programs that are likely to help its core users.
Propeller Health, of course, was acquired by ResMed for $225 million at the beginning of the year. ResMed's business is largely CPAP machines and other respiratory devices. Following the acquisition, it's unlikely the company could pursue other chronic conditions outside of respiratory.
Quick scan of DTx companies with US federal contracts
A decade ago, in the early years of digital health, it was a relatively big news event when a digital health company managed to ink a deal with a US federal agency. I was surprised by the hoopla around Fitbit's deal with the Singapore government, so decided to dig into some government databases to see who's signing deals with the US government.
Fitbit. $2.2 million. While it's not a digital therapeutics company (yet?), Fitbit has done quite a bit of business with the federal government over the years. Its largest contract was one worth more than $1.7 million in 2015 with the US Army for Fitbit Charge HR in black.
Evidation Health. $1.3 million. Evidation Health has inked a handful of big contracts with the feds starting in 2016. Its deal sizes range from $500,000 to a little more than $700,000 and include work with the Army, the Air Force, and the HHS Office of Assistant Secretary for Preparedness and Response.
WellDoc. $969,087. WellDoc inked a big $1.6 million contract with the Air Force back in 2010 for a three-phase study that ended up not making it to completion. Assumedly that's why the Air Force received some of the money back — to the tune of more than $627,000. You can read WellDoc's 55-page report on how the study went right here (PDF) (https://apps.dtic.mil/dtic/tr/fulltext/u2/a606402.pdf) .
Propeller Health. $162,680. In the past few years, Propeller's been working with the VA mostly, but it has one $59,380 purchase order from the CDC too. Propeller's latest contract with the VA was signed just five days ago.
Omada Health. $153,150. Omada has only counted the Department of Veterans Affairs as a customer, and most of that figure comes from a study they did back in 2013 (http://newsroom.ucla.edu/releases/online-diabetes-prevention-programs-are-as-effective-as-in-person-sessions-for-weight-loss-study-finds) . The study included 268 VA members on Omada's program and the VA paid $115,200 for the 12-month access. That comes to about $36 per member per month.
PatientsLikeMe. $149,751. Before the feds forced its China-based majority owner to divest, PatientsLikeMe inked a deal with the NIH in 2014 for the Army STARRS study, which focused on suicide rates in the army. (https://www.ncbi.nlm.nih.gov/pubmed/24865195)
Pear Therapeutics. $149,514. Pear Therapeutics received one purchase order from the NIH in 2017. The project was to develop "a virtual environment to enhance patient engagement in peer support in opioid use disorder."
2morrow. $30,000. Smoking cessation-focused company 2morrow received $30,000 from the Army to support its SmartQuit study back in 2016.
AliveCor. $25,000. AliveCor has one 2016 purchase order on record from the NIH for $25,000.
Headspace. $7,200. Meditation-focused company Headspace inked a small deal with the Air Force for its app.
Triple Tree's DTx report rounds up valuations
Investment bank Triple Tree was one of the first to recognize how big digital health would become, and its early research reports about mobile and digital health were formative texts for me as I started up MobiHealthNews. The firm now has a report out on digital therapeutics that's well worth a read here.
Its list of valuations for some of the better-known DTx companies was helpful:
* Akili – $190M.
* Pear – $430M.
* Propeller – $225M (acquired).
* Omada – $600M.
* Neurotrack – $89M.
* Livongo – $3.4B (IPO'd, first-day trading valuation).
That's a wrap on Issue 017 — what'd you think?