Issue 041. Get E&O weekly. | Subscribe
Digital health research from Brian Dolan.
Welcome to E&O.
Last week's newsletter had a 63 percent open rate. Here's what's happening this week:
After a hiatus from public speaking, I got back on-stage last night at the MIT Sloan Healthcare Innovations Prize startup pitch competition. Have to admit I felt a bit rusty, but it was fun to hand out over-sized checks to the winners: The top three split $25,000.
Eddie Martucci and Corey McCann, the CEOs of Akili Interactive and Pear Therapeutics, respectively, met with the FDA's CDRH head Jeff Shuren earlier this month, according to Shuren's public calendar. The meeting focused on "Digital Therapeutic Devices" but the agency didn't disclose any additional information or attendees. Uncommon for two CEOs to meet with the FDA together without representing some other association or group. DTx is still early enough that it is a tightknit community.
Akili released the longer version of its STARS-ADHD RCT in the Lancet's digital health journal. Well worth digging into the full text here.
Marc Slujis noticed something funny on LinkedIn: At the time of their uncoupling, Sandoz CEO Richard Saynor said the company's deal with Pear "confused" Sandoz as an organization since it made it lose focus. And yet… every new job advertisement Sandoz posts mentions the company's pioneering effort to commercialize the first prescription digital therapeutic. The confusion continues.
Meanwhile, Pear is hiring for a government account director focused on various Medicaid groups: state Medicaid agencies, Medicaid ACOs, Medicaid MCOs, and Medicaid PBMs.
Speaking of hiring, Cedars-Sinai just named Dr. Raj Khandwalla the "director of digital therapeutics" at its Smidt Heart Institute. While I've seen payers and pharma companies appoint directors of DTx, it seems less common for health systems. (Might just be the rise of DTx replacing digital health as the phrase of choice in some contexts.)
This 32-minute read is a deep dive into the current and future state of Behavioral Design, and it quotes a number of people working in digital health. I couldn't get through the whole thing, but apparently, there is an even longer version of the report for those interested.
Finally, I thought this Twitter thread by Dr. Adam Cifu, Professor of Medicine at University of Chicago, focused on the various ways RCTs can be misleading was a great resource.
Did this get forwarded to you? You can sign up as a paying subscriber and get full access to E&O by clicking here.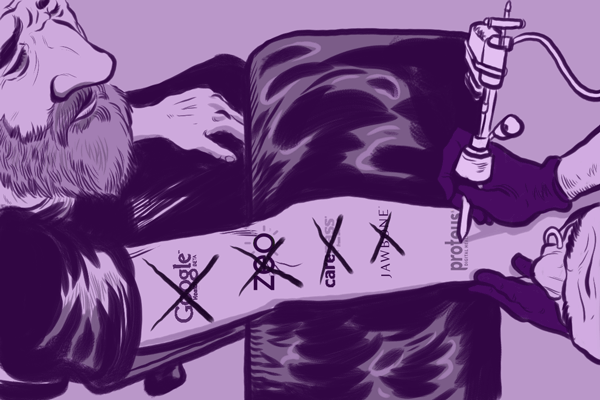 Livongo's free strips, Omada's free scale: Incentives and digital health enrollment
This is one obvious tactic I meant to include in last week's Digital Health Enrollment Report. Giving away things for free is about as simple as it gets, but it is likely an important reason both Omada and Livongo post high enrollment rates. Livongo's unlimited test strips and Omada's cellular-enabled weight scales are prominently featured in the companies' various enrollment marketing materials.
These kinds of incentives and giveaways aren't easy for every digital therapeutics company to offer, but in diabetes and weight management, they seem to work. That's not to say they are without risks. Livongo recently discussed an existential threat that the free strip tactic set into motion.
Livongo battles strip makers: Livongo's various programs include relevant personal medical devices, but its original giveaway was its diabetes program's unlimited blood glucose strips, which the company delivered right to the doorstep. Livongo founder and chairman Glen Tullman said during a recent interview that this move angered incumbent strip makers. And it still does:
"In healthcare there is a big ecosystem. And in that ecosystem, there are people, for example, who make a lot of money selling test strips. And they shouldn't. It's wrong. They over-inflate the prices of those test strips. I think it ought to be illegal.
When we came out and said we want to give test strips away for free, you can imagine how happy they were. So, they literally tried to kill the company. We were fighting for our survival. They would go into our customers, and they still do, and they say, 'We are going to increase our prices if you work with Livongo.' Totally illegal, but, in fact, they do it."
Omada defends scale giveaway to CMS: From the very beginning, Omada Health sent its diabetes prevention program's enrollees a cellular-enabled weight scale, because that meant the device could ship to users already paired with their account online. Since it is cellular, it also overcame any tech barriers the enrollee may have to pair it via Bluetooth to their phone or setting the scale up on their WiFi network at home. It just worked straight out of the box. A cellular chip, however, meant a more expensive weight scale.
This was one factor — maybe not the most important one — but an objection that the Trump administration's CMS had to granting reimbursement to virtual diabetes prevention programs. It didn't want Medicare patients signing up for virtual DPP just to get a free scale. So, it proposed a cap on the value of the equipment a Medicare-covered DPP could provide. It turns out, according to one of the last letters Omada sent to CMS before the payer decided not to include virtual DPP in its coverage, that Omada could provide their scale at a low enough cost. Omada wrote in 2017:
"CMS has proposed that equipment supplied to a Medicare beneficiary that is worth more than $100 must be collected from the beneficiary when they finish receiving their DPP services, including maintenance sessions. We can supply the scale within the $100 limit in the proposed rule, so therefore it need not be recalled."
I'm curious to track other companies' incentives-based tactics and any unintended consequences that befall them as a result. Send them my way.
Consumer Reports calls out GoodRx for sharing data with Google, Facebook, and others
GoodRx is on the defensive this week after a Consumer Reports article reported that the prescription savings company shares data with big tech companies like Facebook and Google as well as relatively unknown marketing tech companies like Braze and Branch.
The damning detail in the Consumer Reports is here:
"While people like Marie are saving money with GoodRx, the company's digital products are sending personal details about them to more than 20 other internet-based companies. Google, Facebook, and a marketing company called Braze all receive the names of medications people are researching, along with other details that could let them pinpoint whose phone or laptop is being used."
GoodRx posted a response:
"We sometimes use trusted, certified, third-party service providers to improve our service and provide the best customer experience. This is standard practice on the internet. We have strict contractual agreements in place that prohibit these partners from sharing personal user data with outside parties. Personal user data can only be used to provide services to us. For instance, our agreement with Braze, an email and messaging service, stipulates that personal health information must be handled in a HIPAA compliant environment, and that Braze must secure the confidentiality of the data we provide. Our security team regularly performs reviews of our third-party service providers to ensure we operate at the highest standards of data security and confidentiality.
Like many technology businesses, we run advertisements on the internet, including Facebook and Google, to reach customers who might find GoodRx useful. We do not display specific ads to users based on their particular medical data."
Some specific details are lacking here, like why exactly GoodRx was sharing medication names tied to users' metadata with Facebook in the first place. My guess is GoodRx was sloppy and incidentally revealed the name of medications to Facebook, which was helping them track the campaign. GoodRx makes clear they didn't sell Facebook any user data, so it must have been indirect.
At a high level a few things are clear right now:
Digital health companies that have reached a certain level of success and that use pretty much any kind of consumer-facing Internet marketing platform, risk a Google-Ascension or GoodRx-Facebook style "exposé" right now. Internet marketing is driven by surveillance. These stories are going to keep on coming.
CMS: "Currently exploring ways" to let virtual DPPs get Medicare reimbursement
As mentioned above, one of the watershed moments in Omada Health's history was CMS' decision to exclude virtual diabetes prevention program companies from the Medicare DPP reimbursement program in 2018. Under the Obama administration's CMS, virtual DPPs were set to be included, but once the new administration took over the payer reversed course.
This week, new hope emerged that CMS was closer to finding a way to include virtual providers in MDPP. Following a letter that 19 senators sent CMS at the end of last year encouraging it to reconsider its virtual DPP exclusion, a January response letter from CMS reportedly claims it is working to find a way to accommodate them.
Regulating access to digital therapeutics, especially for kids
When I moved into our house a few years ago, I was surprised to find a medicine cabinet in the master bathroom that had a lock and key. It's not uncommon, I just hadn't seen or noticed one before. Will digital therapeutics need that kind of safe-keeping?
I had a conversation this week about the difficulty digital therapeutics companies will have in the future around regulating access to their therapies. The person I was talking to suggested that a company like Akili Interactive might want to ensure that their therapeutic for pediatric ADHD, which is delivered in the form of a video game, doesn't fall into the hands of the intended user's sibling.
If I'm a parent with two kids who have been diagnosed with ADHD and get a prescription digital therapeutic for one of them, why wouldn't I have the other one play that game too? These are safe therapies with little to no adverse events right? It's just a game. Why pay twice?
The more immediate risk here is to Akili's bottom-line, but I wonder if this aspect of DTx is a concern to regulators.
Hints at how Sanofi might approach commercialization of DTx with Happify
McKinsey recently published a great interview with Sanofi's Head of Digital Therapeutics Bozidar Jovicevic that includes a worthwhile overview of the current state of DTx plus a few hints about how the biopharma channel strategy for DTx might unfold.
Jovicevic also said that he expects standalone digital products to hit the market first followed by digital-plus-drug combination products. But longterm he said the future for DTx is harder to envision:
"The long-term picture is much more important, but it's intangible and abstract. Digital therapeutics present a big opportunity. They have the potential to become a multibillion-dollar category. The greatest value will be from data. If we know, for instance, when the right time is for a patient to move to the next step in the treatment algorithm, that will be better for everyone in the system."
The section of the interview focused on business models and distribution was the most compelling:
"When we talk about business models, there's a danger we might think that digital therapeutics are just like drugs, only digital. So a doctor prescribes a drug, and a digital therapeutic as well, and everything else is the same—development, commercialization, market access. But the way products are commercialized will be different, in fact, and that will have a huge spillover effect.
"Digital therapeutics will be used by more patients, but the price will be lower, which makes sense. Doctors will see fewer sales reps. Even today, 50 percent of US doctors don't see reps, and an average sales visit lasts a couple of minutes. The productivity of that model is declining.
"I think digital therapeutics will spur the kind of experimentation that happens with all new commercial models. We already see consumer-healthcare companies combining paid media with e-commerce and telemedicine to bring products to market. I'm excited about what's coming, and I see it having an impact on pharma as well."
Based on the above, I wonder if Sanofi-Happify will be the first to market DTx via telemedicine prescribers like Ro does for pills.
Quick links to E&O research reports
The links below aim to make it easier for paying subscribers to find the long-form research reports on the E&O site:
The Digital Health Enrollment Report (Subscribers-only Link)
The Omada Health Report (Subscribers-only Link)
The Google Health Report (Subscribers-only Link)
The Pear Therapeutics Report (Subscribers-only Link)
The AliveCor Report (Subscribers-only Link)
Apple's Healthcare Work Experience (Subscribers-only Link)
Approximating Livongo's S-1 (Subscribers-only Link)
That's a wrap on Issue 041 of Exits & Outcomes. Catch you next week!