Issue 008. Omada's strategy. Boehringer invests in myopia DTx.
Get E&O weekly. | Subscribe | Digital health research from Brian Dolan.
Welcome to E&O.
Last week's newsletter had a respectable 83 percent open rate. Here's what's happening this week:
 Your editor survived camping with the 3- and 5-year-old last weekend and is now preparing to add a large canine, named Moose, to the family. Hit reply to send training tips or dog treats my way.
De-identified vs. re-identifiable: A class-action lawsuit alleges that the University of Chicago and its medical center shared hundreds of thousands of patients' records with its partner, Google, without removing identifiable date stamps or physicians' notes.
As expected, PatientsLikeMe finally found a buyer after the Feds forced its majority owner, China-based iCarbonX, to divest. UnitedHealth snapped it up. ePatient Dave has a worthwhile analysis here.
The CEO of Kick Health, a direct-to-consumer, online prescriber of beta-blockers for people nervous about public speaking and other anxiety triggers, allegedly learned a little too much about a reporter — by accessing information related to their use of Kick — right before an interview. The anecdote is buried deep within this multi-thousand word narrative at Slate.
Don't waste any more time on this week's digital health scandals and read on for important studies, deals, insights, data, and news below.
Did this get forwarded to you? Not yet a paying subscriber? You can sign up right over here.
Payers to digital therapeutics companies –>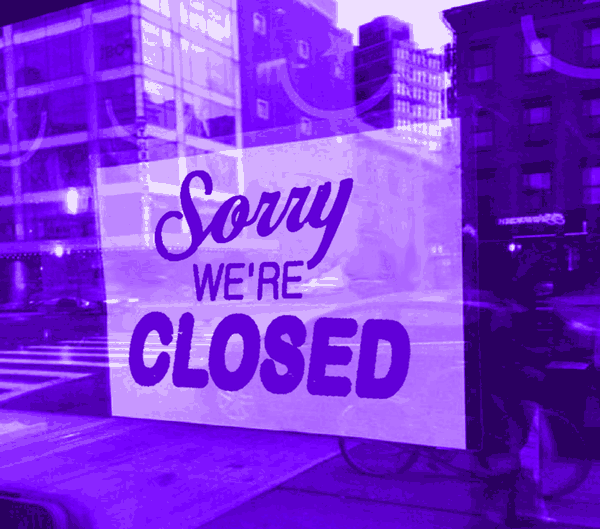 Omada Health moves deeper into healthcare. Four years until it's a full-stack, primary care practice?
Omada Health announced $73 million in new funding this week. Christina Farr over at CNBC reported the latest round puts the company's valuation at close to $600 million. Sean Duffy, Omada's co-founder and CEO (and the person widely credited with coining the term "digital therapeutic"), describes the company's mission as creating a "21st Century Provider" and stresses both the digital experience and the real-live-humans that coach Omada members. Here's a quick excerpt from Duffy's latest LinkedIn post and below that a few thoughts from me on the company's strategy moving forward:
"Even more important than the range of conditions we're now prepared to support is how we do it. The Omada Program delivers a single, integrated experience that treats patients as real people, with individual needs and goals, rather than a checklist of comorbid conditions. Omada coaches continue to partner with participants throughout the entirety of their journeys, forming deep relationships that lead to personalized, actionable recommendations and support.
Our tailor-made coaching platform uses insights from billions of data points to make it all possible; we enable our care teams to best engage participants at the right moment, with the right message, to inspire lasting change. The relationships these coaches form with participants provide the foundation of trust on which they are building sustainable healthy patterns. A true digital care program goes beyond a simple nudge when things are going wrong. Digital care means providing holistic, preemptive support to avoid the adverse outcome in the first place, instilling small changes that add up to powerful — and lasting — gains in health.
That's our vision for Omada, and for healthcare: human-centered, elegantly designed digital experiences for patients."
Duffy is obviously taking a few shots at the competition here by disparaging digital-only, or mostly digital, coaching programs that make lighter use of real-live-human coaches. Omada's human coaches are also increasingly attaining more demanding credentials as the company moves deeper into healthcare.
Omada started in prediabetes with real-live-humans certified as Diabetes Prevention Program (DPP) coaches under the CDC's training program. As Omada moved into Type 2 diabetes management, it began training some of its coaches as Certified Diabetes Educators (CDEs), which is the certification Livongo and other diabetes coaching programs often have. As Omada moves into mental health, all of its coaches working in that program will be supervised by licensed clinical social workers (LCSWs), as required by state laws.
Omada's core strategy is to fill in the gaps left by traditional care, but given its current trajectory it will likely run up against traditional care providers soon enough. One of the differentiators that Sanofi-Verily's joint venture, Onduo, has over its competitors is that it offers people with diabetes in its program access to endocrinologists across the country. In other words, Onduo is creating its own nationwide, virtual endocrinologist network. While diabetes remains Omada's primary focus area today, it has taken steps to broaden its offerings beyond pre-diabetes and diabetes, so building a virtual endocrinology practice seems unlikely for the company. Building a nationwide, virtual network of licensed care providers, however, seems inevitable for Omada.
The chart below shows the cumulative number of people who have participated in one of Omada's programs over the past four years. I predict Omada's offering will look a lot more like a digital-first, nationwide, chronic condition-focused primary care provider before the next four years are up.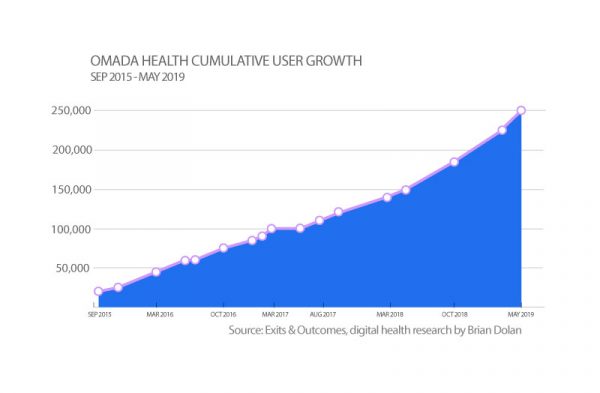 Boehringer Ingelheim invests in myopia DTx
Boehringer Ingelheim's venture arm invested in Germany-based Dopavision, which is developing a smartphone-based digital therapy for short-sightedness, also known as myopia. The €1.2 million seed round follows on €1.4 million already raised from the German government. Dopavision will use the funds to validate its digital therapeutic in a pre-clinical animal model.
The startup's therapy will deliver light stimulation to specific photosensitive cells on the patient's retina, which in turn modulate dopamine, a neurotransmitter that helps regulate eye growth. High myopia can lead to retinal detachment and blindness.
Dopavision says the light stimulation could appear invisible to the patient since the parts of the retina its therapy stimulates are not part of the visual-forming process. So the therapy might be combined with games or other smartphone-based activities that keep the patient looking in the right direction.
Boehringer Ingelheim says the investment points to its strong interest in back-of-the-eye diseases.
Back of the envelope DTX adoption metric
This week on Twitter, Pear Therapeutics' VP of Corporate Development Antoun Nabhan shared a brief summary of his company's competitive intel: "At [Pear Therapeutics] we've looked at hundreds of these, and the average non-prescription digital therapeutic has under 500 active users. If your product is just a few dollars/user/month, you won't have a sustainable business at that size."
Bayer's Grants4Health program's DTx applicants
Bayer's Grants4Health (G4H) program, which has been around in various forms since 2012, shared the image below: It's a breakdown of types of digital health startups that applied for its 2019 partnership program. For its 2018 program, 2,400 startups from 65 different countries applied. Assuming the number of applicants this year is the same, Bayer has applications from more than 400 startups that self-describe (or Bayer describes) as digital therapeutics startups.
Studies: Eko's aortic stenosis algorithm & Topol's smartphone ultrasound-powered "medical selfie"
Smart stethoscope company Eko shared early data on its investigational Aortic Stenosis (AS) detection algorithm while attending the American Society of Echocardiography (ASE) 2019 Scientific Sessions. Northwestern Medicine Bluhm Cardiovascular Institute helped develop the algorithm and a study with its patients showed that Eko's algorithm could accurately detect AS in a cohort of Aortic Stenosis patients with a sensitivity of 97.2 percent and a specificity of 86.4 percent.
So far, 161 patients with 639 recordings have been enrolled in the study, and of those, 14 patients (8.7 percent) were found to have significant AS. For more details read the abstract (PDF) here.
Dr. Eric Topol penned a 10-year review of digital medicine for Science Translational Medicine magazine. The feature summarizes many important studies from the literature over the years, but also includes a series of images that Topol took of his own body parts using a smartphone-powered ultrasound device. Topol calls it a "medical selfie". Worth checking out here.
When I wrote about the possibility of patients using smartphone-powered ultrasounds at home back in 2010, an association of medical sonographers rallied their members to send me fiery, incredulous letters of protest. Topol's 10-year review here is a fantastic read, but the future of "medical selfies" seems as far off now as it did in 2010.
Chutes & Ladders: Vida, Healthvana, Facebook
Roni Zeiger, who just joined Facebook as head of Health strategy from his patient communities startup Smart Patients, is hiring a new direct report. Here's how the job description reads:
"The Social Good team is looking for a Director of Health Partnerships for our growing team. This Director of Health Partnerships will manage a team of strategic partner managers providing supports across Facebook's health products and initiatives, partnering closely with Product and a variety of cross-functional partners. The objective of this role is to build a strong partner ecosystem in order to provide guidance on product strategy, product launches, program design, and execution. The Health Partnerships lead will be the external presence and representative for FB and Health at key events."
Healthvana, which launched in 2014 and has since delivered 10 million HIV testing results to patients in 16 states via secure messaging, is beginning to focus more on HIV management, describing itself as a digital therapeutics company, and hiring a front-end developer. "Want to help create the first digital therapeutic for HIV?" Healthvana CEO Raman Bastani tweeted yesterday.
Vida Health has hired Cynthia "CJ" Mark as Chief Commercial Officer and Chris Mosunic as Vice President of Behavioral Health. Mark comes from Teladoc and Mosunic was most recently at Yale New Haven Health. Mosunic was a senior director at J&J before his Yale gig.
That's a wrap on Issue 008: Planning to send 009 out earlier in the week as I expect many US-based readers (that's 86 percent of you currently) to be busy next Thursday. Hoping to be on a Cape Cod beach with a bellyful of BBQ myself.