Issue 007. Digital health formulary wars heat up. $40M price tag for a digital drug.
Get E&O weekly. | Subscribe | Digital health research from Brian Dolan.
Welcome to E&O.
Last week's newsletter had a likely-not-to-be-repeated 89 percent open rate. Here's what's happening this week:
Your editor is preparing to take his 3-year-old and 5-year-old camping for the first time this weekend. Hit reply to talk me out of it (or to send more marshmallows).
Dexcom CEO Kevin Sayer told Jim Cramer in the next 12 months the company will launch the G6 version of its CGM that sends data direct-to-Apple Watch (bypassing the iPhone).
Benjamin D'hont of Alcimed has a helpful overview of the current state of digital therapeutics here.
Elsewhere, I've heard some curmudgeons throwing cold water on digital health companies that call themselves "digital therapeutics" if they use either CBT or real live humans (or both) as a core part of their offering. There's also a growing contingent that only uses the phrase "prescription digital therapeutics" or PDTs. Behold, the ever-evolving semantic fiefdoms of digital health!
Save those clicks for your second pass and read on for important studies, deals, insights, data, and news below.
Did this get forwarded to you? Not yet a paying subscriber? You can sign up right over here.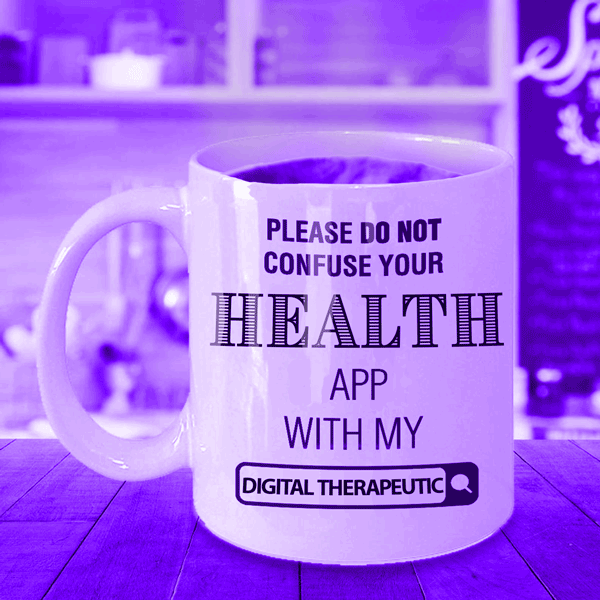 Digital health formularies, past and present.
Last week's big story on CVS launching VBM, its new distribution channel for digital and non-digital health and wellness solutions, led me to do some digging into the various attempts and ongoing efforts at something approaching a "digital health formulary" in the past 10 years.
Here's a quick round-up of the initiatives that predated CVS and Express Scripts' recent moves:
IMS Health (now IQVIA) and AppScript: The big data company announced its health app curation and prescription SaaS offering in December 2013. The platform takes a more inclusive approach than most of the competition and makes tens of thousands of health apps available for "prescription" by a healthcare provider, but that bank of prescribable apps is tailor-made and whittled down for each of its customers. IQVIA's team reviews each of the apps and assigns it a score based on the usual app review criteria.
Just this week IQVIA announced that it is expanding its partnership with UK-based general practitioner software provider EMIS Health. Some 58 percent of GPs in England use EMIS software and they will now be able to prescribe nine handpicked health apps to patients directly from their EHRs. IQVIA says — at most — only 4 percent of physicians in the US have the ability to prescribe a health app to a patient. Following the rollout in England, IQVIA expects to roll it out across the UK. Check out a slide from IQVIA about digital formulary adoption in the US vs. the UK in the image below.
Xealth: Seattle-based Xealth is among the few currently operating venture-backed companies working in this area. Just this week Xealth added another $3 million to its $11 million round from March. The latest funding comes from new backers like Atrium Health, Cleveland Clinic and MemorialCare Innovation Fund. They were joined by existing investors McKesson Ventures, Novartis, Philips, ResMed, Threshold Ventures (formerly DFJ Venture), Providence Ventures, UPMC and Froedtert and the Medical College of Wisconsin health network.
The company's platform is embedded in its customers EHRs. Current customers include Duke Health, UPMC, the Froedtert and the Medical College of Wisconsin health network, and Baylor Scott & White Health. It got started in 2017.
RxHealth and RxUniverse: Mount Sinai Health System spinoff RxHealth got into the mix in 2016, too. It describes its offering, RxUniverse as "the first enterprise-wide digital medicine delivery system" and recently launched an initiative focused on heart patients. RxHealth raised a $1.8 million seed round in September.
The Dead or Mostly Dead Efforts
Happtique and SocialWellth: Happtique is perhaps the best-known app curation and prescription effort to emerge in the past decade. It was a subsidiary of the business arm of the Greater New York Hospital Association that was founded in 2010.
Around the same time that AppScript came onto the scene at the end of 2013, Happtique's vetted health app platform went live and then quickly shut down two weeks later. Its sudden death likely had a number of causes, but it emerged during those two weeks that some of the apps Happtique had vetted actually suffered from security issues. SocialWellth acquired Happtique in 2014 and finally relaunched the platform in 2016. SocialWellth has also since gone out of business.
WebMD and Medscape: In 2013 WebMD's C-suite told me they planned to build app curation and prescription functions into the WebMD and Medscape mobile apps. As the leadership changed at the company, those plans were shelved.
iPrescribeApps: The physicians who created the popular app review site iMedicalapps launched an app curation and prescription platform called iPrescribeApps a few years ago too. The offering, however, has remained in beta since 2016.
AppSalut: In Catalonia, Spain the government built and tested (https://www.ncbi.nlm.nih.gov/pubmed/29929948) a portal called AppSalut that allowed "primary health care doctors to prescribe certified, connected apps". The portal appears to be offline now.
Pre-cert expands FDA's scope?
Heard it secondhand that the FDA is less interested in tweaking its legacy systems for regulating medical devices and is focused instead on creating the new system: Pre-Cert. And because the agency believes that Pre-Certification will make the process so efficient, FDA expects to expand what they are able to regulate. So, Pre-Cert may free the FDA up to have the resources and tools to take a closer look at lower-risk medical devices.
Proteus Digital Health costs per drug
Learned this week from Chardan that it costs between $30 million and $50 million to develop a digital version of a drug for Proteus Digital Health's platform. If that's an existing, marketed drug that process can take between 20 and 30 months.
Studies: ResApp and AmalgamRx
ResApp's diagnostic accuracy study for pediatric respiratory disease. ResApp recently published a study in Respiratory Research that pit an automated cough-sound analyzer up against a panel of pediatricians. Here are the results:
"A total of 585 subjects aged 29 days to 12 years were included for analysis. The Positive Percent and Negative Percent Agreement values between the automated analyser and the clinical reference were as follows: asthma (97, 91%); pneumonia (87, 85%); lower respiratory tract disease (83, 82%); croup (85, 82%); bronchiolitis (84, 81%). Conclusion: The results indicate that this technology has a role as a high-level diagnostic aid in the assessment of common childhood respiratory disorders."
iSage Rx insulin titration study: Amalgam Rx subsidiary iSage Rx, which enables basal insulin titration-as-a-service with its FDA-cleared, prescription-only app, presented a feasibility study with a poster at ADA last week. While most Type 2 patients using insulin might not change their dose between office visits, the iSage study showed patients used the app to change their doses about 9 times over the course of three months. Other results from the 27-patient study:
On average, patients in the treatment arm reduced their A1C by 1.04% (p=.002) from baseline to study termination
Patients with a beginning A1C of greater than 8% reduced their A1C by 1.88% (p=.005) from baseline to study termination
The average starting and app-directed final doses of insulin increased by 39% (p=.047) with less than 2% of the fasting glucose readings recorded in iSage Rx below 70 mg/dL
Deals: Partnerships, customer wins, funding
Virta Health / Willis Towers Watson: Keto diet-focused Type 2 diabetes reversal company Virta Health inked a deal with Willis Towers Watson to bring Virta to more self-insured employers. Judging by the digital health companies it invited to speak at its Resolve 2018 event last year, WTW is also a fan of Ovia, Progyny, Livongo, Omada, Big Health, Ginger.io, Best Doctors, and Hinge Health.
Holmusk / Janssen China: Singapore-based digital therapeutics company Holmusk signed an MOU (https://www.biospectrumasia.com/news/48/13760/holmusk-signs-mou-with-janssen-rd-to-develop-digital-mental-health-strategy-in-china-.html) with J&J's Janssen China to explore building out a digital mental health strategy for the country with an initial focus on depression.
Meru Health / MINES: Meru Health signed on a new customer (https://www.prnewswire.com/news-releases/meru-health-and-mines–associates-announce-collaboration-for-improved-mental-health-care-access-300863565.html) earlier this month. Littleton, Colorado-based business psychology firm MINES & Associates will offer Meru's mental health services to its more than 10,000 managed behavioral health care members. Meru's digital clinic is a 12-week program for anxiety, depression, and burn-out.
Mindstrong, 7 Cups / California: The New York Times has a worthwhile look at the state of California's partnership with two digital mental health companies: Mindstrong and 7 Cups. From the report:
"For the past year, California state and county mental health officials, along with patient representatives, have met regularly with Mindstrong and another company, 7 Cups, to test smartphone apps for people receiving care through the state's public mental health system. Officials from 13 counties and two cities are involved, and the apps are already available to the public."
Tidepool / Medtronic: One of the more interesting and unexpected partnerships this month was between Tidepool and Medtronic. Tidepool is developing Tidepool Loop, a not-for-profit and open source artificial pancreas project, that is working with the FDA on its Pre-Cert program. The news: Medtronic will developing a new, Bluetooth-enabled MiniMed pump that will be a fully supported delivery device for Tidepool Loop once both are approved by the FDA. The two partners will collaborate on both regulatory and software processes.
Vida Health / GuideWell, Teladoc, Workday: Vida Health announced a $30 million Series C this week from return backers as well as three new strategic investors: GuideWell Mutual Holding Corporation, Teladoc Health, and Workday Ventures. Florida-based health insurer GuideWell will make Vida available to members (initially just those with comorbidities) as part of the deal. Teladoc becomes the exclusive virtual care partner to Vida moving forward. Vida will add a single sign-on feature for its joint customers with Workday.
Cara Care / Johnson & Johnson: Germany-based Cara Care, a digital health company focused on gastrointestinal disease, raised $7 million in a Series A led by Johnson & Johnson's venture arm JJDC. The company's digital therapeutic is for English or German-speaking patients with irritable bowel syndrome, inflammatory bowel disease, and gastrointestinal reflux disease.
Regulatory updates: Epihunter and Nemaura
Belgium-based Epihunter gets CE Mark as Class 1: Epihunter added a new feature to its epilepsy app that enables it to automatically video-record absence seizures, including a built-in loop-recording functionality that captures 30 seconds of video prior to the actual seizure. The company also announced its CE Mark. The company's offering — a seizure detection app, a companion app, and a slim EEG headband to record brain waves — is available for sale in Europe.
Nemaura Medical, maker of the SugarBEAT non-invasive CGM, plans to submit for a De Novo clearance from the FDA for its device, which it believes will be used by people with diabetes and even those who do not have the chronic condition. The device already has a CE Mark and recently hired the head of Dexcom Germany to oversee its launch in Europe.
That's a wrap on Issue 007: What did I miss?