Issue 005. Virta Health study. FDA-cleared algorithms. Arthritis DTx.
Get E&O weekly. | Subscribe | Digital health research from Brian Dolan.
Welcome to E&O.
Last week's newsletter had a 71 percent open rate. Here's what's happening this week:
Don't click those, read on for more important studies, deals, insights, frameworks, and news below.
Did this get forwarded to you? Not yet a paying subscriber? You can sign up right over here.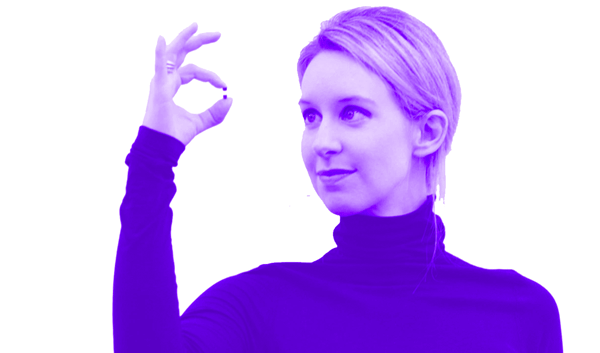 Virta's two-year study results
The big outcomes story this week goes to diabetes-focused Virta Health. Virta's coaching program helps participants stick with a keto diet to put their diabetes into remission. The company's most recent study, which was published in Frontiers in Endocrinology, is an impressive two-year look at its "digital-monitored continuous care intervention" that builds on a one-year study the company published in April 2018.
Virta's summary of the study's results is below.
The most common pushback Virta Health's competitors and detractors point to when it comes to the company's keto diet-based program is how difficult it is for the average person to complete. Virta's recent study includes a topline metric of 74 percent retention, which is clearly intended to help bat down this objection. Click here to read the full Virta Health study.
As E&O noted in last month's Approximating Livongo Health's S-1 research note, Virta Health is the one competitor that Livongo sales reps seem to hear about most often during meetings. As we wrote last month:
Some of Livongo's sales presentations even include a slide titled, "Debunking the Hype about 'Diabetes Reversal.'" It's not hard to imagine a self-insured employer wondering why they should buy a diabetes management program when there's a diabetes reversal program on the market. Livongo stresses the difficulty of a ketogenic diet and shows potential customers a comparison chart that keto diets are only adopted by 4.2 percent of potential members, while Livongo's average enrollment rate for its program is about 36 percent of people with diabetes at a given customer site. Livongo closes by arguing the keto diet program also costs employers more per member than it saves in its first year. Suffice to say, "diabetes reversal" comes up in Livongo's sales conversations and it's an objection the sales team has been trained to overcome.
STAT's Rebecca Robbins has a great write-up of the Virta Health study here.
Lessons from Theranos
Theranos documentary star and Stanford University professor Phyllis Gardner gave a must-read interview to The Mercury News about the fallout from the Theranos debacle and her own fame for seeing through the entrepreneur early on. Best quotes:
"Look, in high tech, you can fake it til you make it. In medicine, you do not fake it. Ever. That is verboten, and that is why we have regulatory agencies. No. You don't fake it 'til you make it. You don't fail 10,000 times and get it right on the 10,001st. That is absolutely evil to say that, for me."
"For example, (blood) clotting times. If you are under-coagulated, you bleed to death easily; if you are over-coagulated, you clot off. And it's a very fine line, and it's a very narrow therapeutic window. She was sending out wrong clotting times! People were changing their meds based on that. That is putting patients' lives in imminent danger."
Gaia to launch DTx for arthritis this summer
German digital therapeutics company Kaia Health now has more than 150,000 monthly active users for its back pain program. The company also has a COPD program and is planning to launch a third digital therapeutics for osteoarthritis this summer. In Germany the company has secured reimbursement for half that country's population: 40 million out of the 80 million people in Germany could get reimbursement for Kaia's back pain program today. The company plans to focus on the self-insured employer market in the US.
FDA cleared algorithms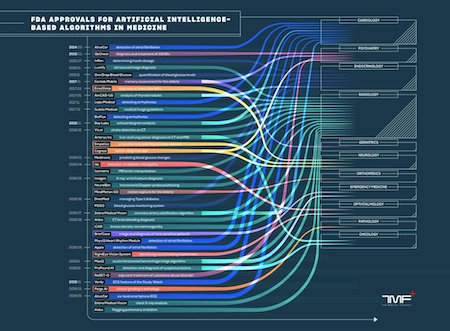 Berci Meskó, MD, PhD, the director of The Medical Futurist Institute created the beautiful chart above that maps most of the AI-based algorithms that the FDA has cleared or approved over the years. Click here for a larger version.
Generics and digital therapeutics
The best Twitter content this week goes to Propeller Health's COO Chris Hogg who built on something Sanofi's Chief Digital Officer/Chief Medical Officer Dr. Ameet Nathwani said on-stage at BIO2019 in Philadelphia: What does a generic digital therapeutic look like?
"We've been pondering this interesting question for a while. Then think about if you combine a drug + digital in the label. How would you create a therapeutic equivalent of that drug? Since it's not possible to create a TE of the digital component… All of a sudden you have a new class of drugs (DTx) and combinations (drug + DTx) that change/evolve over time (versioned drugs!) and that cannot be replicated as a therapeutic equivalent. Very interesting times."
Hogg also started a worthwhile discussion this week with this tweet:
"Prediction: We will see true clinical adoption and scaling of digital health and digital therapeutics products in Europe before the US."
Pear Therapeutics CEO on DTx market maturity
Here's how Pear Therapeutics CEO and President Corey McCann described the brief history of digital therapeutics on this week's Rock Health podcast:
"We are in the very beginning of the adoption curve. We have seen a similar type of 'warhead mentality' around selling gene therapy.
If you look at the evolution of selling prescription digital therapeutics, we were in a world where — maybe three years ago — where no one in pharma had any idea what this was. In the last two years we have transitioned to a place where pharma thinks they know what this is, and they are very eager to learn more. We then transitioned to the scout phase where pharma diligenced everything that moved and did that without much of an intention to do deals. I think we are now into the deal phase where you see a good deal of collaboration with digital therapeutics companies to develop these things to fill a pharma pipeline.
We are just about at a tipping point. We're not quite there yet, but we are transitioning to the phase in the conversation where digital therapeutics are a must-have as opposed to some sort of exotic modality."
First customer goes live with Mount Sinai Health System spinoff's prescribable app system
One of the companies working to bring a digital health formulary and prescription pathway to the market, Rx.Health, went live with its first clinical customer this week: a family medicine practice in New Jersey called GMed Healthcare led by Dr. Vikram Gupta. Rx.Health's offering is called Rx.Universe — more on the offering here.
Amalgam Rx inks deal with Novo Nordisk
Digital therapeutics company Amalgam Rx subsidiary iSage Rx announced a deal with Novo Nordisk that sees the biopharma launching a white-labeled version of the company's iSage app in Brazil using the brand DoseCheck. The program will include more than 80,000 physicians in Brazil. iSage is an FDA 510(K)-cleared, prescription-only mobile application for the automated titration of all brands of basal insulin.
John Oliver skewers the medical device industry, FDA
HBO star John Oliver spent the majority of his program last weekend lambasting the medical device industry and the FDA over lax regulation and public safety concerns. The YouTube clip of the segment already has a few million views after just a few days online. One of the framings that stood out to me was how he described the 510(K) process, which I'm used to hearing about as an expensive, time-intensive process that has hampered digital health innovation over the years. Here's Oliver's take:
"The way most products get cleared is through a loophole in the system called the 510(K) pathway. It wasn't actually a bad idea when they came up with it. Basically, the FDA wouldn't make companies go through a strenuous testing process if their device was one that was substantially similar to one that had come before. That way they wouldn't stifle innovation. It was only supposed to apply narrowly. The problem is nowadays 80 percent of medical devices are cleared via the 510(K) loophole."
That's a wrap on Issue 005: Hit reply to send tips, news, and feedback my way.