Issue 014.
Get E&O weekly. | Subscribe | Digital health research from Brian Dolan.
Welcome to E&O.
Last week's newsletter had another sky-high 77 percent open rate. Here's what's happening this week:
Your editor has consumed all articles, videos, reports, interviews and podcasts about AliveCor. I've done my own calls too with some trusted sources. If you might have something to add to this imminent in-depth before it goes live, hit reply to this newsletter and fill me in.
Lilly's broad, multi-year partnership with Evidation, which the two announced late last year, is already leading to published results. This week the two companies announced a project with Apple that used mobile devices and health apps to try to identify mild cognitive issues or mild Alzheimer's. The study used passively collected data from the Apple Watch, Apple Beddit devices, surveys about mood and energy, and app-based psychomotor tasks, like dragging one shape onto another. Full study here.
Khosla Ventures led a $12 million round of funding in Hello Heart, which offers a digital hypertension program that uses a connected blood pressure cuff and an app. Hello Heart is also adding data from glucose meters to move into diabetes management next. (This was Livongo's strategy too — but in reverse.)
Andreessen Horowitz has a lengthy but worthwhile breakdown of the opportunities it sees for digital health startups focused on care delivery. The firm's partner Julie Yoo, who previously co-founded Kyruus, argues software can transform how we access, pay for and experience healthcare.
Did this get forwarded to you? Not yet a paying subscriber? You can sign up right here.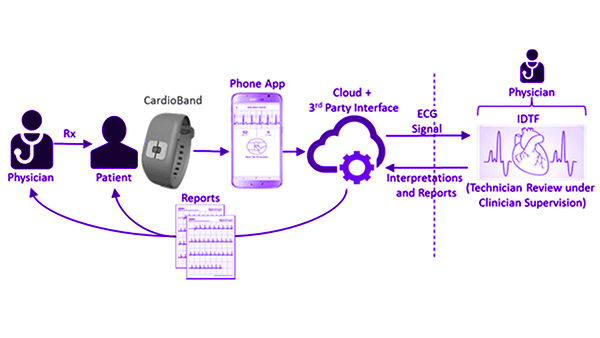 FDA quietly cleared Samsung's AliveCor Kardia clone "CardioBand" back in November 2018
Samsung announced this week that it would add an ECG function to its Galaxy Watch Active 2, which will begin taking preorders in September. The device does not yet have FDA clearance, however, as most of the press reports covering the announcement have noted.
Oddly, I can't find any mention in the press of an FDA clearance Samsung received at the end of last year: The FDA cleared a Samsung ECG wearable as a Class II medical device in November 2018. The device, called CardioBand (and pictured above), is a single-lead ECG wearable with similar indications to the original AliveCor Kardia Mobile. Unlike AliveCor's devices and Apple's ECG software, this one from Samsung is not cleared as an over-the-counter device — it's prescription only. Other differences with AliveCor: Samsung's device is only cleared to work with certain Android operating systems and it transfers data via Bluetooth LE.
Importantly, the Samsung business unit that the FDA corresponded with for the clearance is the San Jose-based Samsung Strategy and Innovation Center. Based on the way it looks and the corresponding party this was either a move to develop an ECG for clinical trials and other research projects or it was an attempt to speed up a future clearance for its flagship wearable, the Galaxy Watch Active 2. Or both.
Read the FDA clearance summary document here.
HealthXL's digital health evidence report finds most studies on musculoskeletal and neurology
This week Ireland-based digital health research group HealthXL published a report that digs into digital health studies published in the medical literature from the past two decades. The report found more studies had a focus on musculoskeletal (11,515 studies) and neurology (9,244 studies) than other conditions.
Here's how the team described their methodology:
"We sourced publications from Pubmed for the years 2000-2018, and cross-referenced them with Microsoft Academic. We then assigned a digital health status which yielded 150,982 publications, did multiple rounds of data validation, and grouped for disease burdens using keywords and terms that could be bundled into each disease area (for eg, 'heart', 'artery', 'aortic', 'chronic heart failure', etc were all grouped under 'Cardiovascular Disease')."
Report: VR, voice and MSK, neurological trending up for digital therapeutics
A recent report on global trends in digital health funding from CB Insights included a section on digital therapeutics, which saw more funding deals in the second quarter of 2019 than the previous two.
Two funding deals pointed to emerging technologies entering the DTx space: virtual reality and voice-based tools. CB Insights highlighted Psious, which uses VR for its ADHD digital therapeutic program, as well as Sonde Health, which is developing voice-based biomarkers to monitor neurological, cardiovascular, and respiratory diseases. Psious raised about $9 million during the quarter and Sonde raised $16 million.
The report also noted that musculoskeletal and neurological-focused digital therapeutics companies raised funding during the quarter (echoing the rise in the number of digital health evidence focused on those conditions, mentioned above). Sword Health raised $8 million for its digital physical therapy business, while Neurotrack raised $21 million for its digital products focused on cognitive health, including Alzheimer's. Khosla Ventures led both of their rounds.
Pear shares two key reasons their Novartis partnership works
These comments might seem like platitudes or just a digital health company buttering up their main customer, but Pear Therapeutics' VP of Alliance Management Brooke Paige shared a little insight into the digital therapeutics company's partnership with big pharmaco Novartis during a panel session in Boston a few weeks ago.
Paige said that two key reasons the partnership is working so well are that the deal had buy-in from senior leadership at Novartis from day-one and (perhaps as a result) Novartis is also quick to adapt their long-standing internal processes to support their prescription digital therapeutics partner better. Paige explained:
"We have been partnering extensively with Novartis at Pear. We have development programs in schizophrenia and [multiple sclerosis] with Novartis. I have been consistently impressed with their leadership's engagement: For example, when we signed our development deal with Novartis, it was Jay Bradner, [the president of Novartis Institutes for BioMedical Research] himself who sat down with the alliance teams and said, 'If there is anything getting in the way of pulling through value from these collaborations, I want to be the first to hear about it.'"
That's a wrap on Issue 014… but remember: Send on over any thoughts on AliveCor's past, present or future by hitting reply to the newsletter.