Issue 023.
Get E&O weekly. | Subscribe | Digital health research from Brian Dolan.
Welcome to E&O.
Last week's newsletter had a 71 percent open rate. Here's what's happening this week:
Did this get forwarded to you? You can sign up as a paying subscriber and get full access to E&O by clicking this link. Your competitors are reading already, so what are you waiting for?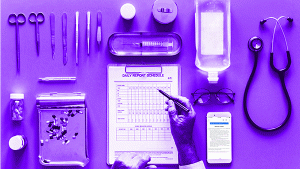 Roche/Genentech to develop digital therapeutic for autism in-house
Roche/Genentech posted a job opening this week for a newly created position: Head Digital Therapeutics, Product Development Innovation Neuroscience. What's unusual about the gig is that it tasks whoever gets it with creating the company's first digital therapeutic. The "first focus area" is autism spectrum disorder. Here's the pitch:
"Drug development for behavioral diseases has been a challenge. There is a good reason for this. It is simply that pills don't teach skills. If we want to change behaviors detrimental to health, we will need something else."
"This something else is digital. Today most people are connected to devices. This digital transformation of our lives has opened up new opportunities to understand and provide behavioral therapy that would not have been impossible just a few years ago. This creates new possibilities for how we tackle behavioral disease."
"This newly created position will lead Roche's first effort in developing digital therapeutics (DTx) to address neurological diseases. The first focus area is to design and develop a DTx for autism spectrum disorder."
The effort may mark the first in-house effort a pharmaceutical company launches to compete with the many CNS-focused digital therapeutic startups in the market today. I'm curious to see who ends up getting hired for this.
This news also gave me a chuckle because at least two high-profile digital therapeutics companies have, on occasion, pitched their longterm aspiration as becoming the "Genentech of Digital Health" (Omada) or the "Genentech of Digital Therapeutics" (Pear).
Turns out… that may actually be Genentech.
Livongo wins big federal customer, loses Chief Growth Officer
Livongo announced that it had signed a two-year customer agreement with the Federal Employee Health Benefits Program (FEHBP), marking the company's largest customer win to date. Livongo had been teasing the customer announcement for months. Livongo expects the deal to add 25,000 new members to its diabetes program 2020 and as many as 45,000 by the end of 2021. Livongo believes the deal will bring in between $20 million and $25 million in revenue for 2020.
In related news: Naomi Allen, Livongo's Chief Growth Officer, announced yesterday that she was leaving the company after 1.5 years to start her own.
"I'm thrilled to announce my new business venture, Emilio Health. I am leaving a wonderful role at an incredible company, Livongo, to be the CEO and co-founder of Emilio Health, partnering with an exceptional team of serial entrepreneurs and backed by Oak HC/FT's Annie Lamont. Emilio Health is building the world's first technology-enabled Behavioral Health Home for children and their families."
Proposed changes to anti-kickback law benefit digital health for value-based care
Digital health companies are rightly optimistic about the proposed changes to the Stark Law and the Anti-Kickback Statute that HHS released for comment this week. The proposal includes specific references to smart pillboxes and remote monitoring technologies.
Last year the law firm McDermott, Will & Emery published an overview of how these two regulations have slowed down the commercialization of digital health. Here's a quick excerpt:
"Value-based payment models and the digital health tools on which they rely often implicate the Stark Law and the AKS because by design they are focused on managing the volume and value of services provided to patients. The Stark Law prohibits a physician from making a referral for 'designated health services' to an entity with which the physician has a financial relationship unless an exception applies. Designated health services include, for example, hospital services and certain imaging, laboratory and other services. The AKS is a criminal statute that prohibits paying or offering anything of value to induce, or reward for, items or services payable by a federal health care program. The Stark Law RFI and the anticipated AKS RFI are thus critical opportunities to address the need for clear pathways for leveraging digital health technologies to facilitate the development and implementation of alternative payment models and promotion of care coordination."
UnitedHealthcare looks to expand Motion program into digital therapeutics
UnitedHealthcare plans to develop its employee wellness offering, Motion, into a platform for a portfolio of digital therapeutics, according to a recent job posting from the health insurance company. UHC is hiring a Product Direct for Digital Therapeutics in Minnesota.
Here's what the job posting reveals:
"This role will be the go-to expert for all aspects of the Digital Therapeutics and UHC Motion product and market strategy within UHC E&I. This individual will forge, foster, and maintain strong relationships with key external partners. Additionally, this individual will partner with other key internal functions such as UHG R&D, Optum and others to develop and oversee the strategy and capabilities required to effectively launch a portfolio of Digital Therapeutics products and services to the market. A key dimension of this role will be the extension and evolution of the current UHC Motion product. The UHC Motion product will serve as both a product and technical foundation supporting the overall Digital Therapeutics strategy."
As E&O exclusively reported in Issue 010, earlier this year United bought full ownership of its Motion program from the private equity group that acquired its partner Qualcomm Life.
Thoughts on designing digital therapeutics
One of the funnier but also surprising moments that occurred on-stage at the DTxEast event in Boston a few weeks back happened during the investor panel. Arkitekt Ventures' Investment Associate Pavan Choski noted that many of the entrepreneurs leading the high-profile digital therapeutics companies today did not come from the tech world. Choski said:
"For us, when we think about de-risking the investment, it really is about an investment in the team. I'd love to hear about Zack's thought process when backing [Pear CEO] Corey [McCann] or [Akili CEO] Eddie [Martucci]. These were people who understood the biopharma side of things. They weren't tech entrepreneurs who had built a beautiful product but…"
Zack Lynch, Managing Partner, Jazz Venture Partners then jumped in: "Have you seen reSET?"
The audience laughed.
"It works though," Lynch added once the laughter faded.
Pear Therapeutics started out with a strong focus on engagement and believed it could use game developers to create digital therapeutics, but as E&O readers know well the company's strategy shifted dramatically.
Pear also started out by acquiring the licensing rights to digital interventions that had already demonstrated efficacy in RCTs. The company could use those studies to get to FDA authorization quicker. I imagine that limited how much it could change the digital interventions look and feel.
In any case, celebrated design firm IDEO has a somewhat lengthy read out this week on designing digital therapeutics. It is worth a skim.
While the design firm mentions Headspace and Click, it doesn't reveal them to be clients. The post also talks about how it took inspiration from LEGO to help a biotech client in the diabetes space make it easier for patients to connect to their meters over Bluetooth. Read the full post here.
Quick links to E&O research reports
In recent weeks I've managed to upload each previous newsletter edition to the E&O website so that newer subscribers can browse through past issues as they see fit.
This quick links section aims to make it easier for paying subscribers to find the long-form research reports on the E&O site:
The Pear Therapeutics Report (Subscribers-only Link)
The AliveCor Report (Subscribers-only Link)
Apple's Healthcare Work Experience (Subscribers-only Link)
Approximating Livongo's S-1 (Subscribers-only Link)
That's a wrap on Issue 023. What should I look into for next week?