Issue 030.
Get E&O weekly. | Subscribe | Digital health research from Brian Dolan.
Welcome to E&O.
Last week's newsletter had a 62 percent open rate. Here's what's happening this week:
My backyard now features both a seven-foot-tall snowman and his companion snowdog, following the Greater Boston area's first snowstorm of the season.
Foley's telemedicine report focused on commercial payer laws throughout the US is well worth a read.
Nothing new but… in his first interview since assuming the post in July, when asked what changes he's made so far, Sandoz's top exec Richard Saynor told a German newspaper: "We decided to quit the business with so-called digital therapeutics (for example, apps that help addicts, ed.). While this is a fascinating area, it does not really suit the commercialization of generics." (translated from German) via FiercePharma
Swedish specialty pharmaco Orexo has inked another deal with GAIA, this time for the exclusive commercial rights to the company's digital therapeutic for alcohol use disorder, called Vorvida. The first deal was for an opioid use disorder DTx.
One of the biggest names in Boston's health tech scene, Dr. John Halamka, is leaving his longtime perch as CIO at Beth Israel Deaconess Medical Center (BIDMC) to join the Mayo Clinic as the president of a digital health effort called Mayo Clinic Platform. I wonder what becomes of BIDMC's health tech exploration center, HTEC, which Halamka led and only launched last year?
The FDA granted 510(k) clearance to Renovia's second-gen pelvic floor exercise sensor and digital therapeutic for "the strengthening of pelvic floor muscles and the treatment of stress, mixed and mild to moderate urgency urinary incontinence (UI) in women."
Sandstone Diagnostics, the makers of handheld, battery-powered devices that promise immediate, clean plasma for at-home blood tests (as well as devices and digital products for male fertility tracking) quietly raised another $2 million.
Did this get forwarded to you? You can sign up as a paying subscriber and get full access to E&O by clicking this –> You're making the right decision here.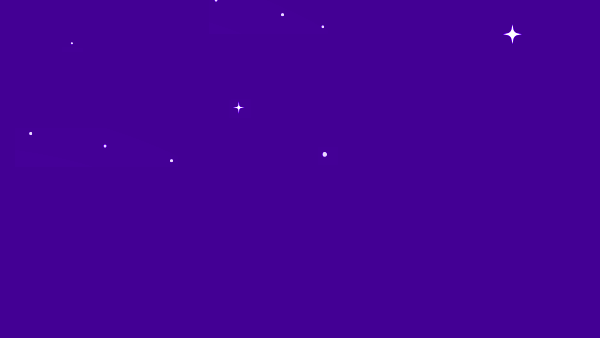 Sanofi building in-house DTx startup in China, inks IBS deal with Cara Care in Germany
Even as they sign on more partners, pharmaceutical companies continue to pursue building their own digital therapeutics products in-house. The latest: Sanofi is looking to hire a Digital Therapeutic Venture Manager in Shanghai, China to develop and commercialize digital therapeutic products in that country. The pharmaco is positioning the initiative as an in-house startup.
In Germany, Sanofi announced a deal with startup Cara Care to combine the digital health company's service for people with irritable bowel syndrome (IBS) with Sanofi's IBS drug, Buscomint.
"Irritable bowel syndrome is a complex disease. From patients, we know that a drug alone is usually not enough to get their symptoms under control. By cooperating with Cara Care, we offer our patients real added value in order to better master everyday life with irritable bowel syndrome," Verena Bärnwick, Digital Health Innovation Lead at Sanofi Consumer Healthcare, said in a statement translated from German.
The first phase of the program will roll out in January. More here.
Propeller Health metrics and a look at its tech stack
Amazon Web Services hosted a big conference for developers this week in Las Vegas, which included a few sessions focused on the life sciences. Propeller Health CTO and co-founder Greg Tracy presented on how the company's tech stack has evolved over the years — obviously, they make use of many of Amazon's products these days. The 40-minute presentation is well worth a watch if you want a better sense of Propeller's tech stack, and it includes a number of flowcharts like the one below, which compares its early vs. current configuration.
The preso also noted a handful of interesting metrics about Propeller Health that I hadn't come across previously. Check those out below the image.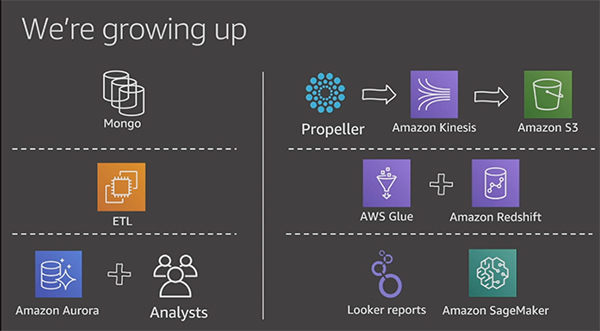 Tracy shared these metrics:
Propeller's data lake includes 250 million patient hours, meaning they know how well patients are doing hour-to-hour with this data
The data lake includes 3.3 million symptom events
Propeller has provided 21 million asthma forecasts to users, meaning a green-yellow-red type heads up about how their day might go.
Propeller has predicted more than 150,000 exacerbations.
Propeller now has patients in 16 countries. The total number of Propeller users is up over 100,000 now, as previously announced. That's quite a jump from the 45,000 number the company mentioned in October 2018 just before Resmed acquired them.
Pear's patents partner is building a new "nutrition biochemistry"-based DTx startup
Intellectual Ventures, a well-known intellectual property holder founded by former Microsoft CTO Nathan Myhrvold, is building a digital therapeutics startup with an unnamed chief medical officer it describes "as one of the world-leading experts in nutritional biochemistry". IV's startup incubator, the ISF Incubator, is building what it called "an ambitious end-to-end ('full-stack') digital therapeutics startup" focused on "one of the most expensive chronic conditions."
IV's job posting doesn't get into details beyond those few hints, but the combination of "nutritional biochemistry" and "most expensive" condition sounds like this might be a diabetes-focused startup. Of course, IV expects the company to move beyond the initial condition and build a platform for the treatment and management of multiple diseases. The repercussions of the Livongo IPO?
As covered in E&O's The Pear Therapeutics Report, Intellectual Ventures is one of Pear's key partners. Pear claims to have exclusive licenses in place for IV's DTx patent portfolio, which does make this recent job posting here a bit of a head-scratcher.
1,162 clinical trials used digital tools in 2018
Harvard Business School researchers teamed up with Elektra Labs to track the rising number of digital tools used in clinical trials, based on information entered into ClinicalTrials.gov. Below is a graph charting the topline findings from a presentation the researchers gave earlier this year and here's a link to a recent write-up over at the HBS site.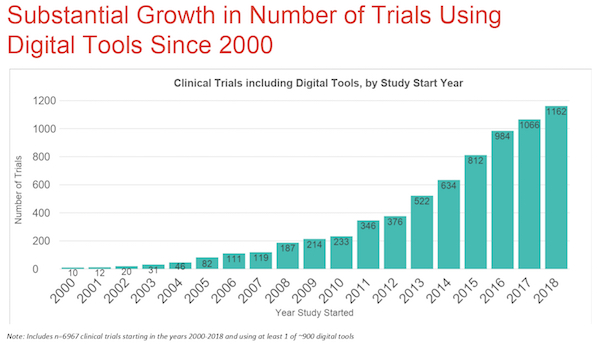 Quick links to E&O research reports
Previous newsletter editions are available on the E&O website so that newer subscribers can browse through past issues.
The links below aim to make it easier for paying subscribers to find the long-form research reports on the E&O site:
The Google Health Report (Subscribers-only Link)
The Pear Therapeutics Report (Subscribers-only Link)
The AliveCor Report (Subscribers-only Link)
Apple's Healthcare Work Experience (Subscribers-only Link)
Approximating Livongo's S-1 (Subscribers-only Link)
And so ends Issue 030 of E&O.