Issue 031.
Get E&O weekly. | Subscribe | Digital health research from Brian Dolan.
Welcome to E&O.
Last week's newsletter had a 60 percent open rate. Here's what's happening this week:
More on this below, but the Proteus lay-offs are top of mind. There's a lot of digital health talent looking for jobs in 2020. Here's hoping they all land on their feet.
EtectRx secured FDA 510(k) clearance for its smart pill, ingestible event marker, medication adherence technology. The small company is a challenger to Proteus Digital Health, which developed a similar technology and received FDA de novo clearance back in 2012.
Happify Health published an interesting study in JMIR that showed a brief HRVB (heart rate variability biofeedback) training session on a smartphone reduced levels of salivary alpha-amylase following a stressful experience. The study used Happify's app, Breather.
Akili Interactive presented a pre-publication, sneak peek of the results from its latest RCT. This one was for its digital therapeutic AKL-T03, a treatment for cognitive impairments adjunct to anti-depressant medication in adults with Major Depressive Disorder (MDD).
 Mayo Clinic Platform's new leader, John Halamka MD, has an explainer out on what a "platform" is and isn't. (It might be a good resource if you're worried you're using that buzzword incorrectly.)
Ehave, one of the companies that Pear Therapeutics licenses a digital intervention from, has a new CEO focused on the company's opportunities in DTx.
MM&M has an interesting interview with AppliedVR's SVP of Commercial Everett Crossland who gave a warning that CMS has not kept up with commercial payers when it comes to digital therapeutics. He predicts it will be a problem when the Medicare population has no access to these digital solutions but younger people do.
The NIH appointed Dr. Joshua Denny as the new CEO of the All of Us research program. Former lead Eric Dishman is now its chief innovation officer.
Finally, I enjoyed this podcast (even though it's close to two hours long!) that features Evidation Health's Malay Gandhi and TrialSpark's Nikhil Krishnan discussing the current and future of digital health.
Did this get forwarded to you? You can sign up as a paying subscriber and get full access to E&O by clicking this –> You're making the right decision.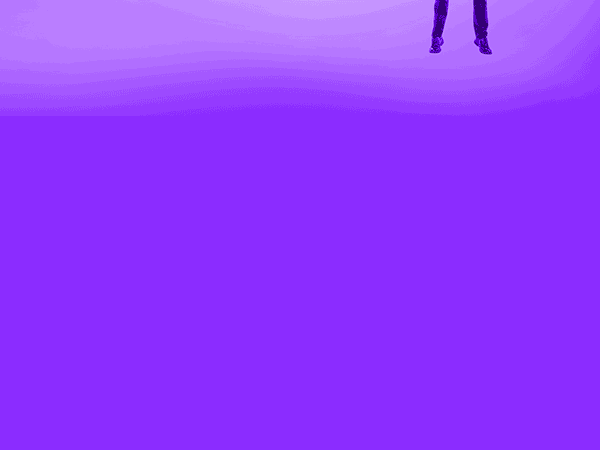 Express Scripts Digital Health Formulary favors existing partners at launch
Seven months ago Express Scripts revealed plans to launch a Digital Health Formulary in early 2020. This week, the PBM announced the six digital health companies it will include in that formulary at launch: Livongo, Omada Health, LifeScan (powered by Welldoc), Propeller Health, Learntolive, and SilverCloud.
Not surprisingly, Express Scripts has longstanding relationships with most of that group. Livongo has actually has been a "preferred strategic partner" of Express Scripts for diabetes management since December 2015.
Livongo also attributed more than 30 percent of its revenue in 2018 to its channel partner, Express Scripts, and it is on track to account for a similar percentage in 2019. Livongo is listed as having preferred status in the formulary for diabetes, diabetes prevention, and hypertension programs.
Financial analysts, well aware of the importance of Express Scripts as a revenue channel for Livongo, worried that Cigna's acquisition of Express Scripts last year might jeopardize the PBM's relationship with Livongo. Cigna, after all, led Omada Health's Series C round. Omada is included in the formulary as an alternate to Livongo for diabetes, diabetes prevention, and hypertension. LifeScan, powered by Welldoc's Blue Star, is another alternate option in the formulary for diabetes.
Two newcomers to ESI. LifeScan and Propeller Health also have pre-existing relationships with Express Scripts that likely made them shoe-ins for the initial batch of companies listed on the Digital Health Formulary. The PBM said it evaluated some 70 digital health products before making its decision, but it seems that only two of the companies in the formulary were new to Express Scripts: Learntolive and SilverCloud Health.
Big milestone. Regardless of which companies and products are featured at launch, the creation of this formulary is a milestone for digital health. It's not something many would have predicted a few years ago.
So as this new infrastructure is put into place by the old guard, it is an apt moment to pause and consider — again — if the many digital therapeutics companies seeking out a path to market via prescription and existing drug pathways are over-complicating their business model.
Why retrofit when healthcare is starting to create new paths just for digital?
Express Scripts Chief Patient Experience Officer Mark Bini predicted that this new formulary "will do for the developing digital health care industry what our drug formularies have achieved for prescription medications for more than 20 years – access, choice and value for payers and patients."
Related: This WSJ piece digs into another Cigna-Express Scripts initiative, called Health Connect 360, that has Livongo embedded.
What Sanofi's new CEO said about Onduo (beyond "over-invested")
One of the things that bothered me about much of the reporting on the Sanofi-Onduo whittling down was that it relied on a single tweet (now deleted!) from an anonymous biotech investor that included just one quoted word from Sanofi's CEO Paul Hudson: "over-invested".
Hudson didn't say too much about Onduo during his remarks to analysts at the company's Capital Markets Day this week, but what he did say is worth reading in full:
"Many of you won't know anything about Onduo, our Verily digital relationship. It was a significant investment from the company over many years. It was a determined effort to get into the e-commerce component around diabetes and to build on the customer relationship with Verily. It's a much harder nut to crack. It is a much longer process, and whilst we are excited about the working being done at Onduo, you know, I think we were over-invested."
"So, we've stepped back. We are still an investor. Great. We wish them well because that investment could be worth a lot one day. But we won't put any additional operational expense in above where we are, because we have other things to do with the investment."
Huh? Hudson's opening salvo that many of the analysts probably haven't even heard of Onduo might be a simple way of downplaying the news here. Referring to Onduo as an "e-commerce" effort, though, is a real headscratcher.
Verily explains. Verily clarified what Hudson meant by "stepped back" in a blog post (https://blog.verily.com/2019/12/onduo-and-scaling-virtual-care-model.html) , which they put out following the CEO's remarks:
"In 2016, we set out on a joint venture with Sanofi to launch Onduo's virtual diabetes clinic. We recently restructured its ownership with Sanofi to enable Onduo and Verily to move faster, invest more and serve a much broader population of patients managing multiple chronic conditions. Sanofi has been a good partner on this journey, bringing deep pharmaceutical and commercial expertise in diabetes, and we're pleased they will retain a small stake in the entity."
Onduo beyond diabetes. Verily and Onduo also announced their plan to expand beyond diabetes into other chronic conditions and scale "across the spectrum of health". One of the important distinctions about Onduo's strategy that gets lost when they're compared to others in the space — like Livongo — is that Onduo's offering ultimately connects patients to endocrinologists when needed. The scale-up that new majority owner Verily envisions for Onduo would follow a similar model with virtual visits with physicians across a variety of specialties. Also, worth remembering Verily has partnerships with a number of digital health companies that may help power that future platform. Partners include Dexcom, Resmed, Voluntis and more. (Correction: This list originally included Propeller Health, which is owned by Resmed. Poor assumption on my part. I've since learned Verily has no partnership with the Propeller Health team just the parent company, Resmed.)
Back to Sanofi. Big picture, this move by Hudson is similar to what happened between Sandoz and Pear Therapeutics in one simple way: A new CEO came in and cut back on a predecessor's non-core, innovation projects. If an economic downturn is likely in the near term, these sorts of break-ups and whittling-downs will become more widespread.
Proteus Digital Health to shut down offices, lay-off 292 employees next month
If you remember a few weeks back, I pointed out in Issue 029 that smart pill pioneer Proteus Digital Health's headcount had slipped precipitously since May. It went from 426 employees in May down to 367 earlier this month, according to LinkedIn data. The company's struggles since then have been something of an open secret.
On Sunday Christina Farr at CNBC broke the news that Proteus had furloughed employees in recent weeks to try to make ends meet. The company had failed to raise a $100 million round of funding, which led to the scramble.
A few days into the week the Mercury News, a local newspaper in Silicon Valley, reported that Proteus told the state labor department it planned to close down three offices and lay-off 292 people on January 18, 2020.
Proteus has referred to this as a "restructuring". If LinkedIn's numbers are close to correct, then Proteus' headcount will be just a few dozen people come January 19, 2020.
How to modernize HIPAA for the digital health era
Health Affairs has a must-read piece on modernizing HIPAA for the era of digital health. The chart below sums up some of the article's proposals and how they compare to current HIPAA and GDPR, but the entire thing is worth the time. Read it here.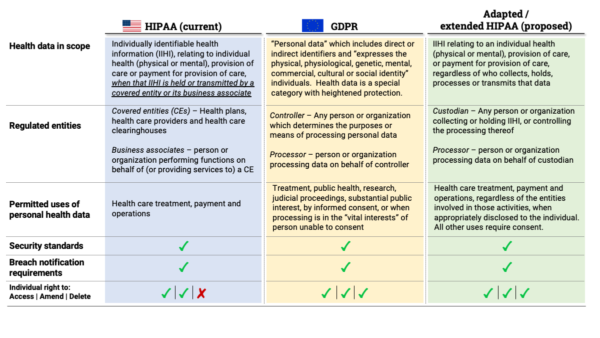 Quick links to E&O research reports
Previous newsletter editions are available on the E&O website so that newer subscribers can browse through past issues.
The links below aim to make it easier for paying subscribers to find the long-form research reports on the E&O site:
The Google Health Report (Subscribers-only Link)
The Pear Therapeutics Report (Subscribers-only Link)
The AliveCor Report (Subscribers-only Link)
Apple's Healthcare Work Experience (Subscribers-only Link)
Approximating Livongo's S-1 (Subscribers-only Link)
That's Issue 031 of E&O.