Issue 000
Digital health research from Brian Dolan.
 Welcome to E&O Mondays.
Yeah, yeah, it's Wednesday already. I didn't want to wait until next week to start, so I put this prototype together for you. This is Issue 000 of the brand-spanking-new E&O free newsletter.
(Expect it on Mondays moving forward. And let me know what you think by hitting reply… )
In this edition of the free E&O newsletter:
I tracked $250M+ in announced (and unannounced) funding across 26 deals for the week of October 19, 2020.
I dug into a past prediction in a new, recurring feature I am reluctantly calling Prediction-Postdiction.
And, finally, try your luck at the first Health Tech Trivia Challenge, which I'm pretty sure only a handful of health tech nerds can answer.
This is the top of the E&O funnel. Over time you will find yourself helplessly slipping toward a paid subscription to E&O. If this intro section was all it took, head to the pricing page of E&O right here and make my day.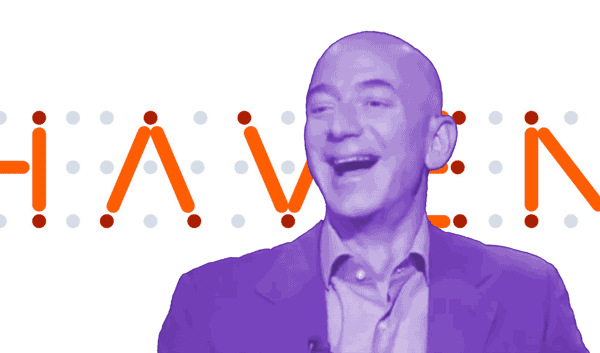 Prediction-Postdiction: Smartwatches
I'm torn: Keep wondering if Forecast:Recast sounds better, but, ultimately, the above title gets the point across a bit more clearly. Anyway, in this recurring feature, I will briefly revisit a past prediction related to health tech and — to the best of my ability — see how far off it was (or perhaps in some rare instances: how right on it was).
This week: Smartwatches, Growth of.
Prediction: In early 2014, ON World predicted that more than 330 million smartwatches would ship globally by 2018. They made the prediction after fewer than 4 million shipped in 2013 and months before Apple announced the first Apple Watch in late 2014.
Postdiction: According to IDC, in 2018 only 51 million smartwatches shipped worldwide. Quick math: That's a lot less than 330 million.
Here's a visualization I made of the discrepancy (that assumed linear growth for no good reason):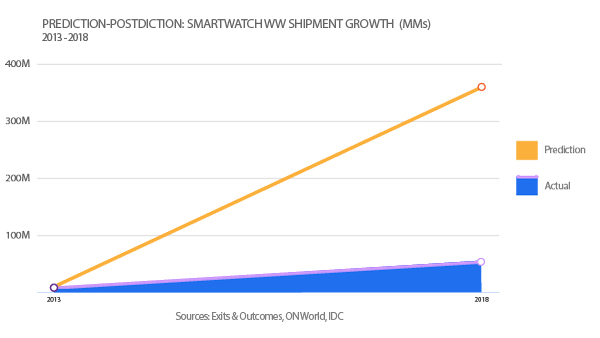 Missed it by *that* much.
Hey, predictions are hard. This isn't meant to be a dig at market research firms that make predictions. Every market needs them. But, hopefully, by adding a little bit of accountability, this series will help contextualize whatever new and big numbers you're seeing from prognosticators today.
And don't worry, I'll be sure to revisit these new predictions in a Prediction-Postdiction column in the year 2025. So, feel free to send them my way, and I'll print them out and stick them in E&O's Health Tech Hope Chest.
 $100M+ rounds
For the week of October 19th, only one company raised north of $100 million: Bind Benefits.
Minneapolis-based Bind Benefits, a health insurance startup founded by an alum of Redbrick Health, raised $105 million in its Series B. Site + Release + StarTribune
 $10M-100M rounds
By my count there were seven decamillion rounds this week:
Toronto-based Analytics for Life, founded in 2015, added about $12 million to a prior $4 million raise for its latest $16.2 million round. It uses machine learning instead of exercise- or radiation-based methods to help diagnose certain heart conditions. Site
The Brazilian-based, Oscar Health copycat, Sami, raised $15.5 million in its Series A. It intends to be a digital-first health insurance provider like its stateside inspiration. Site + HealthcareFinanceNews
Atlanta-based revenue cycle management startup, Rialtic, founded this month, raised $15 million from backers including Oak HC/FT. Site
Homethrive, a Northbrook Illinois-based startup founded in 2018, raised $14.8 million. Livongo co-founder Glen Tullman is on the board via 7wires Ventures. It offers tech-enabled services to adult children caring for their aging parents. Site
Aktana, a San Francisco-based sales and marketing insights platform for life sciences companies that sell to healthcare providers, raised $14.6 million. Its backers include Starfish Ventures and Safeguard Scientifics. Site
Atlanta-based startup, Loyal, which offers digital frontdoor tools to healthcare systems, raised $12.5 million. Investors in the company include Concord Health Partners. Site
Boston-based Cohere Health, which helps providers with automated care plans and care coordination services, raised $10 million. Backers include Flare Capital Partners and Define Ventures. Site
 $1M-10M rounds
I found 14 financing deals in this range for the week of October 19, 2020. These descriptions could use some work but they give you the gist of what each of these companies is working on:
Orthosensor, a Florida-based company that offers wireless sensors that guide surgeons during knee operations as well as a mobile app that helps guide patients through their MSK care journeys, raised $6.5 million in a mix of debt and other securities. Site
Edinburgh-based TestCard, which offers home diagnostic tests that use a smartphone's camera to get results immediately, raised $5.8 million. Site
RxAnte, which offers a platform that helps optimize patient outreach to ensure proper patient medication use, raised $5.5 million in debt financing. Site
Nice Healthcare, a Minnesota-based startup that offers both in-person and virtual primary care, raised $5 million. Site
Rune Labs, which offers a platform that brings together brain-related data from a variety of sources (including electrophysiology, brain imaging, device data, wearable data, and clinical labels) for therapy development and delivery, raised $5 million. Site
Paytient, a Columbia, Missouri-based startup offering a tech-enabled service that helps patients avoid medical debt, raised $3.9 million. Site
Austin-based Verifiable, which provides an API to automate real-time verification of healthcare providers' licensing credentials, raised $3 million. Site
Mira, a direct-to-consumer health insurance plan that costs around $300 a year, raised $2.7 million. Site
Pakistan-based online pharmacy MedznMore, which promises delivery within four hours in Karachi, raised $2.6 million. Site
Not to be confused with recently IPO'd Amwell, UK-based Awell Health, which is a software company that makes it easier for providers to create and implement care pathways, raised $2.5 million. Site
DocToMe, a Washington state-based startup founded in 2017 that is developing a suite of health apps in chronic disease management, transition care, remote patient monitoring, and telemedicine, raised $2.2 million. Site
Psyomics, a Cambridge, England-based startup offering a patient-facing mental health assessment and diagnosis platform named Censeo, raised $2 million. Site
London-based mental health startup, MindLabs, which plans to launch an app with both live video sessions with professionals and an online community track stress or relaxation, raised $1.8 million. Backers include Passion Capital and Seedcamp. Site
SkinIO, a Chicago-based startup that offers AI-enabled mole mapping as well as asynchronous teledermatology tech-enabled services, raised $1.4 million. Site
 This week's sponsor: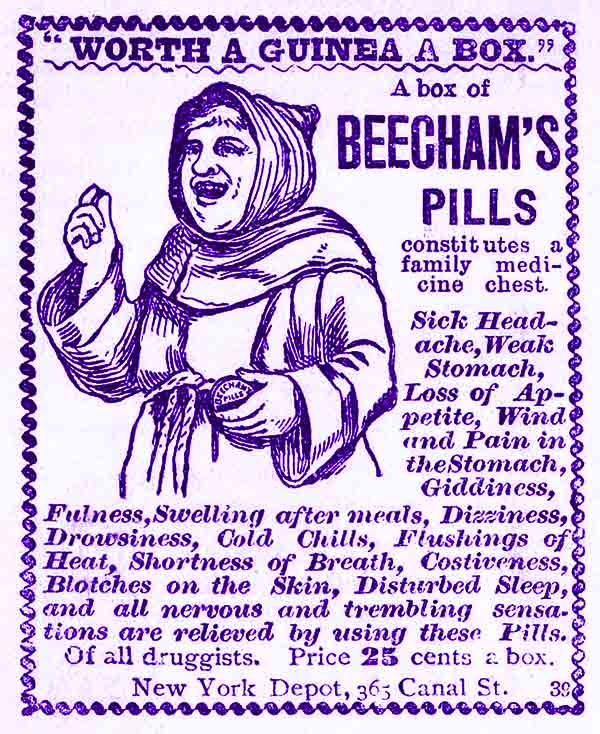 $100,000-1M rounds
Three under-the-radar, (maybe?) up-and-comers raised some small rounds too:
Chicago-based medication adherence startup, Groove Health, raised $210,000 out of a hoped-for $5 million. Founded in 2016, Groove's offering includes an AI-powered virtual assistant named Maxwell. Site
Qüilo, a Guatemala-based startup founded in 2016 that originally focused on making it easier for low-income people to find health insurance but now pitches itself as a more general HR workflow platform, raised $197,000. Site
Suplerbloom, a social media network for women with chronic conditions, raised $120,000 out of a hoped-for $1 million round. Vogue covered the site's launch: Vogue + Site
 Health Tech Trivia Challenge
Rules: Don't use Google. Just guess. Hit reply and email me your answer along with if you want me to include your name/company, just your initials, or keep it anonymous. I'll provide the answer next Monday along with a few of the first people to get it right — if anyone does! I'm happy to link out to your company's website too, which might be worth a lot in SEO mojo someday, who knows?
This week's trivia question: Which health tech company's CEO was also the co-founder and former CEO of the company that invented Powerpoint? Hint: This health tech company has since been acquired. Extra hint: It was based in Florida.
Email me your guess!